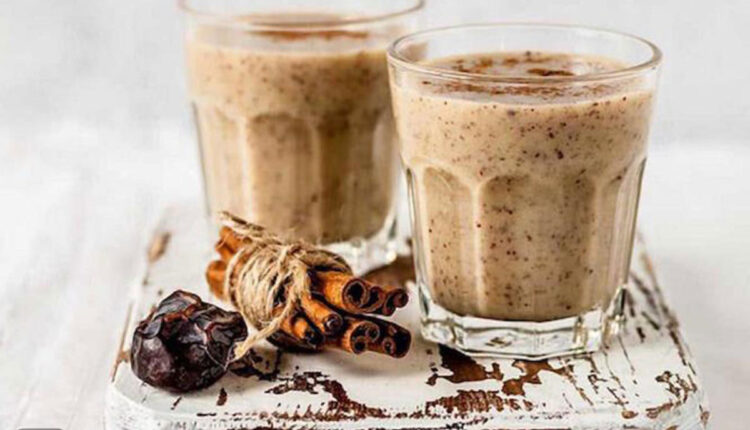 Sheer khurma recipe, the Best rich Asian Majoon
Most of us are looking for a delicious and different drink for breakfast or brunch so that we can quickly prepare Sheer Khurma at home and enjoy drinking it.
All kinds of flavored milk are among the special drinks, and while they have many properties for the body, they are very tasty.
One of the most popular types of flavored milk is date milk or, as I said before, sheer khurma, which is very tasty and nutritious and has many fans.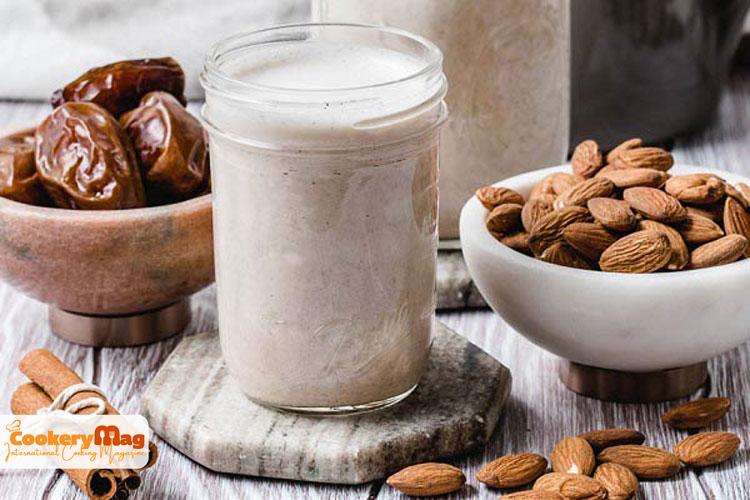 The dates in this drink create a beautiful and creamy texture. Sheer khurma is so delicious that most children love this drink.
In addition, the method of preparing sheer khurma is simple, and you can prepare it quickly.
In this article, we, The Cookery Magazine, will fully discuss how to prepare sheer khurma.
Since we will talk about Afghan and Iranian date milk in this article and somehow compare the two, it should be noted that Iranian sheer khurma is only a mixture of milk and dates, while in Afghanistan, other things are added to this mixture and make this mixture like a Majoon.
Sheer khorma is a food prepared and eaten in countries like Pakistan and India at the end of Ramadan as a special food for Eid al-Fitr (Meethi Eid).
The name of this food or dessert is Persian, and its main composition is milk, seviyan, sugar, dried dates, and some dried fruits.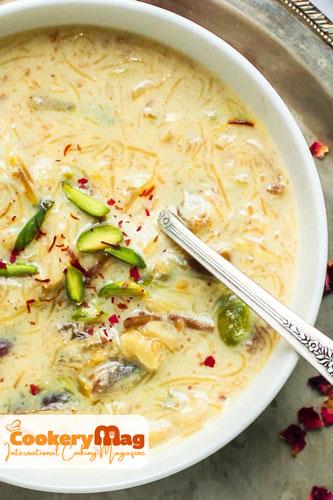 Muslims in Pakistan and India (especially in the city of Hyderabad) and some Arab countries eat this food in the morning of Eid-ul-Fitr as the first food after Ramadan
People serve their guests the same food throughout the day.
The whole ingredients are explained below.
Some seviyan are fried in butter until they are roasted. Then they add milk to it and let it cook together.
When the milk thickens a little, they add sugar, a few dried dates, some raisins, pistachio slices, almonds or cashews, rose water, cardamom, and saffron to it and continue the cooking process until these ingredients are absorbed into the milk.
Ingredients for making Iranian Sheer khurma:
| | |
| --- | --- |
| Date | 8-10 pieces |
| Milk | 2 cups |
| Vanilla | ½ teaspoon |
Recipes to make Iranian Sheer khurma:
Remove the core of the dates. If you want, you can also remove their skin.
Pour the prepared dates with milk into the blender and let it stand for at least half an hour. This way, dates will soften, and date milk will be sweeter.
Conclusion:
Thank you all for being with us on this recipe; send us your experience and recommendation.