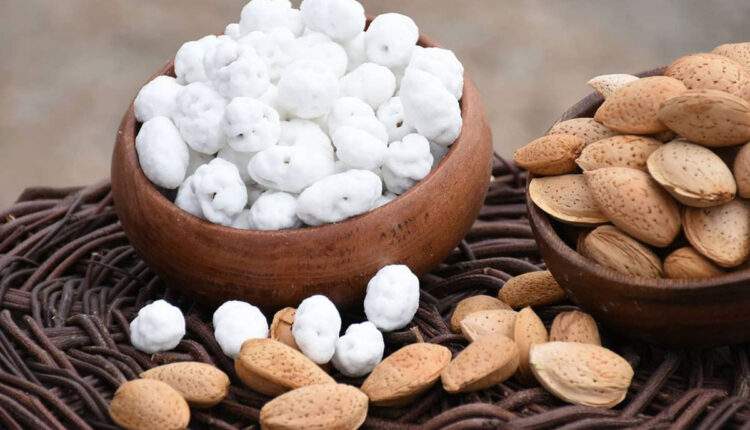 Noghl Recipe, Sugar coated almonds, authentic and traditional Iranian confection in 15 min
Noghl history is going to review in the Cookery Magazine today; especially we are going to review the history of Urmia noghl and its types from 1328 until now.
Halva and Sugar coated almonds are the main and most popular souvenirs of Urmia city, which come in different flavors and types.
Ingredients for making Noghl | Sugar coated almonds
| | |
| --- | --- |
| Sugar | 6 cups (preferably franc luminarc with handles) |
| Water | 2 cups |
| Glucose or Cream Of Tartar | 1 tablespoon |
| Almond (in its whole shape) | As much as needed |
| Halved walnut kernels | As much as needed |
| Pistachio | As much as needed |
Recipe for making Noghl | Sugar coated almonds
The first step in making noghl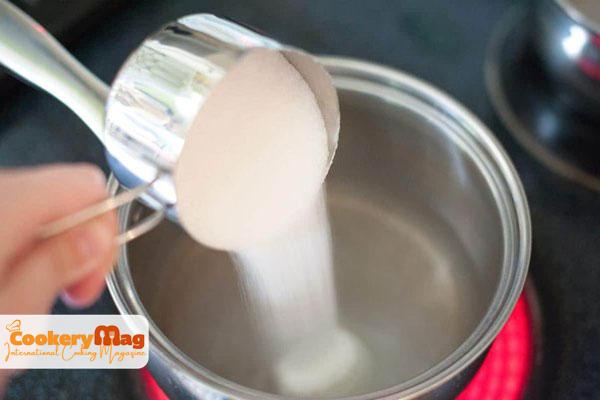 In the first step of how to prepare homemade Noghl with different flavors, you should pour some water into a pot or pan and add sugar to it.
Turn on the gas on medium flame, stir the sugar and water until well combined, and let the water and sugar mixture boil.
The second step
In the second step, you should add liquid glucose or cream of tartar to the mixture of water and sugar and quickly stir the ingredients. Continue to do this so much that when you want to take a piece from this mixture, it will become soft and doughy after a few minutes.
If you have a cooking thermometer at home, you can measure the temperature inside the dish. Whenever the temperature is around 115 degrees Celsius, the mixture is ready.
The third and last step in making Sugar coated almonds
In the third step, after preparing the noghl materials, please turn off the oven flame and pour them into a container with a height of at least 4 cm. Allow the noghl material to cool slightly.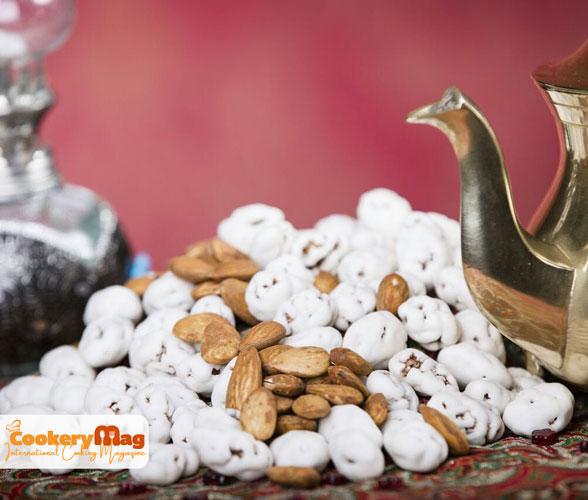 To make noghl with different flavors, you need to put the nuts into the ingredients you have prepared for noghl. Then slowly remove the kernels with the help of a knife or a small spoon.
Arrange the Sugar coated almonds in a container and on oil paper, and after one side is dry, turn it over so that the other side of the Sugar coated almonds get also dry.
Note that the Sugar coated almonds dry in the shape that you put them on a paper, or it is better to say the shape as you arrange them. So try to place them in the desired shape on oil paper, and if you like to change the appearance of the Sugar coated almonds, gently shape the noghls with the help of a knife edge.
Different kinds of Sugar coated almonds
How to make homemade pistachio Sugar coated almonds
Pistachio is one of the most popular and tasty nuts with many fans. The mixture of pistachio slices with homemade noghl improves the taste and increases its properties.
For this reason, by adding pistachio slices, you can increase the properties of your homemade Sugar coated almonds several times, and by eating a homemade pistachio noghl, you can increase your energy several times and enjoy eating it.
It is enough to prepare the homemade pistachio Sugar coated almonds to prepare the sauce ingredients according to the mentioned recipes, sprinkle pistachio slices on the sauces when they are cold, and put them in the refrigerator.
How to prepare homemade damask rose Sugar coated almonds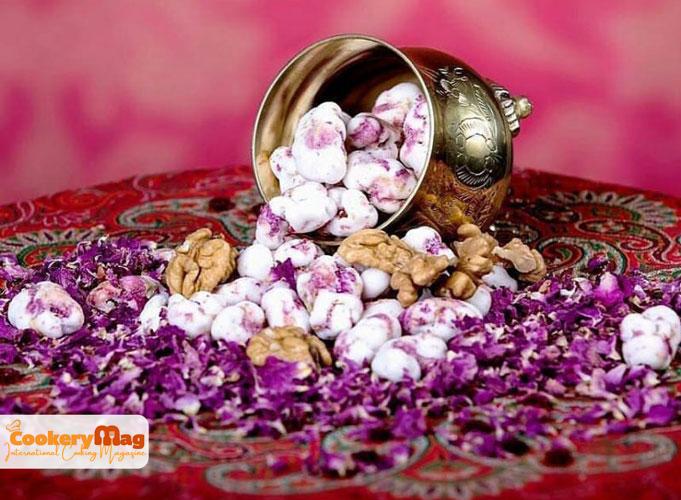 To prepare noghl, you must first prepare its paste, which is obtained from water, sugar, cream of tartar or glucose, and nuts.
After that, you should sprinkle some dried damask rose on the dough, place them in the mold, and put them in the refrigerator.
If you are not interested in eating damask rose, you can use high-quality rose water to increase the aroma and taste of noghls.
How to make the homemade cherry Sugar coated almonds
To make homemade cherry noghl, you should have some cherries, a tablespoon, and a saucer.
After you have prepared the noghl dough, you should wait for it to cool down. While the dough is cooling, seize the opportunity and remove the core of the cherries.
After removing the core of the cherries, you should put them in a saucer, crush the cherries with the back of a spoon, and remove the skin from them.
Then add the crushed and chopped pieces of cherry together with the resulting dough, and using a mixer, mix the dough with the cherries slowly and pour them into the mold.
How to prepare the homemade saffron Sugar coated almonds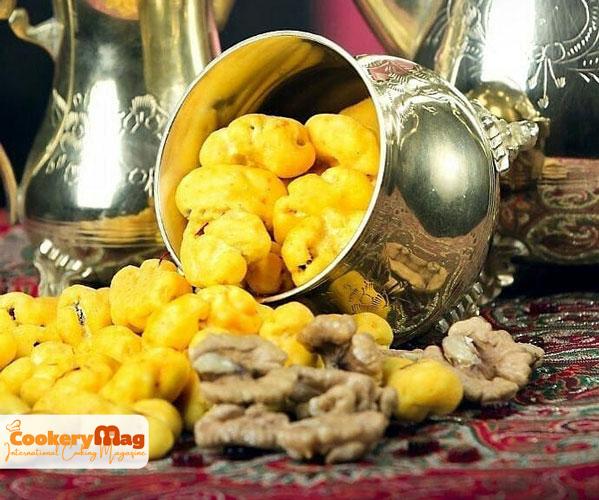 Saffron is one of the most popular spices in the world that can be combined with any food and is known as red gold.
The composition of saffron causes its color to change from white to golden. It is interesting to know that noghl has a very cold nature, But saffron, due to its warm nature, neutralizes the coldness of the passage.
To prepare homemade saffron paste, as mentioned in the previous sections, you need to prepare the dough; Then, using a glass of boiling water, brew saffron and add it to the dough.
After adding saffron, pour the dough into the mold and put it in the refrigerator.
Urmia Silk Sugar coated almonds (pussy willow noghl)
Silk Sugar coated almonds are one of the oldest and most popular of Urmia's noghl. In its preparation, almond slices are placed in the center of the flowers to get their unique taste and aroma.
This quote has a significant role in preventing heart diseases, regulating blood pressure, and preventing cancer due to burdock root.
Urmia walnut noghl
You can get Urmia walnut noghl in saffron, damask rose, and vanilla flavors. This noghl can be an excellent substitute for sugar cubes in your daily consumption.
This product is placed in the category of useful and healthy snacks; For this reason, it is considered one of the most popular types of noghls.
Tips and tricks in making Sugar coated almonds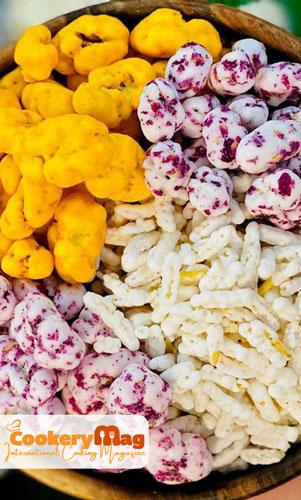 You can use small pieces of nuts like walnuts, hazelnuts and pistachios to make small noghl.
If you like to make colored Sugar coated almonds, you can add some saffron or food coloring to the noghls paste.
To flavor the noghls, you can use ground coriander seeds, cardamom powder, some burdock root extract, or even dried rosemary and whatever else you like in the noghls paste.
To make a variety of colored home-made Sugar coated almonds, you can put the noghls ingredients in separate containers and add a different color and nut to each container and make Sugar coated almonds in different flavors and colors.
Noghls need a few hours to dry. For this, it is better to place the Sugar coated almonds trays in the room air for a few hours and after they get completely dry, put them in a suitable container.
You can use rose water or pussy willow instead of adding water to sugar in the first step to make the homemade version taste good.
The history of Noghl | Sugar coated almonds
Noghl is a kind of candy; which is usually white and is one of the famous souvenirs of the city of Urmia, and Tuyserkan, which is cooked from sugar syrup and things like aromatic cardamom seeds, coriander seeds or slivered almonds, walnuts, and pistachios. And it is also decorated and used with plants such as damask roses, marjoram, flowers and plants like them.
Sugar-coated almonds are produced in different sizes and flavors. They are usually used instead of sugar cube because, in addition to having an excellent taste and aroma, it is softer than sugar cubes, especially in Pussy willow taste.
In Iran, it has been used as a symbol of happiness since ancient times. For this reason, according to the long-standing tradition, it is sprinkled on the heads of the bride and the groom in wedding ceremonies.
Nowadays, you can buy Noghl in many nut stores and candy shopping centers. But the extracts that are produced industrially have destructive and harmful preservatives.
In addition, many factories do not observe hygiene in their production and put a lot of germs into the packaging of their products.
Frequently Asked Questions
What is the method of keeping the noghls?
To store noghls, be sure to put it in a closed container in the refrigerator so that it does not lose its moisture and does not get hardened.
What is Sugar coated almonds?
In this article, we recognize that we know it under the title of noghl; it means that group of almonds that provide with a layer or covering of something, which here that thing is sugar.
Conclusion
Thank you again for being with us with an excellent, delicious, authentic Iranian recipe.
Share your experiences with us, and if you have any tips to improve the food recipe, be sure to comment; thank you.
And finally, I would like to thank those who took the time to read this article about noghl.
It is hoped that among the delicious foods of different societies, Iranian food is gaining more and more fans daily.
Please share this article with your friends on Facebook, Twitter, Pinterest, and other social media. 🧡