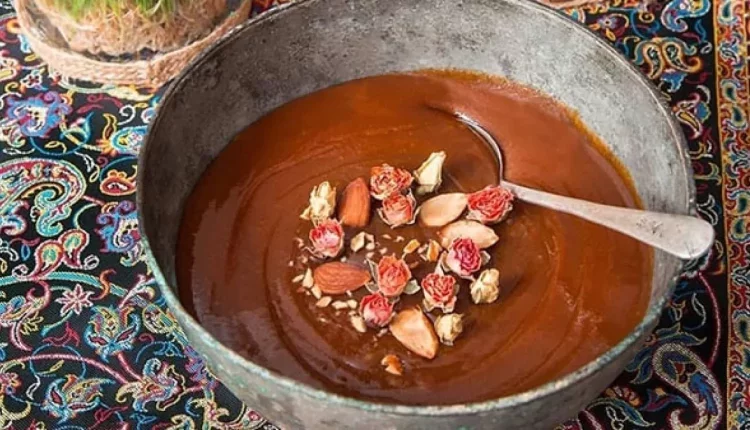 Samanak recipe, Delicious afghan samanu in just 6 steps
Samanak or samanu is an amazing sweet that served in the Nowruz. The origin of the samanu word is Iranian as you read in saamnu article in the Cookery Magazine and samanak has Afghan origin.
All the steps are the same in Samanu and Samanak, so if you did not read our previous article under the titled of Samanu, you can make an excellent homemade Samanak from this article.
Ingredients for making Samanak
| | |
| --- | --- |
| Flour | 1 kg |
| Wheat | 500 grams |
| Water | As much as needed |
| Walnut | A few |
Recipe for making Samanak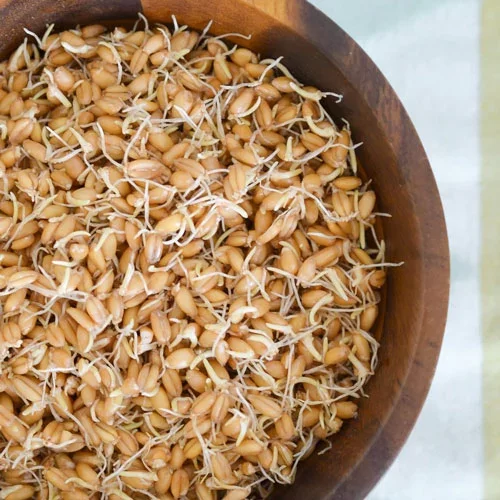 To prepare samanak, we first wash 500 grams of wheat and put it in a container full of water for 24 hours.
After 24 hours, remove all the water from the wheat, spread it in a container, and place a cloth or net on it; if it is possible, expose it to sunlight)
After six days, the wheat sprouts are ready, and we take the upper part of the sprouts with scissors and then separate the sprouts.
Grind the sprouted wheat two times with a mixer, then pour 6 to 8 cups of warm water on them or mix it with some water in a mixer, then pour it in a strainer and squeeze it by hand until the wheat juice completely Drain along with its water, mix the remaining wheat pulp and residue in a strainer with 2 cups of water and pass it through a strainer again to remove the remaining juice from the wheat.
In the next step, pour the obtained juice and syrup gained from the previous step into a pot and add flour little by little.
Then put it on low heat, stirring constantly, for 2-3 hours until the samanak gets ready. After 2 hours, add some walnuts and cook for another half an hour on low heat. your samanu is ready, enjoy eating!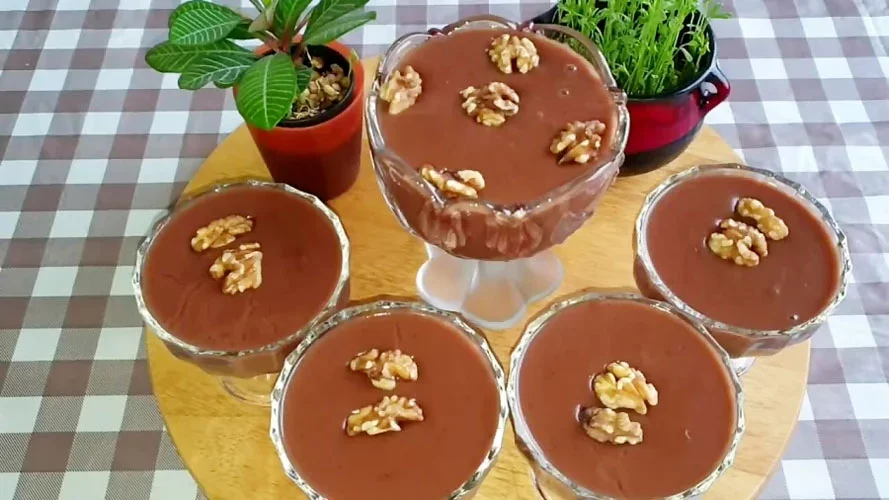 Properties of Samanak
Samanak is one of the traditional Iranian desserts. This delicious dessert is a part of our Iranian culture and is a staple of Haftsin tables. Samanu is a delicious dessert, very nutritious, and has many properties. Samanu is prepared from wheat germ juice and is placed next to wholemeal flour.
This dessert does not contain any sugar, and the wheat germ juice provides its sweetness.
Therefore, it can be said that samanak is a healthy and very nutritious dessert. Among the vitamins and minerals found in samanak, we can mention vitamins A, E, K, and group B: iron, copper, phosphorus, calcium, selenium, chromium, and zinc.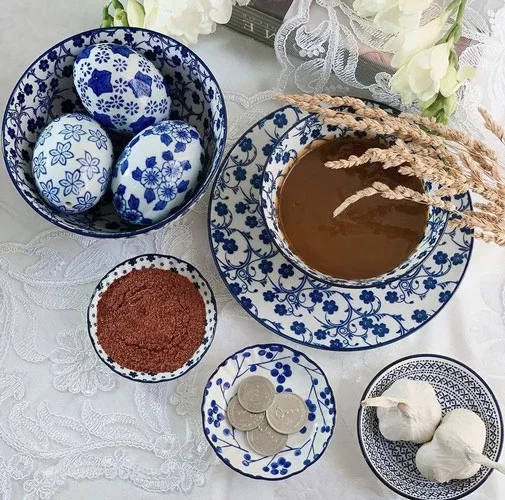 Therefore, it can be said that samanak is a healthy and very nutritious dessert. Among the vitamins and minerals found in samanak, we can mention vitamins A, E, K, and group B: iron, copper, phosphorus, calcium, selenium, chromium, and zinc.
It is recommended to use samanu (samanak) in the first trimester of pregnancy, like the kachi we have had during and after the pregnancy periods.
The ingredients in samanu help the development of the nervous system of the fetus and prevent possible defects. Samanak makes the fetus grow well and have strong and robust bones.
The iron in samanu is beneficial for pregnant women and prevents them from anemia. In addition, if the mother is constipated, this dessert will make bowel movements easier and relieve constipation.
Vitamins B and E and minerals present in Samanu help treat infertility and cause easy delivery in pregnant women.
This dessert has high amounts of fiber. This substance is beneficial for slimming, and making people feel full prevents them from overeating.
Samano also has high amounts of calcium and phosphorus. These substances solve bone problems and strengthen bones. Therefore, it is recommended that women who are in menopause to take Samano to prevent osteoporosis and the development of this disease.
Other properties of this dessert include:
Improving women's diseases.
Regulating menstruation.
Improving digestive system diseases.
Regulating heart rate.
Preventing arteriosclerosis.
Preventing gallstones.
Regulating blood cholesterol.
Improving genital swelling.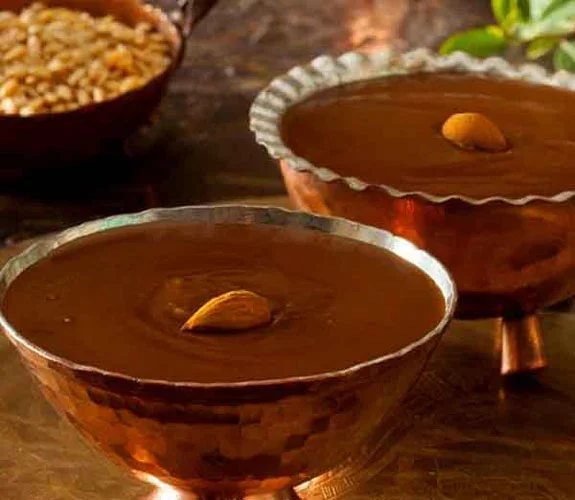 Having a journey in the history of Samanu
From the beginning of Nowruz night to the dawn of the first day of spring, Afghan women start baking Samanoo, which is one of the old traditions of Nowruz in Afghanistan, by singing old poems.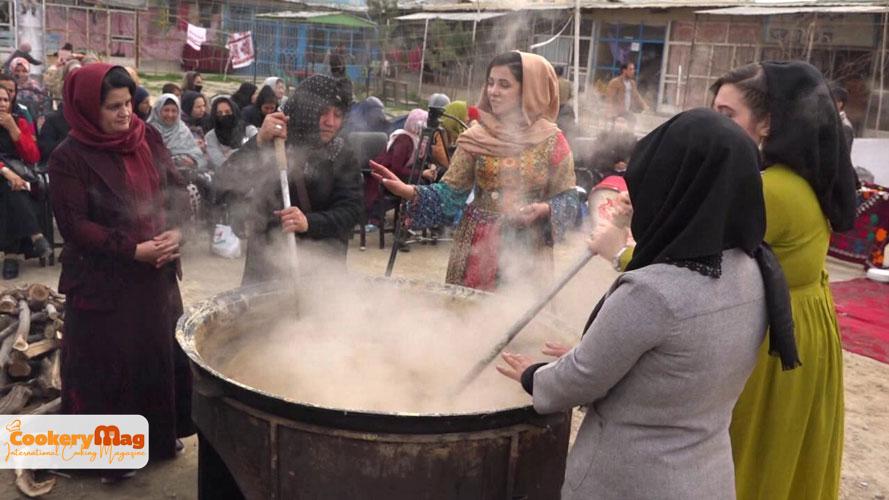 On the night of Nowruz, young girls and women sit by the fire on which the giant cauldron of samanak is placed until midnight and stay awake telling stories happily until the samanak get fully prepared.
The custom of spending the night with Samanak on the night of Nowruz is common among women in Kabul and other parts of Afghanistan, and many families, especially Afghan women, take part in the Samnak cooking party on Nowruz night.
Frequently Asked Questions about Samanu
What is Samanak?
Samanak or samanu is an edible similar to halva, like Persian halva, but a little thinner, and unlike halva, its sweetness is completely natural. This old and authentic sweet is connected with Nowruz and the Haftsin table and has a ritual function; however, it is trendy to eat it in non-Nowruz times.
How many calories do samanak have?
By eating 100 grams of Samanu, we absorb about 300 grams of calories, 52 grams of carbohydrates, and 6 grams of protein.
On average, the calories of Sava wheat Samanu (a 400 ml portion) are between 1000 and 1300.
Since no added sugar is used in its production and its sweetness is obtained from wheat germs, the calories of Samanak are in the normal range.
Conclusion
Thank you again for being with us with an excellent, delicious, authentic Iranian persian halva recipe.
Share your experiences with us, and if you have any tips to improve the Samanu recipe, be sure to comment; thank you.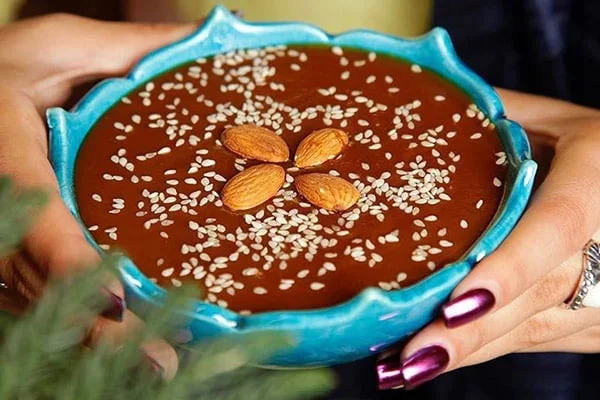 It is hoped that among the delicious foods of different societies, Iranian food is gaining more and more fans daily.
And finally, I would like to thank those who took the time to read this article about Samanak, for additional information, you can also read Samanu's article.
Please share this article with your friends on Facebook, Twitter, Pinterest, and other social media. 🧡