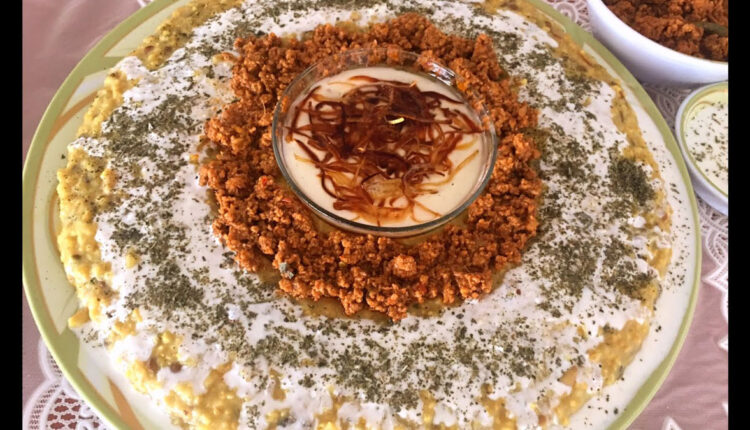 Afghani Dalda Recipe, an Authentic, delicious food in 5 steps
Dalda is a local, authentic, unique, very nutritious, and delicious dish of the Afghan people, and it has a lot of variety that we, The Cookery Magazine, are going to explain to you.
For example, legumes such as beans, mung beans, and chickpeas are also planted in Dalda, but wheat semolina is the only constant.
Wheat has been on every table for a long time, symbolizing blessing and fertility; Muslims and even some people of the book consider wheat and wheat bread sacred.
Other ingredients are changed in other recipes and could be served with chicken and other beans, spices, and seasonings.
In addition to garlic and yogurt, for decoration, melted butter is always used too, and it is going to be said that Dalda is mostly good for winter; Due to the warm nature of wheat, dolda is mostly cooked in the cold seasons of the year.
Its ingredients also depend on people's tastes, but the main raw material is wheat.
Ground wheat, yogurt or buttermilk, garlic and onion, paste and oil, and legumes are the main ingredients of Dalda.

Some Afghan people put meat in the Dalda. Vegetables such as cilantro and tarragon are also used in some areas, along with dolda.
Initially, only the people of the villages, especially the Hazaras villages, cooked Dalda.
Because the raw materials of Dalda are mainly their products, it has been more economical for them.
It is also easy to cook this dish; But over time, this food became popular among the people of the cities and became popular.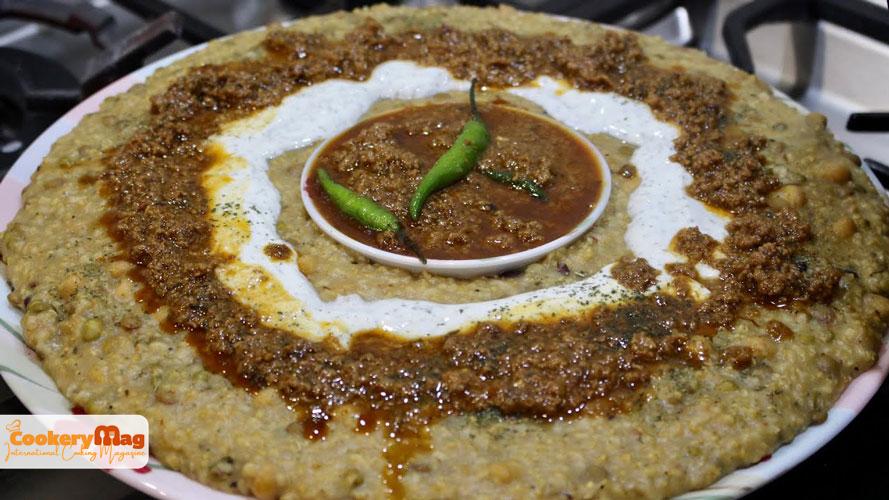 In addition, they cook this food on various occasions, such as mourning and Nazri.
Especially on the last Wednesday of the month of Safar, at the same time as the death of the Prophet of Islam, Mohammad (PBUH), women in some regions of Afghanistan cook dolda and distribute it among the poor and neighbors.
In general, it can be said that most of the people of Afghanistan in different provinces choose this food for Nazr because the sanctity of wheat and its spiritual value are highly accepted among them.
It can be said that it is a little similar to Halim and Sholeh Mashhadi, which has been explained in previous articles.
Ingredients for making Dalda (dolda):
| | |
| --- | --- |
| Wheat semolina | 3 cups |
| Mung bean | 1 cup |
| Lamb mutton | 500 grams |
| Tomato | 5 pieces |
| Big onion | 1 piece |
| Garlic | 3 pills |
| Cumin powder | 1 teaspoon |
| Coriander seed powder | 1 teaspoon |
| Pepper | As much as needed |
| Salt | As much as needed |
Ingredients for making Dalda (dolda):
| | |
| --- | --- |
| Yogurt | 500 grams |
| Garlic | 3 pills |
| Dried mint | As much as needed |
Recipes to make Dalda (dolda):
First step:
First, I chop the onion and fry it in oil, then add the meat and fry it; grate the tomatoes and add it to the meat, let it drain, and fry a little, add turmeric and some water to the meat, let it cook and become soft.
Second step:
At this time, we boil the washed semolina with one and a half liters of water; It will stuck-on the bottom of the pot after boiling, so be careful.
Third step:
In a separate container, cook mung beans with water and add to bulgur when cooked.
Fourth step:
We separate the cooked meat from its bones and add it to the bulgur with the sauce it was cooked in, and add garlic, salt, pepper, and other spices to it and cook it with low flame until the ingredients are mixed and incorporated.
Fifth step:
Stir the yogurt, add the grated garlic, and let it taste. When the dalda is ready, serve it in a dish and decorate it with yogurt and dry mint. You can also add sumac. I hope you try and enjoy it.
Conclusion:
Thank you for taking the time to try this delicious food with us, be sure to share your experiences with us.