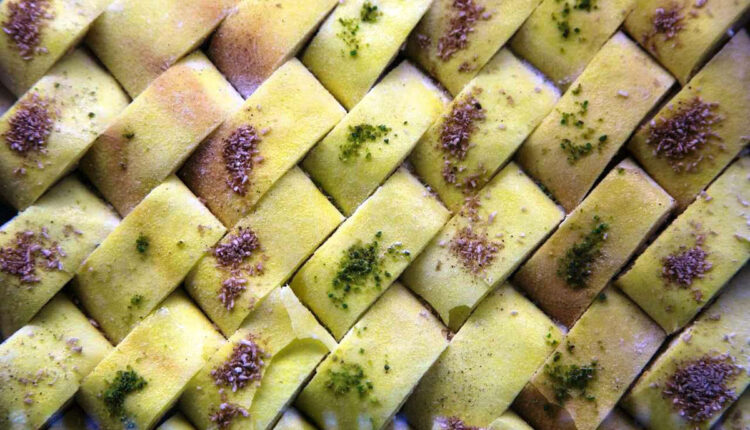 Persian Kaak recipe | Youkheh or Yokheh, delicious Kermanshahian sweet in 6 steps
Persian Kaak is one of the most popular Iranian sweets, also a souvenir of Kermanshah. This sweet is so attractive and popular that it is registered in the spiritual heritage list of Kermanshah province.
Persian kaak is made of thin, papery layers of dough. Join us at The Cookery Magazine to make this delicious dessert.
Ingredients for making Persian Kaak
With the following ingredients, you can make this sweet for 10 people:
| | |
| --- | --- |
| Flour | 50 grams |
| Lukewarm water | 50 ml |
| Instant dough | 1 teaspoon |
| Egg | 1 piece |
| Animal oil or solid oil | 50 grms |
| Powdered sugar | 160 grams |
| Almond powder | ½ a cup |
| Cardamom powder | 1 teaspoon |
| Salt | ½ teaspoon |
Recipe for making Youkheh
The first step:
The first thing is to make the dough. For this purpose, mix a tablespoon of powdered sugar with instant dough (barmy) in a container and add 50 ml of lukewarm water to them.
Now put the lid on the container and let it rest for 10 minutes.
The sign of the dough's action is the swelling of the dough inside the container.
Do not use a metal spoon to stir the dough.
The second step:
Melt the oil on low heat and set it aside to cool a little. In another container, break the egg and beat it a little to get out of the lumpy state. Mix half the egg mixture with salt and add it to the animal oil.
The third step:
In this step, add the dough mixture little by little to the egg and oil mixture and mix.
Then add the flour gradually and continue to mix. Finally, it would be best if you had a smooth and soft dough that does not stick to your hands.
The fourth step:
After kneading the cookie dough for 10 to 15 minutes, cover it and leave it aside to rest for 2 hours.
Note: Make sure that the dough has a good consistency for the preparation of Kaak, so if it is a little loose, add some flour.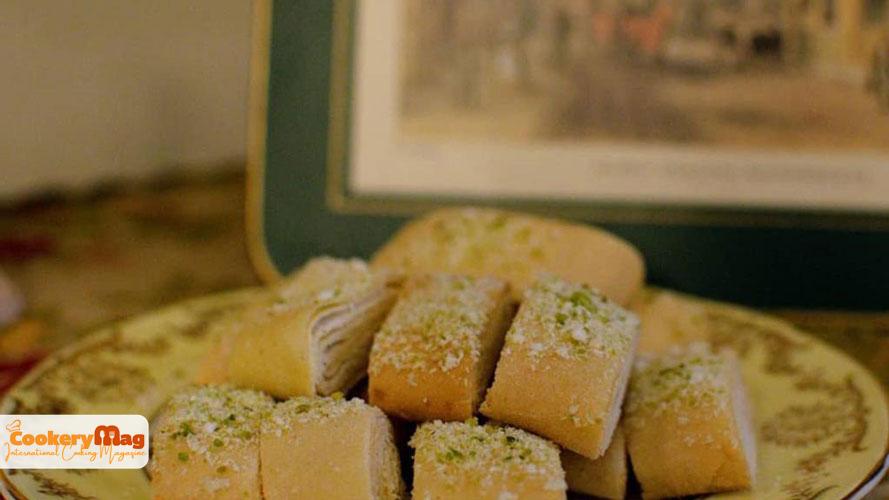 The fifth step:
In this step of how to prepare Persian kaak, knead the dough a little again and separate small tangerine-sized pieces from it. Roll each separated piece by hand and flour the work surface. Sprinkle some flour on the dough so that they don't dry out.
The sixth step:
Cover the prepared dough with a clean and wet towel and let them rest for 10 minutes for the second time.
Now spread and extend the prepared dough with a rolling pin; Until they become thin and uniform, like lavash bread dough.
In another container, mix powdered sugar and cardamom together and keep aside.
The seventh step:
Put the pan used for baking bread on the stove to heat it up. Now put the doughs one by one on the pan to cook. The diameter of the dough is very thin, and they cook very quickly.
Remove the loaves when they turn light brown so they don't dry out.
Tip: Originally, this traditional Kermanshahian sweet was prepared with the kind of pan that we show here, but if you don't have access to it, you can also use a non-stick pan.
The eighth step:
Cover half of the surface of each piece of bread with sugar and cardamom mixture and roll the slices of bread.
At this stage of how to prepare Persian kaak, you must act quickly so that the bread does not dry out and cool down.
The ninth step:
With a rolling pin, press a little on the rolled loaves of bread so that the contents inside them are compressed.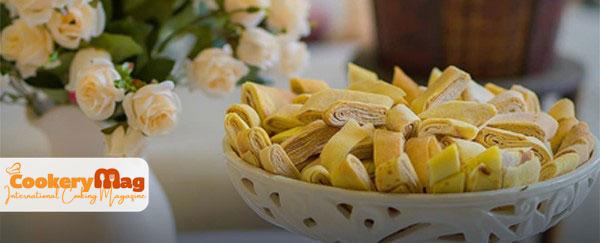 Cut the bread diagonally with a knife, sprinkle powdered sugar on them, and put them in a suitable container.
How to make Persian kaak sweets with Filo or Phyllo dough
If you want the preparation of Kermanshahi bread to go faster, use the ready-made Phyllo dough and the oven instead of making the dough.
In this method, spread the first layer of Phyllo dough and spread it with some melted butter and powdered sugar.
Place the second layer on top of the first layer similarly. For the middle of the third layer, which is placed on the previous two layers, use powdered sugar, cardamom, cinnamon, and butter.
In the continuation of the preparation of Persian kaak sweets with Phyllo dough, make Phyllo dough into rolls and cut them into desired shapes and sizes.
Roll the cookies with the mixture of egg yolk and vanilla and sprinkle pistachio and coconut powder on them.
Now put the sweets in the oven for 20 minutes at 180 degrees Celsius until they are ready to serve.
How to prepare Northern Persian kaak sweets
The appearance and texture of Northern kaak sweets are completely different from Kermanshahi kaak.
North kaak is prepared with pumpkin and is one of the delicious local sweets of Gilani.
To prepare the Northern kaak sweets, you need to cook the pumpkin with some sugar until it becomes smooth and pure.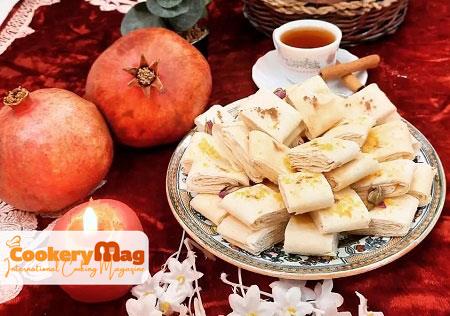 Then, mix it with one egg, half a cup of sugar, half a cup of rose water or milk, and one teaspoon of baking powder.
Of course, remember spices like cinnamon, cardamom, and walnut powder. Next, add a cup of flour to the ingredients and mix well to create a smooth dough. Let the dough rest for half an hour, mold it into desired shapes, and fry it in oil.
Having a journey in the history of Yokheh
This crispy and delicious sweet is a hundred years old, and the people of Kermanshah province have been cooking and preparing kaak for many years.
The dominant taste of Persian kaak sweets is cinnamon; after many years of cooking it, it has remained the same. It has kept its original shape and wonderful cinnamon taste.
This sweet is considered a souvenir of the cities of Kermanshah and Khorram Abad. Also, a similar sweet is baked in Shiraz, called Yokheh, Youkheh, or Nan Yokheh.
Although Kermanshah Kaak and Shiraz Yokheh are similar, the way of preparing this sweet in Shiraz and Kermanshah is different, and the thickness of each layer in Shiraz Yokheh is less than in Kermanshahian Kaak.
Persian kaak sweets are made from very thin and fragile layers of dough.
The kaak is light, tasty, and energetic. Persian kaak is made from wheat flour, sugar or sugar flour, eggs, cinnamon, oil, cardamom, and water.
It is decorated with pistachio powder, coconut, and almond slices to make it more beautiful and flavor this sweet.
This crispy and delicious sweet is prepared in small sizes and will be very hearty and pleasant with a cup of tea.
While light and very tasty, Kaak sweets are full of energy and can be used as a complete and very nutritious snack.
Frequently Asked Questions about Kaak
What is Persian Kaak?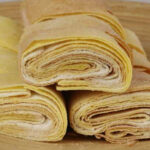 Persian Kaak is a traditional sweet pastry in Kermanshah, Iran.
It is known for its unique shape and delicious taste.
What does Persian Kaak taste like?
Persian Kaak has a sweet buttery flavor with a hint of cardamom.
It has a slightly crunchy texture on the outside and is soft and tender on the inside.
Is Persian Kaak gluten-free?
Traditional Persian Kaak is not gluten-free as it is made with wheat flour.
However, the recipe may have variations or adaptations that use gluten-free flour alternatives.
How is Kaak served?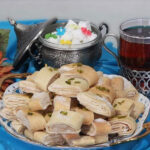 Persian Kaak is often served as a dessert or a sweet snack.
It can be enjoyed with tea or coffee and is commonly served during special occasions or celebrations.
Can youkheh (kaak) be stored for later consumption?
Yes, Persian Kaak can be stored in an airtight container at room temperature for several days.
Keeping them in a cool and dry place is best to maintain their freshness.
Are there different variations of youkheh?
There are variations of Persian Kaak across different regions of Iran. Some may have additional ingredients like sesame seeds, pistachios, or almonds.
The shapes and sizes may also differ depending on the province.
Can Kaak be made vegan?
Making a vegan version of Persian Kaak (youkheh) possible by replacing butter with plant-based alternatives like margarine or coconut oil.
Non-dairy milk can also be used instead of common milk.
How long does it take to prepare and cook this fantastic kaak?
Since this sweet's hardness is high, its ingredients' preparation time is 120 minutes, and the cooking time is 10 minutes.
How many calories are in per 100 grams of kaak sweets?
More than 150 calories.
Note: Each 30-gram cookie contains 50 calories, which can change slightly depending on the middle ingredients of the cookie.
Conclusion
Thank you for being with us with this delicious and popular souvenir. If you have any more questions, it's my honor to answer. Enjoy your exploration of Persian cuisine!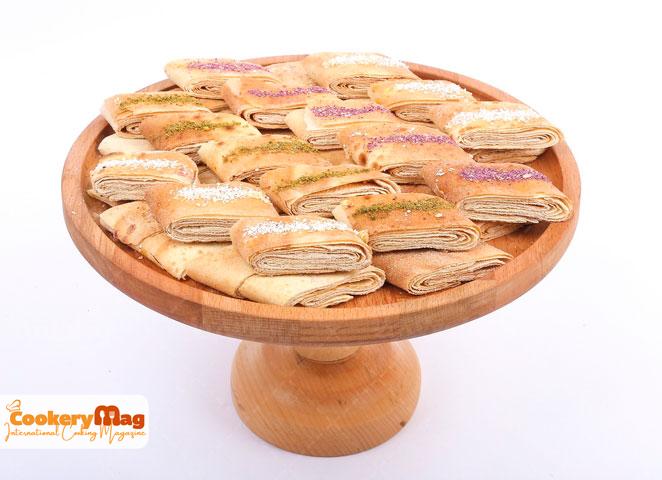 Also, you can use our other delicious Iranian and especially Kermanshahian recipes for cooking your new dishes and desserts, such as Khoresht Khalal, Sib Polo, Kachi, Nan Berenji, and Dami gojeh farangi.
Please share this article with your friends on Facebook, Twitter, Pinterest, and other social media. 🧡