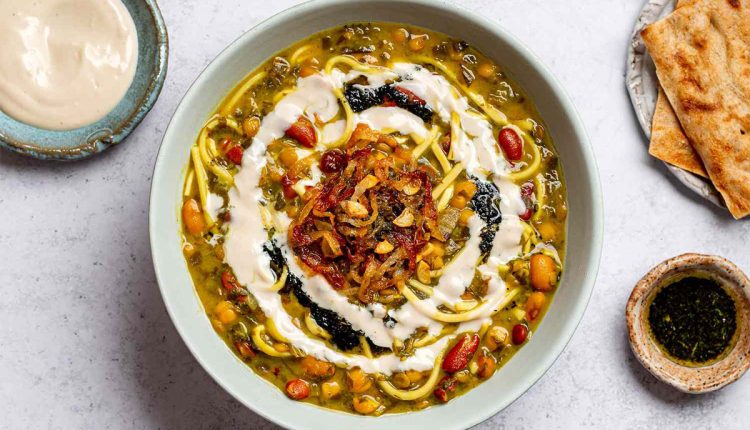 Ash reshteh recipe, Persian Noodle Soup in 6 steps
Ash reshteh (Persian noodle soup) is a traditional Iranian soup which is one of the best foods for cold days. In winter if you ask Iranian people what do you suggest to eat? They will definitely say "Ash".
Not only Ash Reshteh is so easy to cook but also contains all the nutritious that your body need. You can serve this great soup as an appetizer or even main course.
Iranians have different kinds of Ash like Ashe Doogh, Ashe Jou and so on. In this article we are going to cook Ashe Reshteh in the Cookery Magazine together for 4 – 5 people. This recipe is original Persian way of cooking Ash Reshteh.
Ingredients for making Ash reshteh
| | |
| --- | --- |
| lentils | 1 cup |
| chickpeas | 1/2 cup |
| pinto beans | 1/2 cup |
| green onion | 1 bunch |
| parsley | 1 bunch |
| cilantro | 1 bunch |
| spinach | 4 cups |
| dried mint | 2 tablespoons |
| olive oil | 1/2 cup |
| Chengdu noodles | 1,80 grams |
| curd | 1/2 pound |
| black pepper | 1/4 teaspoon |
| turmeric powder | 2 teaspoons |
| sea salt | as needed |
| onion | 2 medium size |
| garlic | 2 cloves |
⭐️ Each bunch contains of 200 grams of that vegitable.
Recipe for making Ash reshteh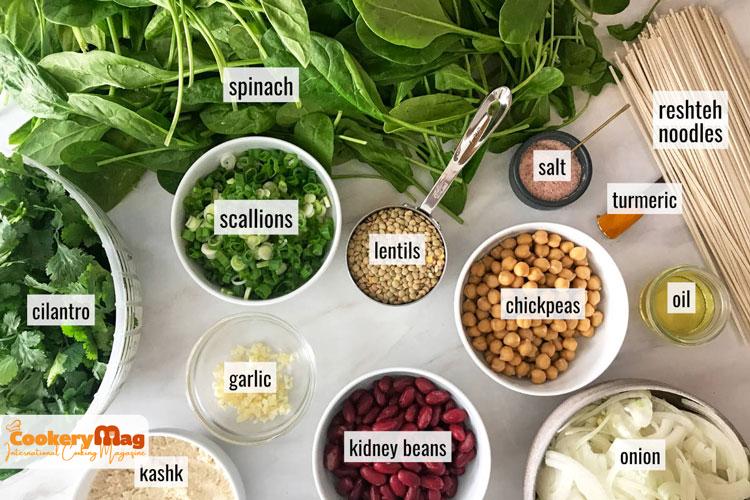 Starting of cooking Ashe Reshteh
To get started fry your cloves of garlic in separate sauce pan using 4 or 5 olive oil to each. It's important to supervise at all times and stir on occasion to achieve crispy and golden cloves of garlic and onions.
lentils and vegetables in Ash Reshteh
Next add 1 teaspoon of turmeric powder, ¼ of spoon black ground pepper and half of your fried onions to your lentils that have been fully cooked in 4 cups of water on medium high heat.
Later add your fresh vegetables into the pot.
Chop your cilantro, parsley and green onions so that each piece is about 1 to 2 centimeters long. Since spinach leaves are much more delicate you want each piece to be 1 to 2 inches long. Let them cook on medium heat.
How to make Nana Dagh or Mint sauce?
In sauce pan add ¼ of a cup olive oil, 2 tablespoon of dried mint and bring it to boil on medium high heat. Once its start to sizzle, add ½ teaspoon of turmeric powder and keep stirring until they are well distributed. You must fry your turmeric powder and be careful not burn it.
The frying process for Nana Dagh (mint sauce, frying dry mint along with liquid oil in a pan) will take about 4 to 5 minutes. When your dried mint powder has darkened a bit, it's time for taking of the heat.
Now add 2 tablespoons of your Nana Dagh (mint sauce) into the mixture pot and keep the rest to decorate your dish for serving.
The Nana Dagh (mint sauce) is the key step in intensifying the flavor of your Ash Reshteh (Persian noodle soup).
Make beans ready for Noodle Soup
The night before you planed to cook, soak your chickpeas and pinto beans in 4 cups of water and let it rest for 12 to 24 hours. Then cook them in water separately on medium heat for 1 hour.
(Definitely, you can't cook chickpeas and pinto beans with lentils because lentils take about 15 minutes to be cooked.) Add them to your pot after they are cooked. And stir the mixture.
Last step and Noodles time 🙂
It's time to add noodles. Put some Chengdu noodles into the pot and keep stirring so noodles don't get stuck to the bottom of the pot.
You can replace Chengdu noodles with any other kind of egg free noodles. And let it cook for 20 minutes then pour sea salt as much as you like (1teaspoon).
Your Persian Noodle soup is ready! try it and tell us your opinion about this Iranian soup.
Golden tips for having the best Ashe reshteh
Ash noodles must be of good quality.
Curd must be boiled for 20 minutes (in terms of health and food hygiene).
There should be enough oil inside the ash reshteh because it helps it settle.
There should not be too much hot onion in the ash reshteh so the soup fits better.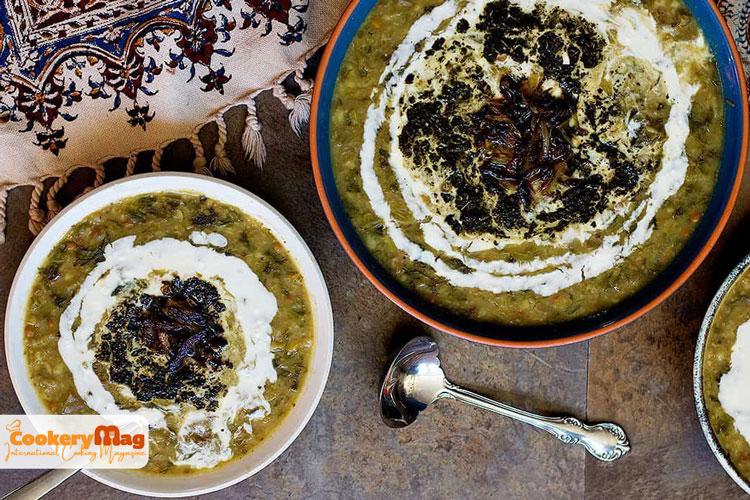 To make hot mint, heat two spoons of oil, add dry mint, and turn it off immediately so the mint does not burn.
The vegetables of the ash reshteh dish should be coarsely chopped without stems so that the ash reshteh dish looks more beautiful.
You can test the salt of the noodle soup after adding noodles and curd so that the soup does not get salty because some of the noodles for ash reshteh have salt.
The pot should have the capacity of the ingredients and should be slightly larger than the volume of the ash reshteh so that the noodles do not stick together and do not become doughy.
Having a journey in the history of Ash reshteh
Ash Reshte (آشِ رِشْته) is one of the national and ritual dishes of Iranians and the most famous Iranian Ash. In addition to consuming food, this food is cooked for various reasons rooted in people's beliefs.
The term "Ashpaz (آشپز)" means someone who cooks food, as the existence of poems, proverbs, stories, etc., about Ash in our literature indicates that Ash has a special place in the history of our food.
A bowl of hot Persian noodle soup while the steam rises from it and the smell of fresh curd, hot mint, onion, and garlic fills our noses is one of the small pleasures of this world.
Especially if it is homemade and cooked by mom, and especially if it is consumed during the weekend with talking and refreshing meetings with loved ones.
Eating Ash reshteh when you have just arrived and leaving the cold weather at the door has motivated you to get home early from work, school, and university.
Sometimes, a cultural element accompanies us so much and is everywhere that we don't ask ourselves where it came from?
Imagine a foreigner participating in several Iranian customs and seeing that Ash is an inseparable part of its foods!
He must be asked what this food is and why it is always there? Of course, we firmly answer that these soups are different, but to be honest, the foreigner is right because the nature of all these bean soups is the same.
This soup is often eaten with curd and sometimes with vinegar and even pickles. Depending on the habits and culture of the Iranian family, Ash reshteh is used as an appetizer or main dish.
Also, sometimes, at parties in the winter season or at the Muslim Iftar ceremony in Ramadan, Ash reshteh is used as an appetizer. Ash reshteh has a special place among Iranian families during Ramadan, and it is one of the dishes suitable for this month.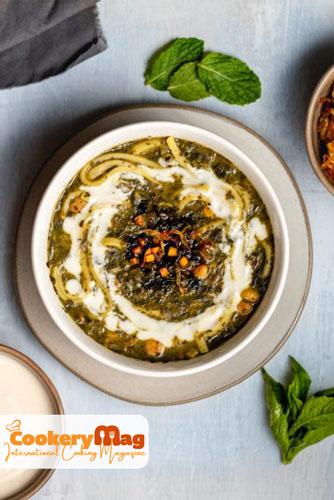 As we have already talked about the history of different types of local dishes in Iran, it is not clear since when it became one of the ordinary Iranian dishes.
The treatises and cookbooks written about the foods and stews cooked in ancient Iran and the palaces of numerous dynasties only cover this side from six hundred years ago. In other words, it relates to the Safavid era and mainly to the Qajar era.
This delicious ash reshteh has a fascinating and long history of several centuries behind it, and it has made its way from the courts of the kings to the tables of the Iranian people in every corner of our vast country, although with many changes, both in the name and in the ingredients used to cook it.
In parallel with the investigation of the path that Ash reshteh has traveled until it reaches us in this form today, its traces can be seen in the shaping of traditions and ceremonies and even the change in people's social lives.
In a time not so long ago, Ash and bread were the main strengths of Iranians, and as mentioned at the beginning of the article, Ash played the role of an appetizer for the rich and the elderly.
The same overflowing and lip-smacking bowls of hot soup with the aroma of mint and the taste of hot onion and curd are charming in the cold and rainy foggy weather.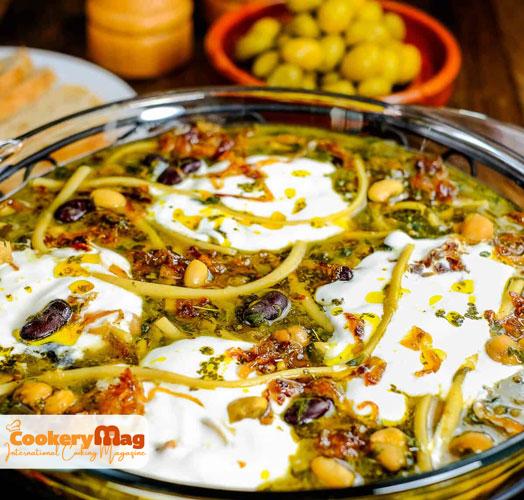 It doesn't matter and makes no difference whether you are rich or poor; this food is on every table. This soup is also cooked in other countries, including Turkey and Armenia.
Eugène Aubin, the French ambassador in the Qajar era in Iran, wrote in his memoirs:
Even though two Iranian fantasy and good dishes made of rice are present in the middle of the table, Ash reshteh still has a prominent presence in the noble table.
Ash has played its role perfectly for many years in the ceremonies of joy and sorrow and Sizdeh-be-Dar, from offering tables to the usual daily food.
Sultan Mohammadi, the owner of Tehran's oldest ash reshteh shop, which started working in Sarchesheme in 1314, says:
Ash has been the most important food of most of the people of the capital (Tehran) in the last hundred years; which has found a special place on the table.
Frequently Asked Questions about Ashe reshteh
What is Ash Reshteh?
Ash Reshteh is a famous Persian soup made with various herbs, legumes, noodles (reshteh), and sometimes meat. It is a hearty and flavorful dish.
What are the main ingredients in Ash Reshteh?
The main ingredients in Ash Reshteh are lentils, chickpeas, kidney beans, onions, garlic, herbs (such as parsley, cilantro, and spinach), noodles, and a mixture of spices.
Is Ash Reshteh a vegetarian dish?
Ash Reshteh can be made as a vegetarian plate by skipping the meat or using vegetable broth. However, some variations may include meat, such as lamb or beef, for added flavor and richness.
When is Ash Reshteh commonly served?
Ash Reshteh is commonly served during special events and celebrations, such as Nowruz (Persian New Year) and other festive gatherings.
Conclusion
Thank you for being with us with this delicious and popular ash. If you have any more questions, it's my honor to answer. Enjoy your exploration of Persian cuisine!
I am delighted that Ash reshteh has been one of the pillars of the holidays and an excuse for families to gather together, remember memories, and stay informed about the problems and changes in each other's lives.
Especially in the past when elders were considered more important, and families were the center of the gathering.
Please share this article with your friends on Facebook, Twitter, Pinterest, and other social media. 🧡