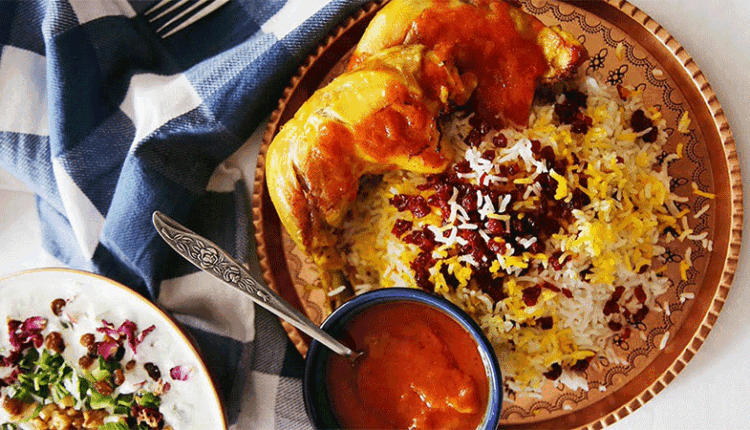 Zereshk Polo Ba Morgh Recipe, a fantastic combination of Persian Barberry rice and chicken
Zereshk Polo Ba Morgh or Persian rice with chicken is a delicious and classic Persian cuisine. This popular dish is used in special ceremonies such as weddings or funerals. You can't find a person who does not like this dish. Zereshk Polo ba Morgh is made of rice, chicken, barberry, and saffron. Stay with us in this article from the Cookery Magazine to get to know this dish completely and simply.
Chicken(Morgh), Rice(Polo) and Zereshk are the 3main ingredients of this beloved cuisine. The secret of preparing mouthwatering Zereshk Polo is cooking chicken pieces with a special recipe I shared with you.
Ingredients for Zereshk polo Ba Morgh
| | |
| --- | --- |
| Rice | 4 cups |
| Chicken | 4 pieces |
| Onion | 1medium size |
| Turmeric | 1 Teaspoon |
| pepper | 1 Teaspoon |
| salt | 1 Teaspoon |
| Tomato paste | 1 Tablespoon |
| Brewed saffron | 4 Tablespoon |
| sugar | 2-3Tablespoon |
| Butter | 50 grm |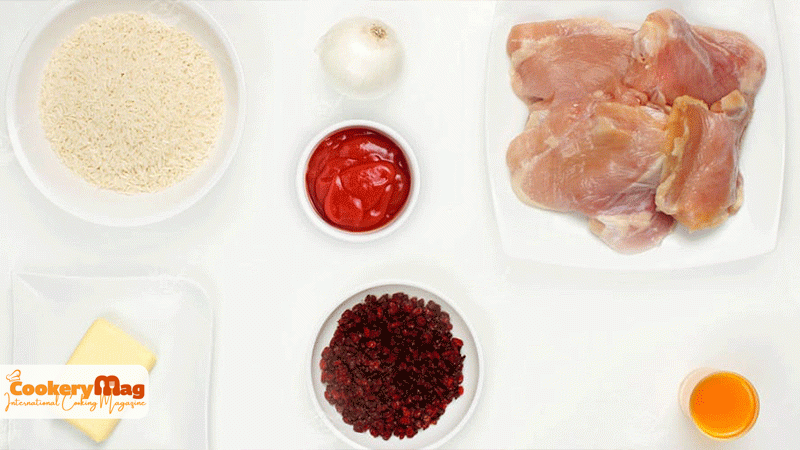 How to make Zereshk Polo Ba Morgh
1- Wash the rice and soak it in the water and salt for at least one hour.
2- First, chop the onion into small pieces, put it in a suitable pot, and fry it with some oil to become soft and golden. Then add turmeric, salt and pepper to the fried onion.
3- In this phase, dulite the tomato paste with water and add it to the pot. It is our sauce for chicken (Which you can finally serve it in a bowl separately)
4- Now pour some oil into the frying pan and sauté the chicken pieces until they become golden brown. (you may season the chicken by sprinkling a little pepper)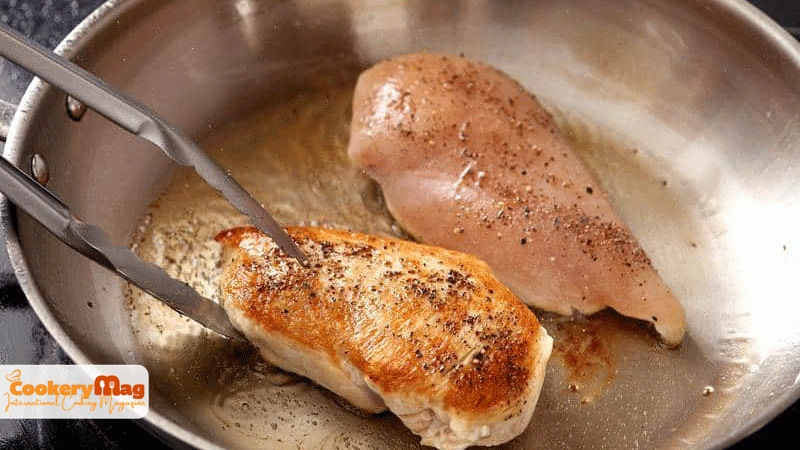 5- In this phase, place the fried chicken pieces in the sauce, then add 2-3 glasses of boiling water until cover the chicken and let them cook on low heat for one hour until the chicken is fully cooked and the sauce begins to concentrate. Ten minutes before turning off the heat, add saffron to the chicken.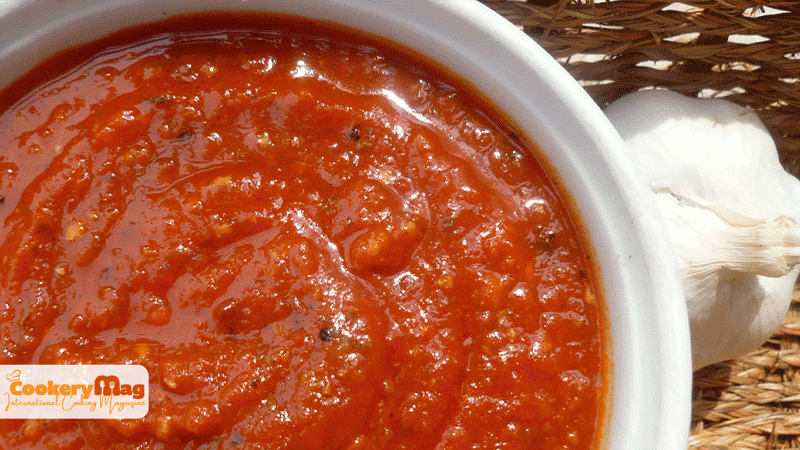 6- Here, make the Polo, fill the pot with water, put it on high heat, and add salt. After boiling, put the rice into the pot.
7- When the rice becomes soft, drain it on the colander and set it aside. Then put the pot on heat again and add some oil; if you want to have Tahdig, Put some potato slices to cover the bottom of the pot(Persian Tahdig is a really tricky way to have a portion of special food, and I completely explained all the key points of coonig rice with Tahdig in Persian rice recipe), then pour the rice. Then add oil on top of the rice. Let the rice steam for 30 minutes. (Instead of cooking rice and garnishing it with barberries, you can cook Baghali Polo)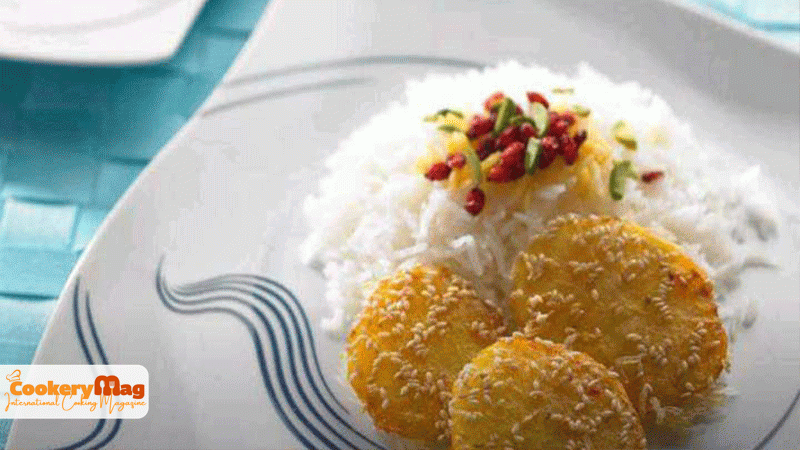 8- Fry the rinsed barberries with butter on low heat, add sugar, and stir them for 2-3 minutes. Take care not to burn the barberries.
9- In the last phase of the Zereshk polo recipe, mix some rice with the brewed saffron and stir them to make the rice golden. Then add barberries to the saffron rice. Garnish your rice with this mixture.
How to serve Zereshk Polo Ba Morgh?
Serve the rice on the platter, and decorate it with a mixture of saffron rice with barberries and pistachio which the green color of it will make your rice looks like jewels. Then serve chicken and sauce in another bowl. You may serve Doogh as a beverage beside it and for salad make Shirazi Salad. I hope you enjoyed making Zereshk Polo Ba Morgh. I suggest you make this yummy dish at home and enjoy it with your family.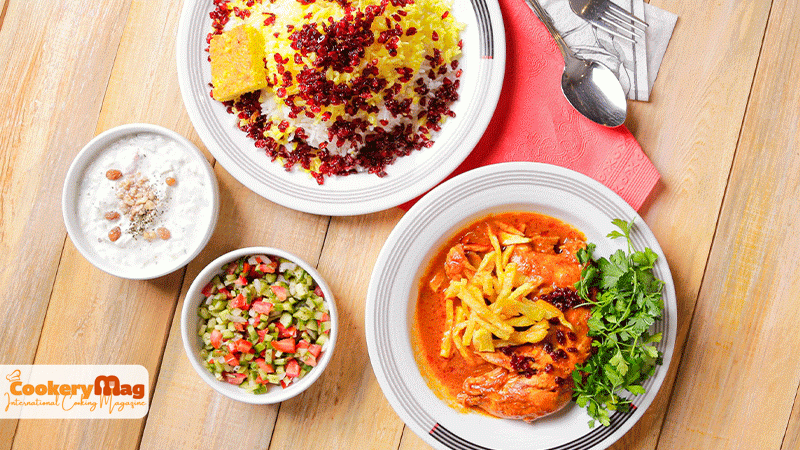 If you made this dish, please let me know about your experience!
Frequently asked questions
What are the main ingredients of Zereshk Polo Ba Morgh?
Chicken (Morgh), Rice (Polo) and Zereshk are the 3main ingredients of this beloved cuisine.