Baghali Polo Ba Mahiche, a Perfect mixture of Rice with Broad Beans & Lamb Shank
Baghali polo Ba Mahiche is one of the traditional and popular Iranian dishes that is prepared for special occasions, such as weddings. In Farsi polo means a combination of rice with other ingredients like Adas polo, Havij polo, zereshk polo. Baghali Polo is a combination of lamb shank, rice, dill and broad beans and can also be prepared with chicken. In  Cookery magazine you can see the complete step by step preparation of this delicious dish, here we show you the easiest way to prepare this dish.
Ingredients for Baghali Polo Ba Mahiche
| | |
| --- | --- |
| slamb shanks | 2 |
| rice | 4 unit |
| broad bean | 2 unit |
| onion |  2 medium size |
| dried dill |  4 units |
| brewed saffron |  4 Tablespoon |
| cardamom powder | 1 teaspoon |
| cinnamon powder | 1 teaspoon |
| butter |   50 gram |
| salt | as needed |
| pepper | as needed |
| Turmeric | as needed |
| oil | as needed |
Baghali Polo Ba Mahiche Recipe
First step: to prepare Baghali Polo Ba Mahiche, first soak the rice for a few hours; as you know, soaking rice in water and salt makes it tastier and brews better.
Second step: chop two onions and fry them in oil until soft and golden. Then put the Mahiche (lamb shanks) in the pot and fry them with the fried onions.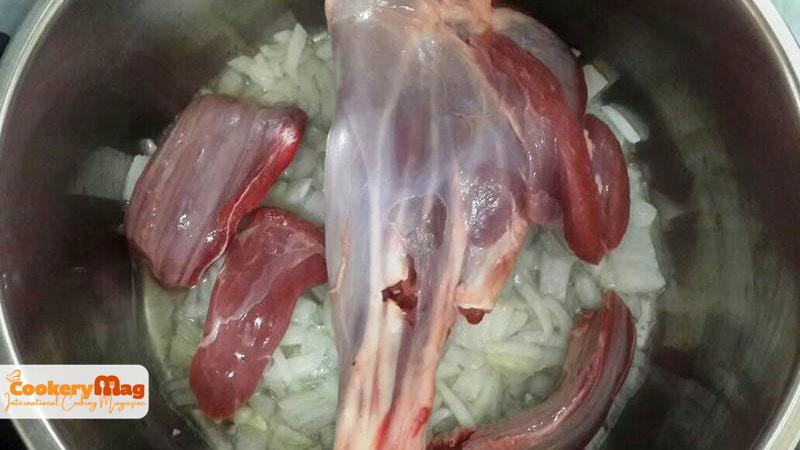 Third step: now add some pepper, turmeric, and brewed saffron to the pot and stir, then add enough boiling water to cover the Mahiche (lamb shanks).
Fourth step: put the pot's lid and reduce the flame. Let it cook for 2 hours, as the Mahiche should cook gradually. When the Mahiche is soft, add salt, and let them cook for another half hour. After cooking the Mahiche (lamb shanks), turn off the flame.
Fifth step: fill the pot with water and put it on high heat; after boiling, add salt and rice.
Sixth step: let the rice cook for 5 minutes, and then add the broad beans. When the rice and broad beans are cooked, drain the water and add cold water to prevent the rice from sticking together, and let it cool.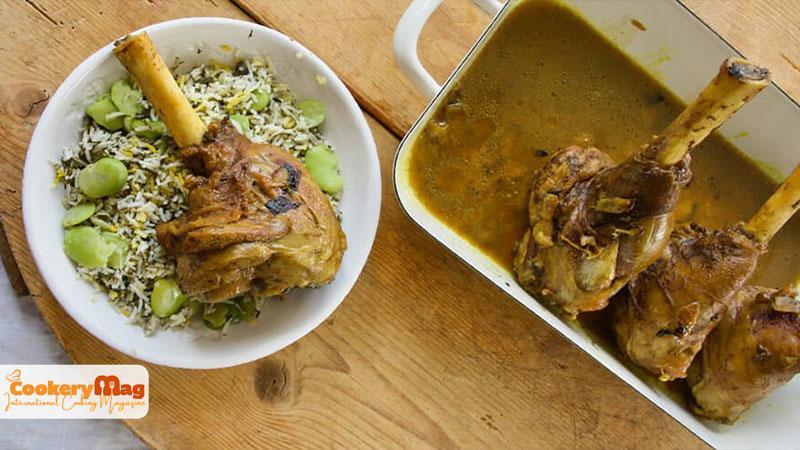 seventh step: put the pot on the flame, add oil to it. You can use sliced potatoes for the bottum of the rice (Tahdig)
Eighth step: now put the rice in the pot, add dried dill, cardamom powder, cinnamon powder and stir. Then add some butter to make it taste better. cover the pot and put it on medium heat until you see steam, then reduce the heat for 30 minutes.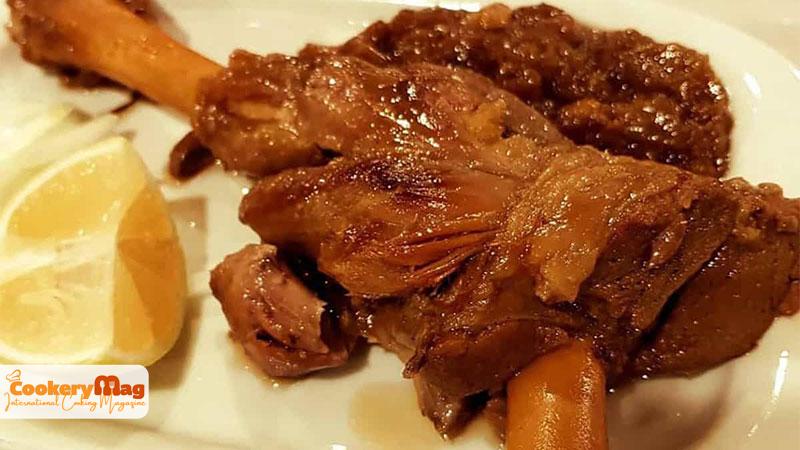 When the rice is cooked, mix a little bit of it by brewed saffron. We can serve the rice in a platter and garnish it with saffron rice and Tahdig. and also serve Mahiche (shanks) in another bowl . I hope you enjoyed to making Baghali Polo Ba Mahiche. Share this simple and fast recipe with your friends.
Frequently asked question
Can we make Baghali polo with chicken?
Yeah we can make Baghali polo with chicken, turkey meat. In some cities in Iran it made with fish
How to make Baghali polo?
It is made of rice, meat ( lamb shank, chicken, fish), dill, broad beans