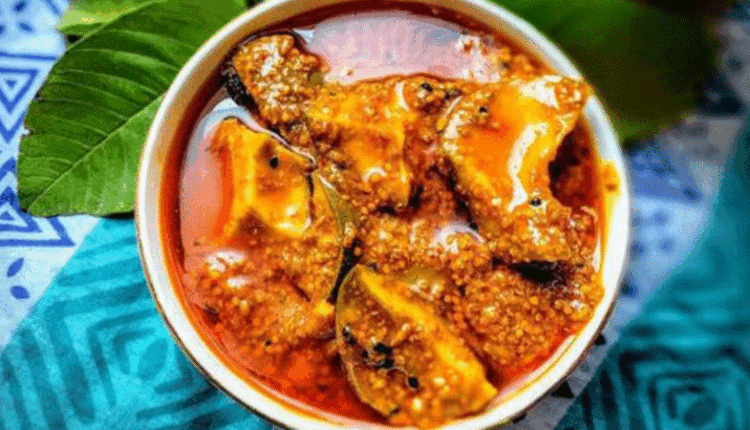 Torshi Anbe Recipe, have a unique table by Persian Mango pickle
Torshi is a favourite Iranian seasoning. Travelling to Iran, you will see almost every Iranian table with this delicious seasoning. But what is Torshi? It is a sour condiment made by putting fruits and vegetables in vinegar. This article shares the recipe for Torshi Anbe (Mango Pickle). This condiment is originally from the south of Iran, such as Hormozgan, Bushehr, khoozestan. Torshi Anbe has a sour and very spicy taste because people in the south of Iran love spicy flavours, which are pleasant for them. Follow the instruction in Cookery Magazine to prepare a fantastic Torshi Anbe.
Torshi Anbe ingredients
| | |
| --- | --- |
| Unripe mango | 6 |
| Coriander seeds | 1 Tablespoon |
| black seeds | 1Tablespoon |
| crushed garlic | 6 cloves |
| vinegar | 1 litre |
| sugar | 125grm |
| olive oil | as needed |
| turmeric | 1/2Tablespoon |
| pepper | 1Tablespoon |
| salt | as needed |
| other pieces you desire | optional |
how to make Torshi Anbe
To prepare Torshi Anbe (Mango Pickle), wash the mangoes, peel them, cut them into wedges, put them in a suitable container, and sprinkle salt and turmeric over them.
Leave the mangoes in the sun for half an hour until the juice comes out.
In the meantime, pour vinegar into the pot and put it on medium heat until it boils.
Now add sliced mangoes to the pot, and cook for 5-10 minutes on low heat. In the meantime, fry black seeds and coriander seeds in a separate container for 5 minutes.
In this phase, add black seeds, coriander seeds, angelica, pepper and other desired spices and stir; after 2 minutes, add sugar and crushed garlic to the pot and stir again. Finally, remove the pot from the heat and set it aside to cool.
When the ingredients have cooled, pour them into a clean and dry jar, ensuring they are covered with vinegar. Then add the olive oil to the ingredients. Close the jar and lid so that air does not enter the space of the jar.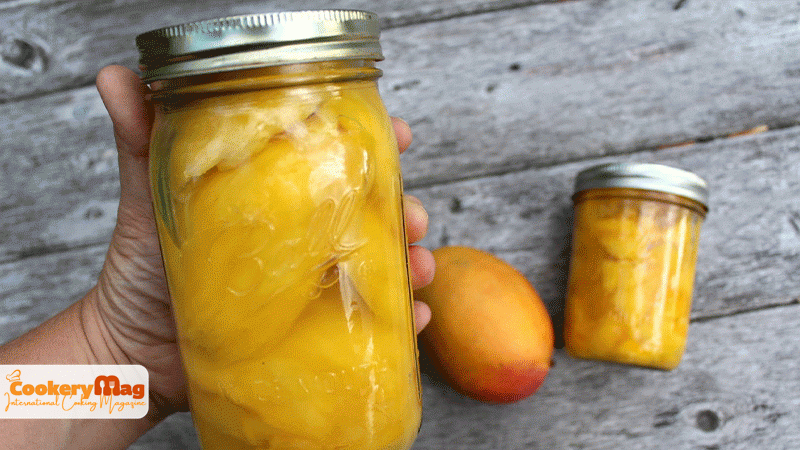 7. Put the Torshi Anbe (mango pickle) in the refrigerator for two weeks until it is ready to be served. This condiment is served aside from any rice, stew and Polo(combination of rice with ingredients) dishes. But It makes a Perfect combination with Lubia Polo and Koofteh Tabrizi.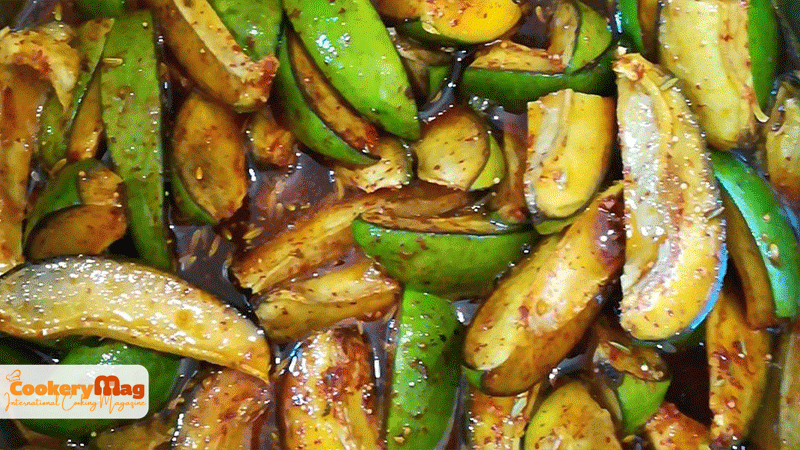 Frequently Asked Questions
What is torshi Anbe?
It is a sour Persian condiment that combines unripe mango, vinegar and spices.
What spices are used in Torshi Anbe?
Angelica, black seeds, pepper and coriander.