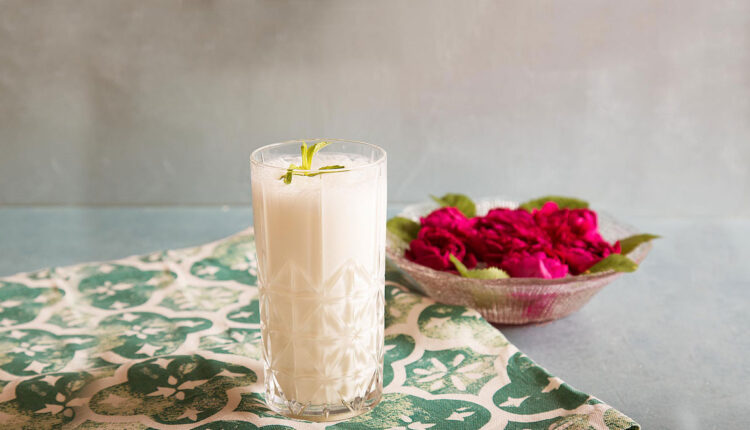 Doogh (Persian yogurt drink), an Iranian and Afghan world-famous drink recipe
Doogh is considered one of the fermented products that, based on the documents and evidence left behind, started in the Middle East in 1300 BC and gradually spread to Central and Eastern Europe.
Here, in the Cookery Magazines, we are going to gain more information about this delicious Iranian drink. Dough is produced in different countries with different methods and different combinations.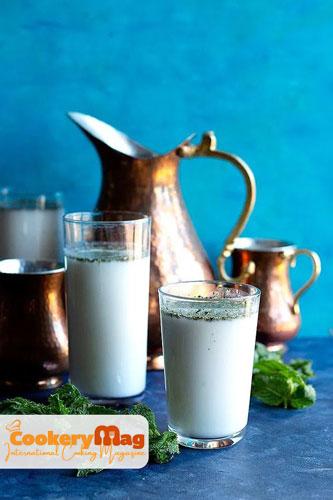 For this reason, each country uses a different name for Doogh; But it is still known worldwide as a traditional Iranian drink, and they usually use the name doogh or dough for it.
But some countries have chosen special names for this drink; for example: in Turkey, it is known as "Ayran"; in Armenia, it is known as "Tahn," and in South Asia, it is known as "Lassi".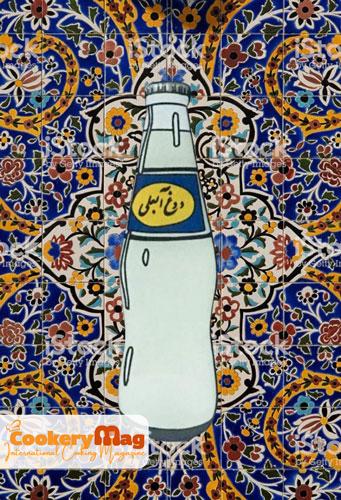 The production of doogh compounds in Iran was initially known as one of the by-products of butter, and in fact, it was the remaining compounds from butter production.
In the past, to produce butter, high-fat yogurt, and water were diluted and poured into waterskin.
After shaking the waterskin, its fat was separated, which was used as butter, and the remaining liquid from this process was Dough.
These days, when everything is mechanized, the production of butter in the old style is not common anymore; But it does not mean that Dough production has stopped!
Industrial production has made it possible to diversify and enlarge the family of dairy-fermented products (Dough).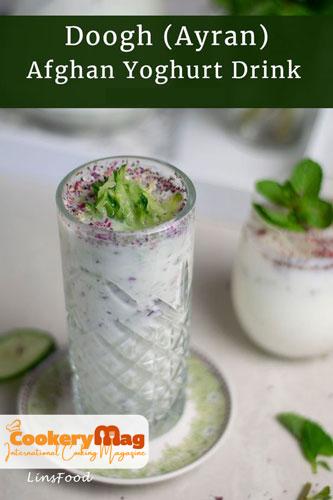 The industrial production of Doogh in Iran has a history of more than forty years.
Currently, the international standard of this drink is registered in the name of Iran and is recognized as a cultural heritage of Iranian food.
Advantages of consuming Doogh:
Dough is a source of calcium, magnesium, water, and potassium minerals.
Its other benefits are that it could reduce anxiety and body suffocation and is recommended for people who lack sleep.
Disadvantages of consuming Doogh:
Consumption of dairy products interferes with the absorption of food iron.
Therefore, people suffering from iron deficiency anemia should not use dairy products along with food sources containing iron; for example, don't eat kebabs with Dough.
Drinks such as dough and soda reduce the nutritional value of kebabs and minimize the absorption of iron in the meat; Because eating doogh at the same time as meat causes the production of undigested substances in the body, which has many consequences for the joints.
Doogh is rich in calcium, protein, and salt, which are factors that aggravate and cause kidney stones.
High-salt diets cause high blood pressure and kidney damage. Although dairy products should not be removed from the diet, it is better and recommended to use low-fat and low-salt dairy products.
Also, people who suffer from excessive bone weakness or some people who have hyperthyroidism should not consume dough.
It should be noted that at the age of over 50, the risk of common fractures due to osteoporosis in lumbar vertebrae, forearm bones, and upper leg bones increases, which is 40% in women and 12% in men, so women should look for more calcium absorption. And use the low-salt homemade dough.
The obvious difference that can be noticed between Iranian doogh and Afghan doogh is the ingredients used in this recipe; Iranian doogh includes yogurt, water, salt, and dried mint, but Afghan doogh, cucumber, garlic, and sometimes even carbonated water.
Ingredients for making Doogh (Persian yogurt drink):
| | |
| --- | --- |
| Acidulate milk (Sour yogurt) | 2 cups |
| Salt | A tablespoon |
| Oregano or mint powder | A tablespoon |
| Water | 3 cups |
Recipes to make Doogh (Persian yogurt drink):
Put the yogurt in a pitcher and mix it well with a hand or spoon. Add salt and aromatic herbs to mix with yogurt completely at this stage.
Add 3 cups of water gradually so your dough is not diluted too much. This type of dough is very simple and quick to prepare.
If you want, you can make this dough in a blender, and instead of 3 cups of water, add 2 cups of water and a cup of crushed ice to it.
This way, your fresh, delicious, refreshing dough will be prepared quickly.
Ingredients for making Doogh (Afghan yogurt drink):
We only add these to the previous recipe for the Afghan doogh, which is:
| | |
| --- | --- |
| Mint leaves | 10-12 chopped leaves |
| Cucumber | 1/2, chopped (use 2 if using Persian cucumber) |
| Black salt | ½ tablespoon |
Put all ingredients in a blender; blend until smooth; at the end, decorate it with mint leaves and serve.
Conclusion:
Thanks for being with us; I hope this article was useful for you and I'll be happy to read your comments about that.
Frequently Asked Questions:
Which type of people should not consume dairy products such as yogurt and doogh:
1. People who sweat a lot
2. People with gastrointestinal diseases such as reflux
3. People who have shortness of breath, asthma and sinusitis
4. People who have "head, hand, leg, neck" tremors
5. Those suffering from depression and nervousness
6. People who drool on their pillows while sleeping
7. Sleepy people
8. People with epilepsy
9. Those whose dealing with memory shortage
10. People suffering from joint pain and constipation
11. People who have stomach bacteria
12. People who experience aggravation of joint pain with air cooler
13. People with white spot "leprosy" on the skin
14. People with kidney, bladder and gall bladder stones