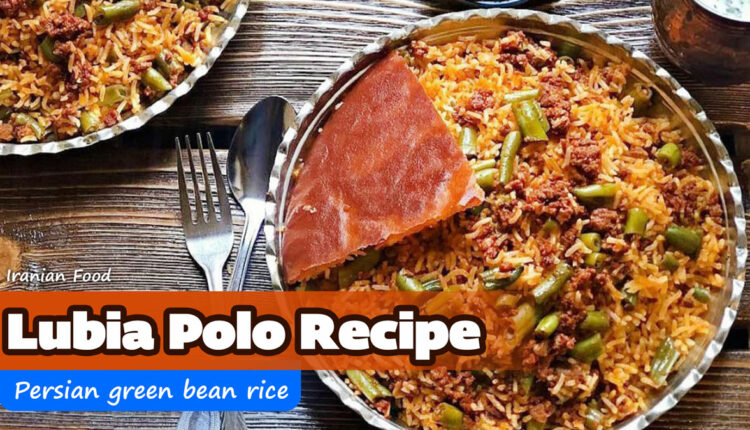 Lubia Polo Recipe step by step with Golden tips
Lubia Polo must be on your weekly food list besides It's really yummy, is so easy. Persian green bean rice is simple but tastes magical. I guaranteed, you will love this nourishing meal that is packed with protein fiber and complex carbohydrates.
Persian green bean rice or Lubia Polo has such gorgeously rich developed flavors that do not need a long preparation nor need many ingredients as you will see in this recipe in Cookery Magazine.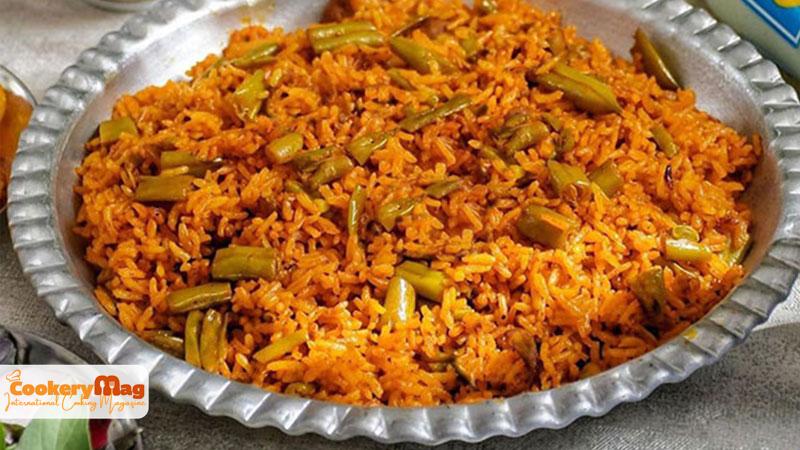 Lubia Polo ingredients
| | |
| --- | --- |
| Ground beef | 1 pound |
| Green beans | 1 pound |
| Olive oil | 3 tablespoons |
| Turmeric powder | 1 teaspoon |
| Basmati rice | 3 cups |
| Ground black pepper (up to you) | 1 teaspoon |
| Tomato paste | 2 tablespoons |
| Sea salt | as needed |
| Liquid saffron | 4 teaspoons |
Beef in Lubia Polo
Put your ground beef in hot water over medium heat for about 15 minutes until it's semi cook. This process helps to separate salt from the meat. Quietly eliminate any extra water and transfer it to a frying pan when it comes out.
Next, add 3 tablespoons of olive oil because we're going to sauté the ground beef over medium-low heat. sauté ground beef until it's cooked, and then add 1 teaspoon of turmeric powder. This golden spice has anti-inflammatory benefits and gives a vibrant taste and color to our dish.
Once your turmeric powder has been distributed throughout your ground beef, Add 1 teaspoon of liquid saffron and 1 teaspoon of sea salt to your mixture. The amount used is entirely up to you.
Later add 2 tablespoons of tomato paste. If you'd like your Lubia Polo to be somewhat spicy, you can add spicy tomato paste instead or 1 teaspoon of ground black pepper to your mixture.
When the mixture has become quite thick, add 3 to 4 of a cup of hot water to make the mixture less viscous. Next, dispense 1 teaspoon of liquid saffron.
Beans in Lubia Polo
Subsequently, add 1 pound of green beans to your mixture. Chop up your green beans, so each piece is about 2 centimeters long. I should also mention that before chopping green beans, wash and remove both ends of the green beans. Cover the pan and let it simmer until the beans are semi-done.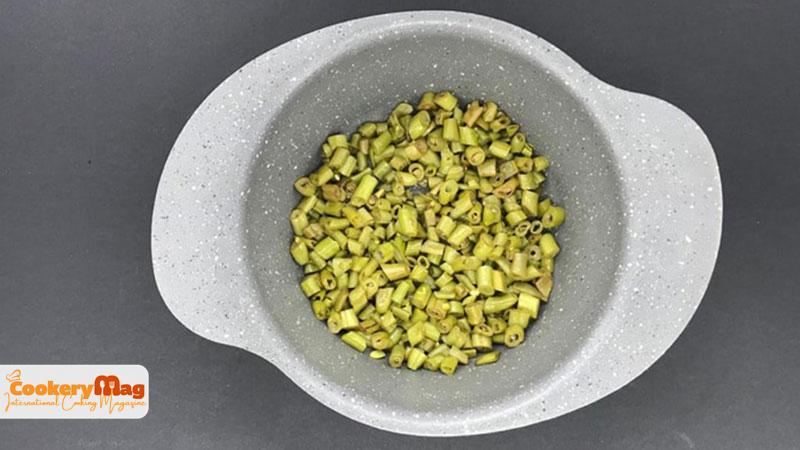 How to make rice ready in Persian beans rice
Next, add 1 tablespoon of salt to your rice cooker that is filled with six glasses of water. The salt will help to quickly bring the water to a boil which is what we're aiming for totally fine if you want to use a nonstick pot instead of a rice cooker.
Once the water has been brought to a boil, add 3 cups of basmati rice that has been rinsed and soaked in water for about five hours. Pour the rice into boiling water, bring it back to boil, and let it cook for about 8 to 10 minutes or until the rice rinse is long, soft on the outside, and firm in the center. It's essential to tell the lead so that water won't spill over; as you can see, the rice rinse looks semi-cooked, which means that the rice is ready to be drained by using a colander.
Tahdig is a Persian term that refers to the bottom of the pot this has been long used in Persian cuisine. Once our dishes are thoroughly cooked, the potatoes will become crunchy golden, and crispy.
Add 4 to 5 tablespoons of olive oil to the bottom of your rice cooker until it starts to sizzle. Next, add 2 teaspoons of your saffron liquid to the bottom of your rice cooker; this will give the Tahdig a nice vibrant color; for Tahdig, use two medium-sized potatoes. You can also use Persian Lavash bread, flour tortilla matzoh, or any kind of flatbread that's available. Cover the bottom of your pot with sliced potatoes in a single layer.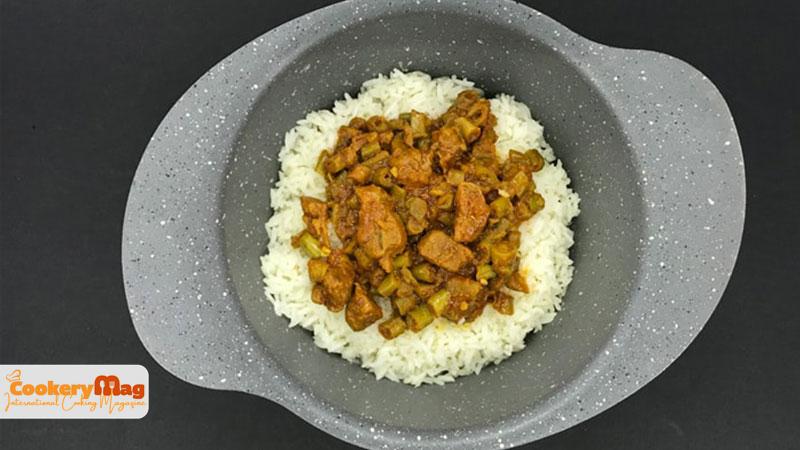 Add a quarter of semi-cooked rice and 1/4 of your green bean mixture to build up the layers into a premade shape. This layering method helps the mixture is equally distributed throughout the rice. Let the ingredients steam together over medium-low heat. It takes a bit of time but not much effort at all.
The cooking process is simple. All the magic happens while the food is cooking, and you relax and wait or spend time with your love until your fantastic Lubia Polo is ready!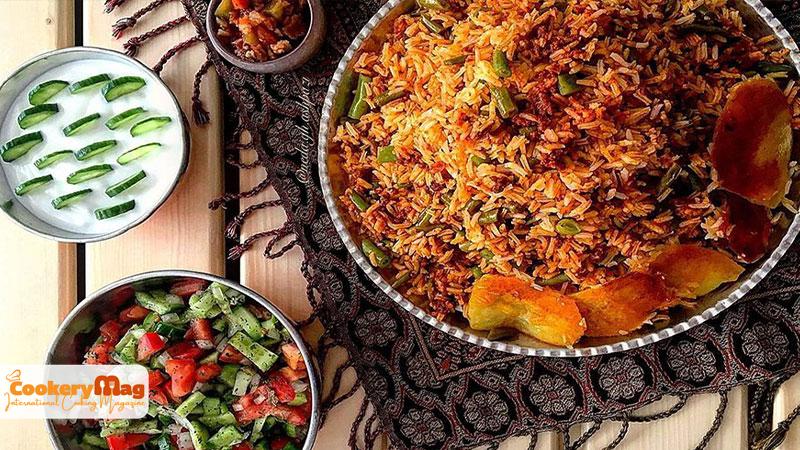 When the rice has been thoroughly cooked and steamed, Lubia Polo dish is ready to be served. I hope you enjoyed learning a new recipe; please share your thoughts in the comment section. Please let me know if you have any questions or concerns about this recipe.
Cooking Lubia Polo tips
keep in mind that you can prepare Lubia Polo using ground chicken turkey or lamb
you can easily use frozen beans and make this recipe even more simpler.
as a reminder the cooking time and water use for basmati rice may vary with the age of rice and the quality