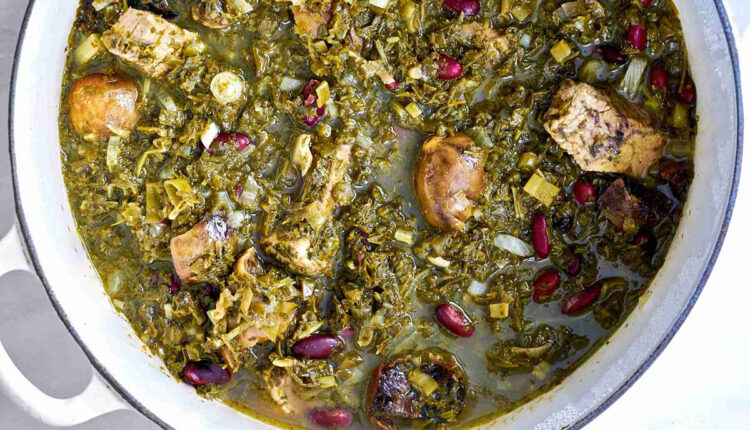 Ghormeh Sabzi | Persian herb stew recipe, an original, ceremonial and historical deliciuos dish for Iranians
It is no longer a question of whether you like Ghormeh Sabzi.!
Well, the answer is clear, is there anyone in the world who doesn't like Ghormeh Sabzi?! Of course, if it is, he has made a little bad taste in choosing his favourite foods!
ghormeh sabzi, this very delicious Iranian stew, is one of the most well-known authentic Iranian dishes, which has gained much fame worldwide.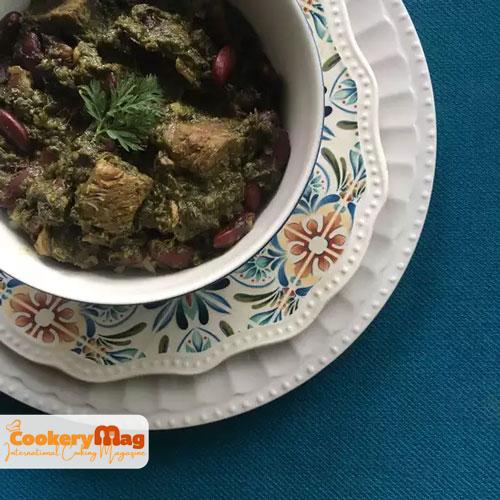 If we want to talk about the origin of ghormeh sabzi, we must go back several thousand years.
It is said that ghormeh sabzi is an Iranian-Afghan food that is 2 – 5 thousand years old, but it has not been registered internationally as an Iranian cultural and spiritual heritage.
This dish is composed of a combination of 2 words "ghormeh" and "sabzi."
Ghorme means minced meat in Turkish, but in the art of cooking, it is a cooking method used to preserve meat and a nomadic invention.
Usually, in mid-autumn nomads would slaughter the animal when their livestock reached the peak of maturity and weight, and to be able to use its meat until the following year.
They would fry meats in their fat and then poured into the peeled and cleaned skin of animals such as cows or sheep in jars or musk and kept in a cool place, this is the way how we make ghormeh out of the meat.
You might think that the meat would spoil under these conditions, but it was easier and more economical to keep the meat in this way for transportation among the nomads; The reason was that cooking made the meat less dense and could not spoil.
Ghormeh sabzi, or traditional canned meat, was prepared in the past in the provinces where animal husbandry flourished, such as the West and East of Iran, like Azarbaijan provinces, which were also cold.
In the past, when a villager went to visit his relatives in the city, he would take a clay jar with him, the contents of which were ghorme.
Ghormeh was combined with vegetables and lemon, which balanced ghorme's salt and fat.
Today we're taking a tour to explore the fascinating history of this legendary dish, so stay with us in The Cookery Magazine.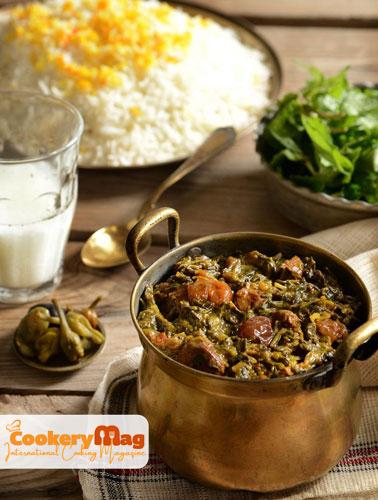 "Najaf Daryabandari" in his cooking book under the title of "Mostatab Cooking Book,Az sir ta piyaz" has placed Qormeh Sabzi among "green stews."
He explains that green stews are as follows: "Green stews are stews that have a fixed base consisting of greens such as leeks, parsley, mint, and cilantro.
ghormeh sabzi is considered an original, ceremonial and historical dish for Iranians, and it is one of the most popular Iranian dishes for us Iranians.
The most crucial composition in this dish is the vegetable ingredients of ghormeh, and all the aroma of ghormeh sabzi is related to its vegetables.
Also, it is known in cooking books, especially the one from Qajar perids as follows: "This stew is cooked with green vegetables including leeks, parsley, fenugreek, coriander and spinach or beetroot leaves along with red beans or pinto beans and red meat.
Ghormeh sabzi was cooked only in spring and warm seasons when vegetables were found in abundance, and it was not a four-season food like todays.
The taste of this stew should be slightly sour; therefore, they add a little dry Omani lemon or fresh lemon juice to it;
actually the sour taste of ghorme Sabzi is obtained from Omani lemons, which are placed in boiling water for a few minutes before adding to the stew to reduce the bitterness.
The seasoning of these stews is usually lemon juice, (sour) orange juice, verjuice or Omani lemon.
The ingredients of this national dish in Iran are also called "native food" and "something similar to the native language" to Iranians!
Of course, ghormeh sabzi is higher than all of the stews in terms of aroma and taste, and it is older than all of them.
The interesting thing about ghormeh sabzai is that: "This food has been able to respond to all needs and tastes in historical periods, and the delicate flexibility it has displayed has the power to connect the people of all cities in all different periods of time and shout that we are all Iranians."
This stew is delicious food, but it is combined with other stuff in different seasons to create unique flavours.
Humankind's purpose of cooking is not only to fill the stomach, and without a doubt, in the distant past, enjoying the taste of food was one of the goals of cooks.
Based on this philosophy, the combination of grilled meat, which is a little dry, with fresh vegetables, water and beans creates one of the most unique flavours in the world.
It is worth mentioning that foods and main courses like Ghormeh Sabzi and Khoresh Gheymeh is the most popular foods in muharram days in Iran.
During the days of Muharram, benefactors, and people who committed a religious vow, under the Persian name of nazr and nazri, distribute these foods among the people for the mourners of Imam Hussain in the mosques.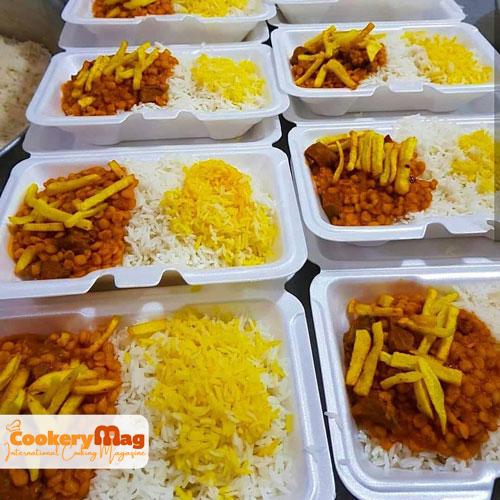 Ingredients for making Ghormeh Sabzi vegetables:
stewed vegetables: a special mixture of some specific vegetables that use for ghormeh sabzi, it is included, cilantro, spinach, fenugreek, chives, Parsley, and Scallion with long green stems.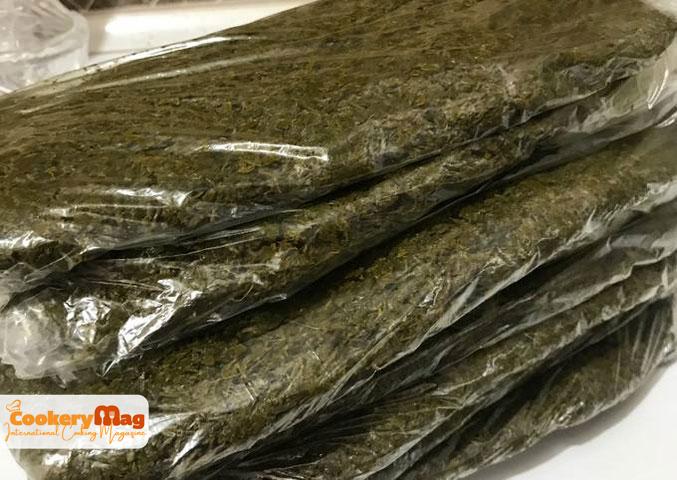 Crushing them and combining all these together gives us vegetable stew; we can fry them and packing them in plastic bags and put them in the refrigerator.
| | |
| --- | --- |
| cilantro | 200 grams |
| spinach | 200 grams |
| fenugreek | 100 grams |
| chives | 400 grams |
| Parsley | 400 grams |
| Scallion (green onions, spring onions) with its long green stems | A little, as it needed for a better taste |
Ingredients for making Ghormeh Sabzi | Persian herb stew:
| | |
| --- | --- |
| Stewed meat | 300 grams |
| Stewed vegetables | 500 grams |
| Kidney Beans | 150 grams |
| Onion | 1 piece |
| Omani lemon | 4 pcs |
| Brewed saffron | 1 tablespoon |
| Liquid oil | As much as needed |
| Salt and black pepper | As much as needed |
| Orange juice, verjuice and turmeric | As much as needed |
You can add fresh garlic, 1 to 2 peels, or garlic powder as you wish as much as needed.
Recipes for making Ghormeh Sabzi | Persian herb stew:
First step:
The first step to preparing ghormeh sabzi is to soak red beans. Put red beans in a bowl filled with water to eliminate bloating.
We recommend you soak the red beans the night before when preparing ghormeh sabzi.
Second step:
In addition to reducing the bloating of the red beans, this makes the beans softer and therefore reduces the cooking time.
If you can change the water in the bowl two to three times, the bloating of the beans will be removed entirely.
Third step:
Finely chop the onion and put it in the pot you have planned for cooking the stew, along with some liquid oil.
Saute the onion a little until it becomes bright, then add some turmeric and black pepper if desired and continue sauteing until the spices are completely absorbed.
Fourth step:
After washing, cut the meat into pieces and add it to the stew pot. The pieces of meat should be manageable because, in addition to being cooked later, they negatively affect the appearance of the stew.
Fifth step:
After adding the meat to the onion, fry it well until its color changes, and it is slightly fried.
After the meat is fried, rinse the red beans and add them to the pot. Fry the red beans for a minute, then add three glasses of water to the pot.
Sixth step:
Increase the heat under the pot until the water boils, then reduce it to a gentle simmer so that the meat and red beans cook slowly.
It takes about 2 hours to cook meat and red beans. Next, after cleaning and washing the stewed vegetables, chop them finely.
The seventh step:
Fry the stewed vegetables with some liquid oil in a separate pan. The more you fry the vegetables, the darker the color will be.
After an hour of cooking the beans and meat, add the vegetables to the stew pot after frying.
*(We have already done the sixth and seventh step before start cooking)
Eighth step:
You can add Omani lemon to the pot, black pepper, verjuice, and a little orange juice at this step.
At this step, one of the crucial points is to cut the Omani lemon in half and remove the seeds.
Ninth step:
Omani lemon seeds can make our stew taste bitter. We recommend adding salt to the stew after the meat is fully cooked because it will make the meat cook longer. If the stew water is low, you can add some boiling water.
Tenth step:
In the last 15 minutes, taste the taste of the stew and add some salt, black pepper, and all kinds of spices of your choice if needed.
After the stew is well oiled, put it in a suitable dish proper for stew and serve it with rice.
The IMPORTANT thing about Ghormeh Sabzi | Persian herb stew:
One of the most critical advantages of Ghormeh Sabzi, or perhaps the majority of Iranian dishes, is their high cooking time and their boiling.
Compared to other dishes, it takes a relatively long time to prepare Ghormeh Sabzi; Unlike today's fast foods, which are fried and crispy quickly and flavoured with salt and spices.
The calories of this food are high, but eating it is one of the most enjoyable things in the world.
Cooking for a long time combines the various contents of this stew, and the nutritional value of each covers the whole dish.
If the vegetables of Ghormeh sabzi are well-cooked and mixed in the right proportions, it will give you the best Ghormeh sabzi you have eaten.

Ghormeh sabzi, or Persian herb Stew, is a stew usually served with persian rice (Chelo) and onions.
In the media, Tv, and all over Iran we hold commemorations for ghormeh sabzi, which coincides with the first Saturday of Azar.
It may be less noticed in official parties and gatherings, but it is undoubtedly recognized as a criterion for valuing the art of cooking for every capable chef.
After all, this dish also has a proverb, which is what they say: "کلّت بوی قرمه سبزی میده" It could be read like "kallat boye ghorme sabzi mide."
One reason for the spread of this proverb is that in the past, this food was also cooked for funerals and charities for the dead.
When someone did dangerous things or spoke harsh words against the powerful, they said about him: His head smells like ghorme sabzi, Someone's head smell like ghorme sabzi means he is looking for trouble.
Conclusion:
Thank you again for being with us with an excellent, delicious, authentic Iranian recipe. Share your experiences with us, and if you have any tips to improve the food recipe, be sure to comment; thank you.
And finally, I would like to thank those who took the time to read this article about Ghormeh Sabzi. It is hoped that among the delicious foods of different societies, Iranian food is gaining more and more fans every day.
Frequently Asked Questions:
What is the English name of Ghormeh Sabzi?
What does ghormeh mean in farsi?
Minced meat in Turkish, but in the art of cooking, it is a cooking method used to preserve meat and a nomadic invention.
Fry meats in their fat and then poured into the peeled and cleaned skin of animals such as cows or sheep in jars or musk and kept in a cool place, give us ghormeh.