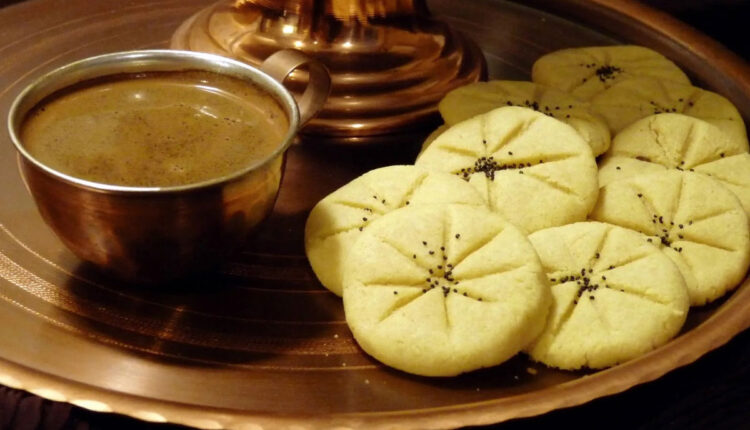 Nan Berenji | rice cookie recipe, small amazing Persian cooki in just holy 6 steps
How Nan Berenji first make? and How people all around the world know Nan Berenji under the name of Iran? Be with The Cookery Magazine for the rest of the amazing Nan Berenji | rice cookie history.
Ingredients for making Nan Berenji | rice cookie
| | |
| --- | --- |
| Rice flour | 500 grams |
| Egg | 1 large pcs |
| Powdered sugar | 175 grams (1/5 cup) |
| Solid oil | 250 grams (1 full cup) |
| Cardamom powder | 1 tsp |
| For decoration, as much as needed | ½ cup (rose water 2 tbsp, the rest be water) |
| A mixture of water and rose water | As much as needed |
| Purslane or Purslane's seed | For decoration as much as needed |
Recipe for making rice cookie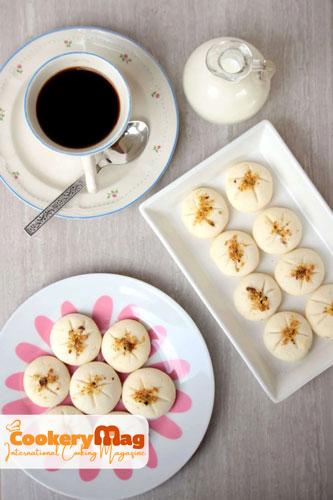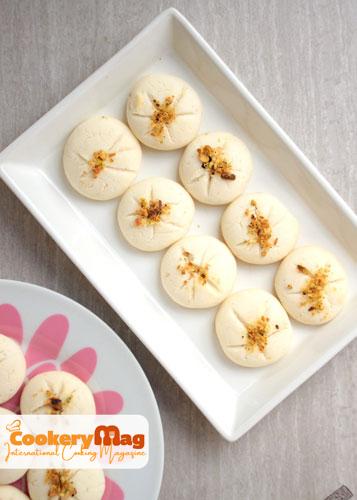 The first step in making nan berenji: the preparation of materials
Be sure to make the oil smooth by melting the oil and pouring it into a jar, and allow it to cool, then put it in the refrigerator until it hardens.
Second step: separation of yolk and white
First, separate the egg yolk and white. Beat the egg white with an electric mixer at high speed until foamy, then continue until it takes the form of pastry cream; that is, when you turn the container upside down, you should not pour it, then put the white in the refrigerator to keep cool.
Third step: mixing yolk and oil
Put the oil and powdered sugar in a bowl and beat it with an electric mixer for 5 minutes until it becomes light and creamy; then add the yolk along with the cardamom powder, then beat it for another 2 minutes until it is smooth.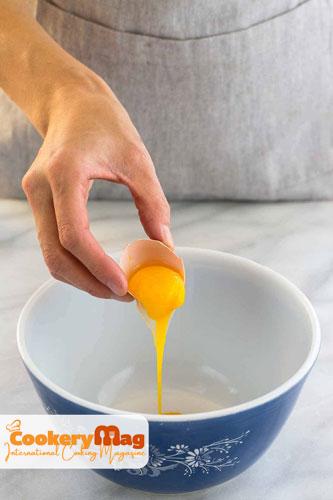 Fourth step: Preparation of nan berenji dough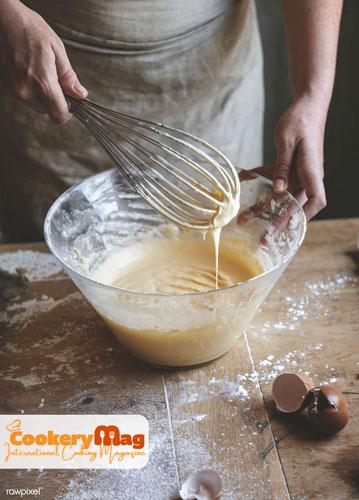 Next, take the egg white out of the refrigerator and add it to the above ingredients and mix it with a whisk. You should not get the egg white fluff, then pour the sifted rice flour on the ingredients and mix it.
In the end, pour the mixture of water and rose water until it becomes a soft and smooth dough, then stir a little with the tip of your finger or a whisk. At this stage, the dough may seem a little loose (take part of your dough and roll it in your hand, it should be completely smooth and without cracks).
Fifth Step: Rest the nan berenji dough
Then we divide the dough from the middle into two equal parts and add brewed saffron to one part (simple and saffron sweet) and knead it well until it is completely absorbed by the dough and put each dough in separate bags.
Then cover the dough and place it in a dry and cool place outside the refrigerator for 24 hours until the dough becomes more cohesive.
Sixth step: cooking rice bread
After 24 hours, take balls of the same size from the dough and roll them in your hands and shape them as you like with a nan berenji stamp or the bottom of a rolling pin and place them in the oven tray (do not grease or use oil paper).
Sprinkle purslane and put it in a preheated oven for 20 to 25 minutes at 175 degrees until the pastry is baked. Enjoy your meal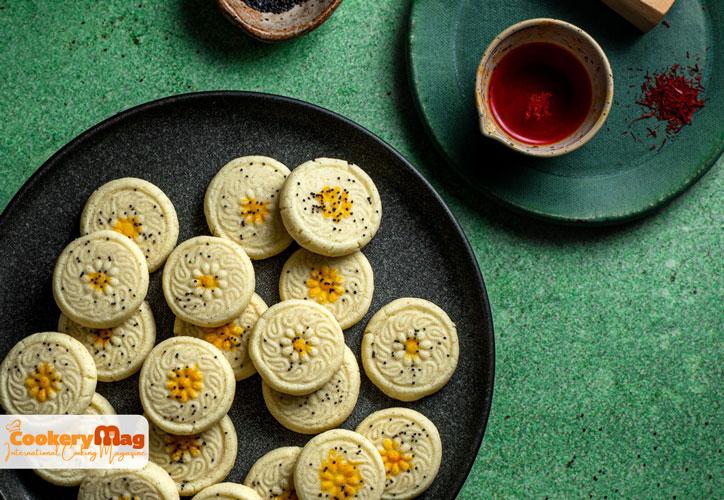 How to prepare Nan berenji | rice cookie without oven?!
To prepare rice cookies without an oven, you should put two layers of oil paper on the bottom of a double-sided frying pan, which you have already removed the gasket, and put it on the spreader flame until it is heated, then put the pastry on the oil paper and close the lid of the pan.
Leave it for 30 minutes until the cookies are cooked, then remove them from the paper when completely cold.
Tips and tricks for cooking rice cookie
If you have Kermanshahi oil, you can smooth it and use, or you can also use butter, but the shelf life of the sweets will be shorter with butter.
Do not pour more rose water because it will dry and crack the cake.
During the resting time, the rice flour absorbs the water, and the final quality of the pastry increases, so resting time is so important.
If the dough is dry after resting, add a spoonful of water and if it is loose, add some rice flour.
It is better not to use a special oven tray to prepare cookies because it makes the color of the cookies darker.
The rice cookie is ready when it moves easily on the tray.
Allow the cake to cool completely, then remove from the tray.
Back to our main part, Nan berenji | rice cookie history
Nan Berenji is the name of a local Kurdish sweet and a souvenir of Kermanshah and Zanjan.
Due to the location of Kermanshah city on the Silk Road and the Karbala Road and the frequent movement of travelers and pilgrims, it was necessary to have bread in this city that has a high shelf life and nutritional value.
This led to the preparation of a type of sweet that is one of the main foods of travelers, namely rice.
In this way, rice cookie was taken outside Kermanshah by travelers and pilgrims and gradually became a souvenir of this city.
The history and background of nan berenji in Kermanshah date back to 150 years ago and the end of the Qajar rule, and since 150 years ago, it has been one of the famous souvenirs of Kermanshah.
Making nan berenji is the second job of Kermanshahian people; The production of this type of sweet has been inherited, passed down from generation to generation until today, from father to son and from master to student
This main souvenir of the city of Kermanshah was baked seasonally in the past, that's why it was considered as the second job of the people of this city; in addition, this profession is a hereditary profession from father to son, but now this profession is It has become a permanent job title with its own specialty.
Since during these pilgrimages and commercial trips, rice was transported from Gilan and Mazandaran to this region with great effort, and it became the main source of this Nan berenji | rice cookie history, the cooking method of nan berenji is similar to the Gilan rice cake, which is more complete in Kermanshah and is made in dry form, for a long shelf life.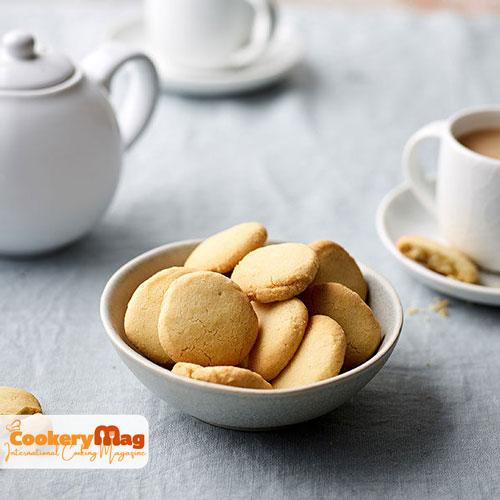 There used to be a similar sweet in Kermanshah, which was made from wheat flour with a similar shape and image, which was softer, but this sweet got a much better and different taste with rice flour, and it still has its fans this day.
In addition to Nan berenji | rice cookie, other souvenir sweets of Kermanshah include sugar bread | nan shekari, date bread | nan khormaei, and kak.
Rice flour, wheat flour, powdered sugar, solid oil, eggs, rose water, and Kermanshahi oil are used in the preparation of this sweet as you see in the ingredients, which has a special reputation among Iranians.
There are different types of nan berenji or rice cookies, among which we can mention simple nan berenji with Kermanshahi oil and saffron nan berenji.
Nan berenji | rice cookie, the main souvenir of Kermanshah and the best rice bread of Kermanshah is prepared with high-quality animal oil; it was registered at the seventh national meeting of the Policy Council for Registration of Spiritual Artifacts of the country, which was held in Shahrud city.
History of Haj Nasrollah Nouri brand
In 1338 AH, the Varmazyar brothers (Haj Kheirullah and Haj Nasrollah) started their activity in the field of traditional production of nan berenji and other sweets of Kermanshah in a shop located on Modares Street, Kermanshah.
Since 1356, after the last name of Haj Nasrollah Varmazyar was changed to Nouri, this brand has been active until today under the name "Haj Nasrollah Nouri".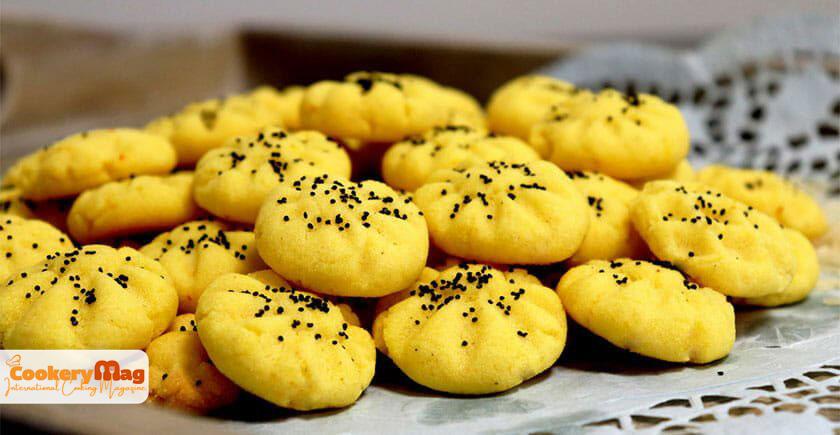 Properties of rice bread
If we go through the history of Kermanshah's nan berenji, we will come across different properties of this sweet for the body.
Today, most people who have a weak body or suffer from weight loss widely use nan berenji.
This sweet, with its calories, causes the accumulation of fat in the body of thin people and can contribute to their weight gain to a large extent.
In addition, the warm and sweet nature of nan berenji has made the uterus to be strengthened, the intestines to be cleansed of any infection, the skin to regain its health, and the heart in the human body stay away from any disease.
Among the other properties of nan berenji, we can mention the presence of purslane eggs, which purify the blood and solve problems in the body's internal systems.
Of course, you should know that you should not eat too much of nan berenji because if you have blood sugar or if your liver is fatty, the oil in rice bread may cause these diseases to recur.
In some cases, people with sensitive bodies have experienced nausea after using nan berenji; So be careful when consuming these sweets.

Conclusion
In the end, it can be concluded that whenever you have an Iranian or Asian guest, one of the original dishes on your colorful tables could be this Iranian food.
And finally, I would like to thank those who took the time to read this article. Among the delicious foods of different societies, Iranian food is gaining more and more fans daily.
Frequently Asked Questions
Is this sweet allergenic?
In addition, rice flour does not contain gluten, and these souvenirs do not cause problems for those who are allergic to gluten.
Does nan berenji have protein and vitamins?
Rice bread is prepared from rice flour and animal oil. For this reason, it is rich in various substances, including vitamin A, vitamin D, vitamin E, vitamin K, vitamin C, calcium, fiber, and protein.