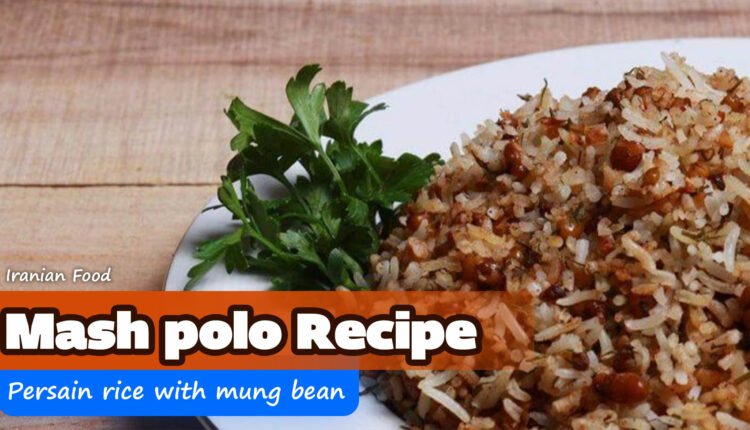 Mash polo Recipe, a great mixture of rice and mung bean
If you're looking for a nutritious but easy to cook food, I definitely recommend you Mash Polo. Mash Polo is a traditional Iranian food which can be cooked with different ingredients. The main ingredients in Mash Polo are rice and mung bean. This Special dish is full of Calcium, Ferrum and other vitamins.
This cuisine is like Adas Polo (rice with lentils) and Havij Polo. In this article of Cookery Magazine, we will learn to cook Mash Polo through a few steps together.
Mash Polo Ingredients
| | |
| --- | --- |
| Rice | 2 cups |
| Mung bean | 2 cups |
| Onion | 2 large |
| Garlic | 4 cloves |
| Ground beef | 300 grams |
| Salt & pepper & Turmeric powder | as needed |
| Vegetable oil | as needed |
How to make Persain rice with mung bean
First, you must have soaked the mung beans in water from night before. If you don't have time, soak it at least for 1 hour. Then pour mung beans with 2 cups of water in a pot and put it on the heat. Let the mung beans be completely cooked. After draining your well-cooked mung beans with a colander, put it aside and grab your onions.
Cut the onions into small cubes. Put a pan on heat. Pour 2 tablespoons of vegetable oil then add the onion and fry it until it becomes soft. Grate the garlic cloves and add it to the pan. Don't forget to fry the cloves only for about 1 minute otherwise it will burn. Season your mixture and add turmeric powder, pepper and salt.
Now, add the mung beans to the pan and stir. After about 3 to 5 minutes put the mixture off the heat. Pick a pan which half of it is filled with water then put it on the heat. Add your soaked rice. And also add salt a bit and 1 tablespoon of vegetable oil and let it come to boil. After 5 to 10 minutes, your rice will be soft. Next Drain your rice in a colander.
Finally, for completing the your Mash Polo, put a pot on heat and add 2 tablespoons of vegetable oil. When the oil is sizzling, put some potato slices or Lavash bread to have a perfect Tahdig. After that you must make layers of rice and mung beans. One layer rice on top mung beans. Make a hole in the center of your pot and let the mixture cook for about 45 minutes.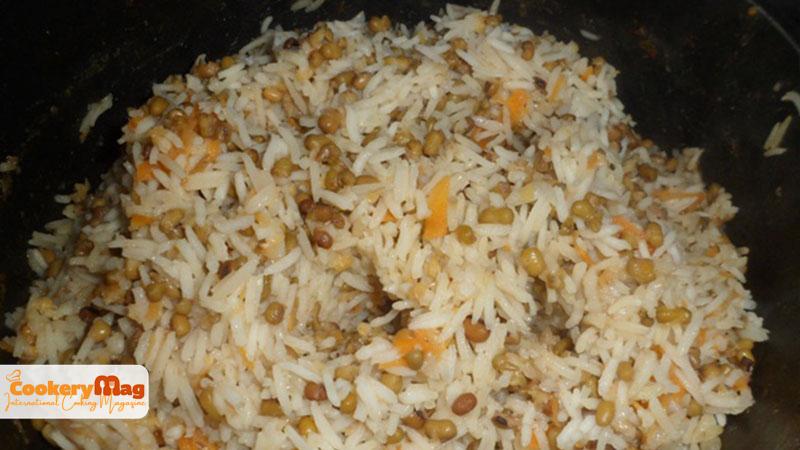 How to serve Mash Polo
You can use meatball for serving Mash polo. To have delicious meatballs, combine ground beef with salt, pepper and turmeric powder and knead it for a few minutes. It's better to put the the ground beef in refrigerator for 30 minutes but if you don't have time skip this part. Make small balls by the ground beef and fry them in butter or vegetable oil. Use your beautiful meatballs to garnish your Mash Polo. (also you can eliminate the meatballs to have a vegetarian dish)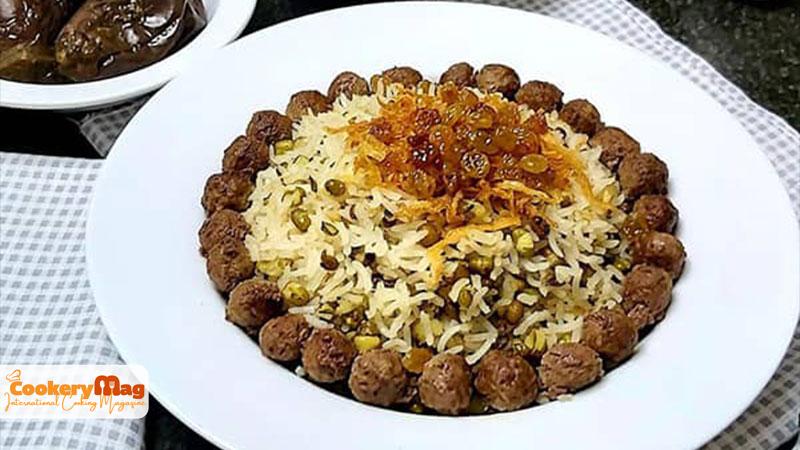 Doogh is a Perfect beverage next to the Mash Polo.
I hope you love this recipe. Don't forget to comment on this post for us. We will answer you as soon as possible.