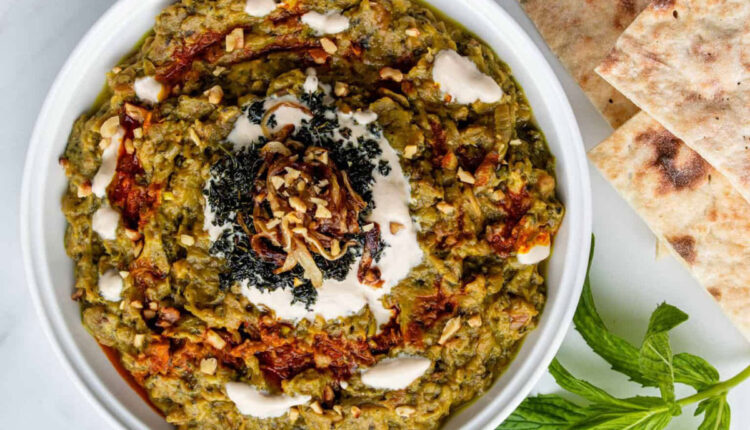 Kashke Bademjan (Persian Eggplant Dip) Recipe, a delicious Iranian food for meal just in 4 steps
Of Zanjan's traditional dishes, we come to one of the most famous Iranian dishes called Kashke Bademjan (Persian Eggplant Dip).
It can be said that Kashke Bademjan (Persian Eggplant Dip) is the most famous traditional Iranian appetizer.
This famous food is delicious and has many fans, and is prepared and used all over Iran. Maybe few people know that the birthplace of this wonderful food is Zanjan province, be with us; the Cookery Magazine will explain all the details to you.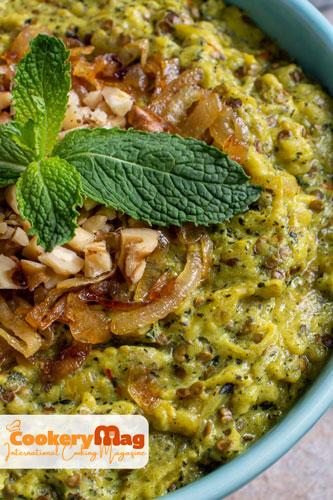 Kashke Bademjan (Persian Eggplant Dip) is a traditional and very popular Iranian dish prepared with many different recipes.
Kashke Bademjan was cooked mostly in Kerman and Kashan, but nowadays, it can be seen on the table of all Iranians.
Keskh Badmjan and Halim Badmjan, maybe, are similar in appearance and name, but they are very different in cooking.
Ingredients for making Kashke Bademjan (Persian Eggplant Dip):
| | |
| --- | --- |
| Eggplant | 4 large pieces (equivalent to one kilogram) |
| Onion | 2 medium sizes |
| Curd | 4 tablespoons |
| Walnut kernels (small enough to feel under the teeth) | 2 tablespoons |
| Garlic | 4 pills |
| Dried mint | 2 tablespoons |
| Salt and black pepper | As it needed |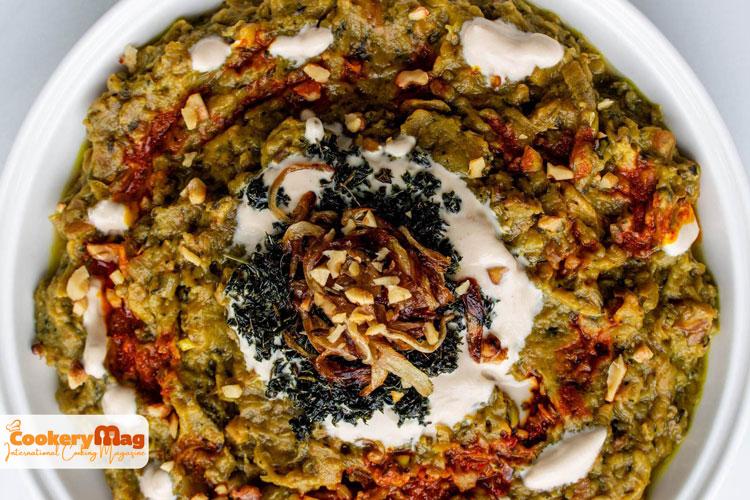 Recipes to make Kashke Bademjan (Persian Eggplant Dip):
The first step:
To prepare Kashke Bademjan, first, we peel the eggplants, then cut them into slices and place them in a tray. Next, sprinkle salt on the eggplants and let them rest for 20 minutes.
In addition to removing the bitterness of the eggplants, they absorb less oil when frying. Next, we rinse the eggplants and press a little with our hands to remove the excess water in the eggplants.
The second step:
At this step, we put a suitable pan on the heat and add some oil; after the oil is hot, add the eggplants to the pan and ensure both sides of the eggplants fry well, then take them out of the pan and leave it aside.
Now chop the onions into small pieces, add them to the pan with a little oil, and fry well until the onions turn golden. Next, finely chop the garlic and fry it with hot onions for about a minute.
The third step:
Mash the eggplants completely with a meat grinder and add them to the pan, then add some salt, black pepper, and turmeric and fry the mashed eggplants well until the excess water in the pan evaporates.
At this step, we add chopped walnuts to the pan, curd, and mix well until they are uniform. If our curd is a little hard and solid, we can use half a cup of boiling water.
The fourth step:
At this step, we close the lid of the pan so that the excess water in the pan evaporates and the Kashke Bademjan brings out its oil. Meanwhile, roast the dried mint with a little oil until it is fried, then add it to the food.
Important note: dried mint should only be roasted for a few seconds to change its color slightly because it quickly burns and becomes bitter.
After the Kashke Bademjan brings its oil out and there is no more water in the pan, we put the food in the dish we want and decorate it according to our taste with ingredients such as hot and roasted mint, fried onion, fried garlic, and curd and serve with hot bread.
Grill Kashke Bademjan:
One of the new recipes of this delicious dish is grilled; instead of frying, the eggplants are grilled over charcoal or gas flame, which makes you experience Kashke Bademjan with a smoky taste.
Conclusion:
Thank you again for being with us with an excellent, delicious, authentic Iranian recipe. Share your experiences with us, and if you have any tips to improve the food recipe, be sure to comment; thank you.
How can we serve Kashke Bademjan?
You can use this food both hot and cold. This delicious food can be a good appetizer, meal, and dinner option.
What is Kashke Bademjan means in English?
Kashk means curd and Bademjan means Eggplant; the basic ingredients of this food.