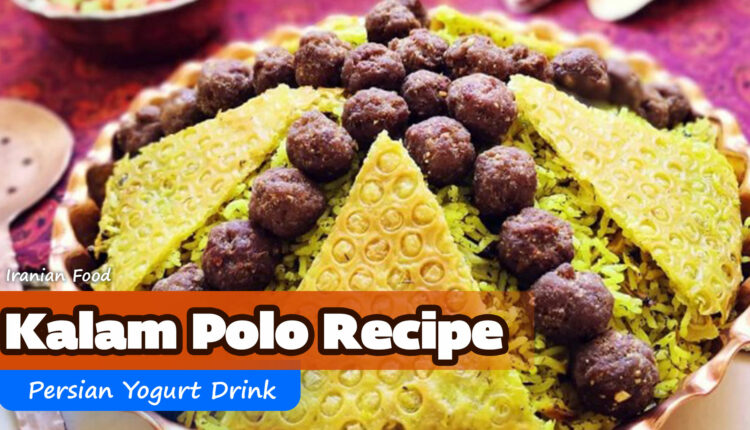 Kalam Polo Recipe, a wonderful Persian Rice with Cabbage
Kalam Polo is a traditional and aromatic dish from Shiraz. As with most Persian cuisine, local and regional tastes, preferences and ingredients yield multiple versions of this dish. we make it with kohlrabi you also make it with regular cabbage either one is fine. Also, you can omit meatballs from Kalam Polo to make it a vegetarian dish.
Kalam Polo tastes wonderful especially with this recipe that I'm going to share with you in Cookery Magazine.
Ingredients of Kalam Polo
now comes the fun part let's learn how to make Kalam Polo together. there are three components to this rice dish there's themeat component there's thekohlrabi or the cabbage component and then there's the final layering of therice components.
Meatballs:
| | |
| --- | --- |
| minced beef | 1 Kg |
| onions, minced | 3 |
| cinnamon powder | 1 teaspoon |
| salt garlic | 2 teaspoon |
| black pepper | 1 teaspoon |
| salt | 2 teaspoon |
| turmeric | 2 teaspoon |
| saffron water | 1 teaspoon |
Cabbage mixture:
| | |
| --- | --- |
| onions slices | 3 |
| kohlrabi, cut into match sticks | 1,5 Kg |
| saffron water | 1 teaspoon |
| lemon juice | 1 teaspoon |
Ric:
| | |
| --- | --- |
| rice | 5 cups |
| Dried dill | 1 cup |
| dried Targan | 1 cup |
| fresh Basil, finely chopped | 1/4 cup |
Meatballs in Kalam Polo
To prepare the meatballs, add the minced onions with pepper turmeric some salt and cinnamon, and some garlic salt, and now mix all the ingredients. once you fully combined everything then you shape it into small meatballs very so the smaller the better and more traditional.
Prepare a frying pan by adding a little bit of vegetable oil to the base and add the meatballs. a quick tip when it comes to shaping your meatballs, the onions that you minced earlier you've reserved the water, and this will be used to dip our fingers into help easily shape our meatballs.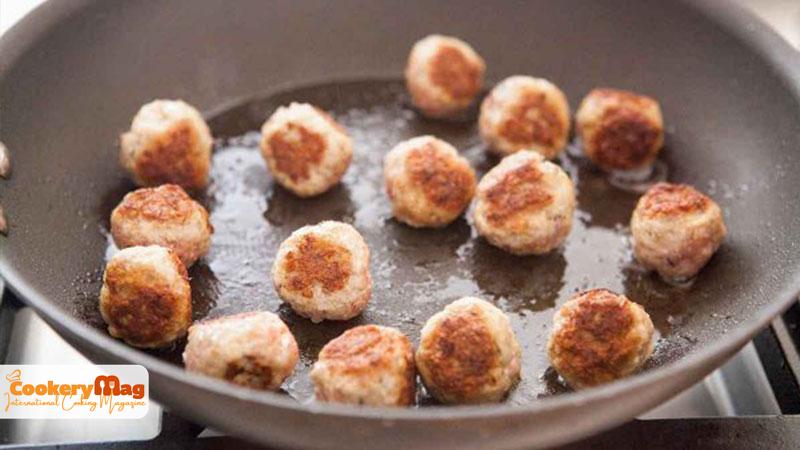 Now to prepare the cabbage, put a little bit of vegetable oil to saute your onions then saute the onion to slightly very light brown then add your cabbage to it. put all the kohlrabi into your golden onions and saute this one as well with the onion for about 20 minutes. after that add some lemon juice (it gives it a little bit more flavor) and let this sit for five minutes.
In the meantime, you finished preparing all of your little meatballs and just brown them on medium-low heat for about five to ten minutes. They don't need to be fully cooked but let them have really nice color.
Now we've got the two key components finished the cold derby is cooked and our meatballs are cooked and now we're going to take about three-quarters of our meatballs and add them into the kohlrabi mixture.
one thing that it's really important to think about is presentation and the reason why we keep some of the meatballs aside is so that it's a nice decoration when you come to serve Kalam Polo
The next step is adding some saffron to it. saffron water does flavor and color to our dish. season this mixture with a bit of salt and give everything a mix and now It's ready. so we finished preparing the cabbage mixture with the meatballs.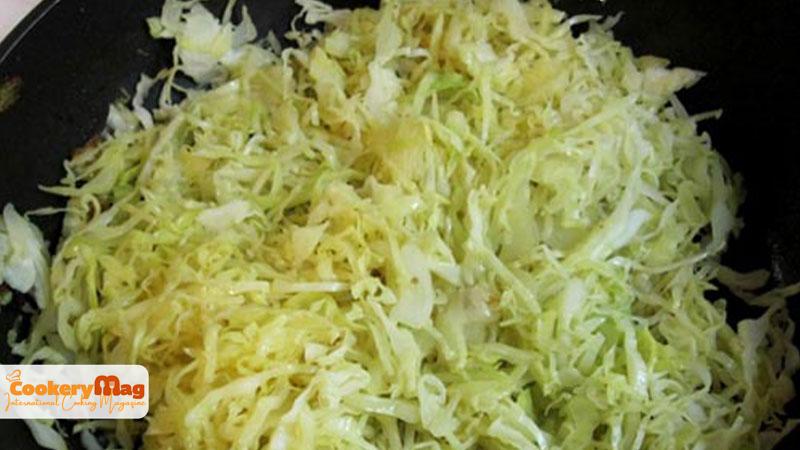 For Preparing rice, parboil your rice so that we can layer it for the final. chop some fresh basil and add this to your rice once the rice has boiled then drain it. once you drain your rice, add all the herbs which are tarragon just eyeball it and mix it with the rice and dry dill, and fresh basil. then mix it when the herbs are mixed with the rice. put some oil for Tahdig (it's the crispy part of rice that a lot of Iranians love to eat)
Finally, we're going to layer it. cover the pot and allow for some steam to accumulate then we're going to cover the lids with a towel yes once the steam has accumulated in the pot add water and then cover the lids with a kitchen towel. and lower the heat and let this steam cook for about 45 minutes to 60 minutes.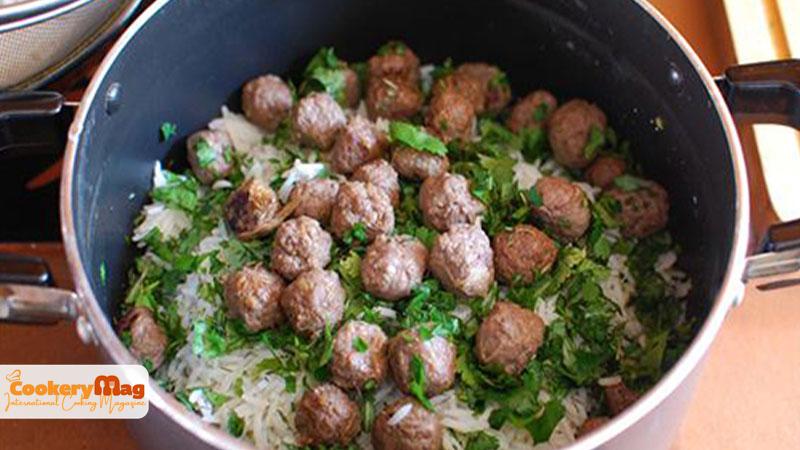 you can place the heat diffuser on the bottom of your pot and this ensures that the heat is evenly distributed so that you have a nice crispy Tahdig at the end of your rice has been steamed cooking for the past hour.
now it's ready to serve so the honors. just put some saffron on it and we will garnish it with some meatballs and cabbage. a little bit more saffron. and there you have it a step-by-step guide on how to make an authentic kalam polo Shirazi hope you guys enjoyed this recipe and don't forget to eat it with some Torshi on the side enjoy