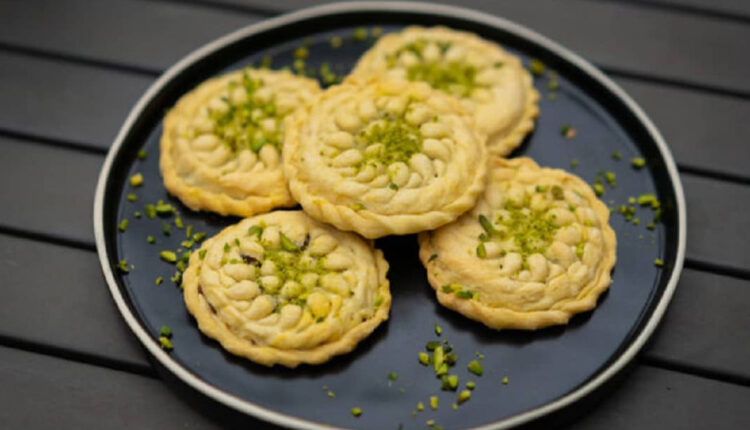 Kolompeh recipe, charming and attractive Persian date pastry
Have you ever heard the name of the Kolompeh in Persian sweets? Kolompeh is an Iranian pastry from the city of Kerman. This famous pastry is made of minced date with cardamom powder and other flavours.
In the past, women in the city of Kerman have cooked this pastry with date palms and homemade oil in firewood flames. But nowadays, this famous souvenir is produced in pastry shops and cooked in the oven. Because of its nutritious ingredients, this delicious date pastry is a healthy and tasty snack and a great sweet for Ramadan. You can make Kolompeh at home easily with the recipe we share in the Cookery Magazine.
ingredients
| | |
| --- | --- |
| Solid oil | 125 gr |
| Pastry flour | 500 gr |
| Yogurt | 180 gr |
| Egg | 1 |
| Brewed saffron | 1/2 tsp |
| Baking powder | 2/3 tsp |
| Peeled date (without seed) | 1/2 cup |
| Ground walnut | 1/2 cup |
| cardamom&cinnamon powder | 1/2 tsp |
How to make Kolompeh
First step
To prepare Kolompeh, sift the flour 3 times, pour it into a suitable bowl, then add solid oil to the flour and mix until the ingredients are combined.
second step
Now pour yogurt and baking powder into a suitable bowl and mix. Then, add the egg yolk and brewed saffron to the yogurt mixture. Then mix the ingredients with a mixer until they are combined and uniform. Then add the ingredients to the flour and oil mixture and stir.
third step
Now sprinkle flour on a surface, place the dough on it, sprinkle some flour on it, and turn it upside down. Put the dough in a freezer bag and put it in the refrigerator for 2 hours.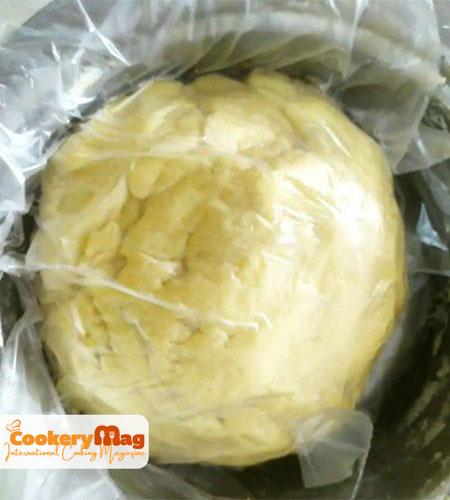 fourth step
to prepare filling ingredients, peel the dates, separate its seed, and crush them, then add cardamom, cinnamon powder, and ground walnut, and mix them.
Fifth step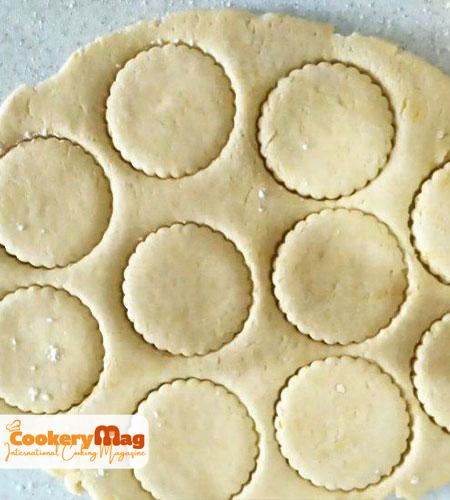 After 2 hours, take the dough out of the fridge and wait a few minutes for it to get a little soft. Cover a surface with a large piece of plastic wrap and put half of the dough on it. Then roll another piece of plastic wrap on top of the dough. Roll each half out 3 to 4 millimeters in thickness. Cut the dough with a round cutter.
sixth step
cut 2 pieces, put some of the filings on one, and put the other on top. Press the two pieces down, then pinch the sides ( You can use a stamp and impress a pattern on the Kolompeh).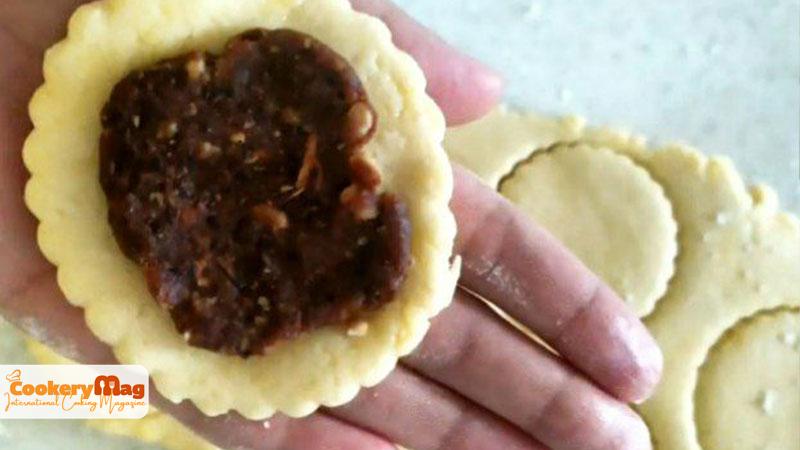 seventh step
sprinkle pistachio powder and sesame on the Kolompeh and put it on a baking pan. You don't need to use parchment paper, Because this sweet is greasy and does not stick to the bottom of the tray. Bake Kolompeh at 160C on the middle rack of the oven for about 15-20 minutes.
I hope you enjoyed preparing Kolompeh. I suggest making this attractive and charming homemade cookie at home and sharing your experience with us. also if you want to try other Persian sweets, you can see Sohan and Baslogh recipes in Cookery Magazine.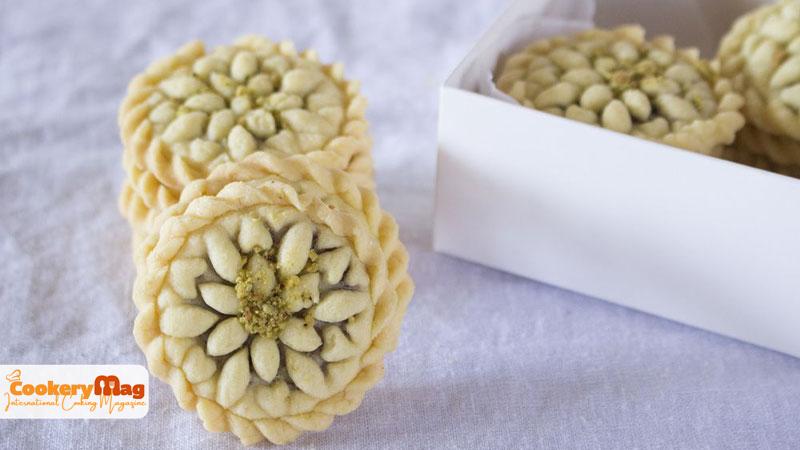 FAQs about Kolompeh
What is Kolompeh?
It is an Iranian nutritious pastry made of minced date, ground walnut, flour, sesame and pistachio to garnish.