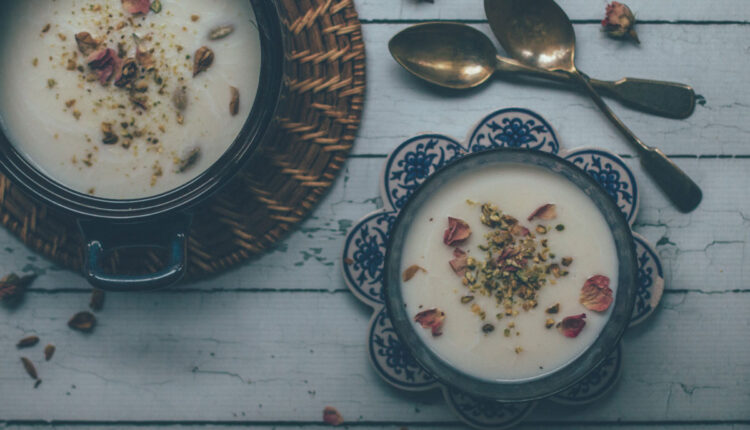 Ferni Recipe, make a delightful Persian|Afghan soft dessert
Ferni Dessert with amazing taste of milk and simple ingredients. Dessert is usually a sweet food consumed at the end of a meal in the culinary cultures of countries worldwide, sometimes called appetizers.
The word dessert is derived from the old French word "desservir," which means to collect the table.
Common Western desserts include: "Cakes, cookies, fruit, jelly, ice cream, faloodeh, pudding, yogurt, biscuits, pastries, pies, and candies."
Various desserts can be found worldwide, including in Russia, served at breakfast time; they use a variety of desserts.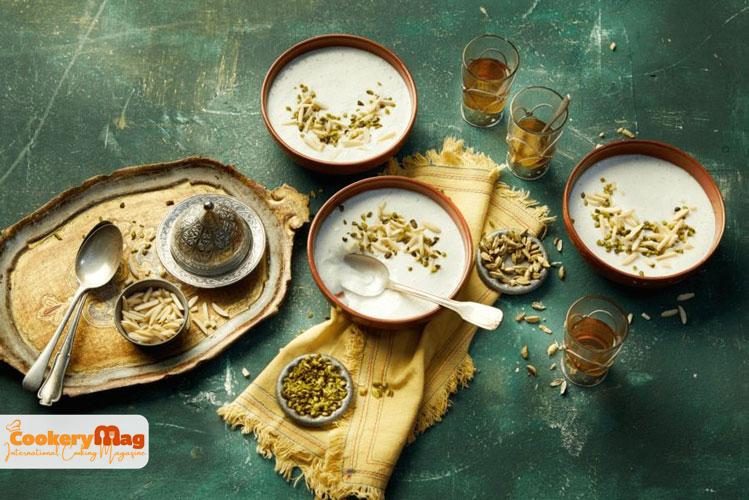 In our country, each city has its desserts, which usually use products grown in the same region to prepare desserts.
In the following text, we, the Cookery Magazine group, will introduce you ferni dessert.
The history of firni, whose original name is "Kheer", is one of the original and old desserts of the Indian subcontinent, made with boiled milk, sugar, and rice.
People believe this dessert was prepared for the first time during the Mughal War and the Indian Empire.
Of course, firni has different preparation methods, and instead of rice, you can use wheat semolina, millet, tapioca (a starch extracted from manioc root), noodles, or sweet corn.
firni is usually flavored with coconut, cardamom, raisins, saffron, pistachios, almonds, cashews, or any other fruit or nut and can be served with food or as a dessert.
In Pakistan, this popular sweet dessert is cooked and served traditionally. Firni is a delicious and popular Iranian dessert used in different ways to prepare this dessert.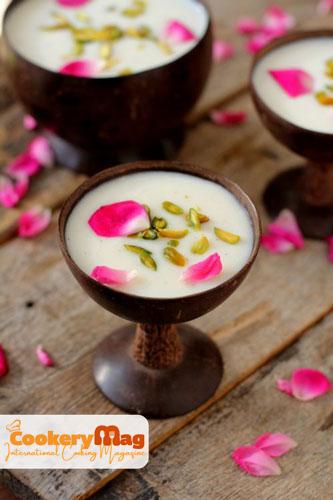 Firni with rice flour is one of the most delicious and complete dishes you can prepare. This complimentary dish is not only served as a meal but also as a good dessert.
The ease of preparation of Ferni made it one of the most popular dishes of the month of Ramadan on the iftar table among people, and eating ferni after a few hours of fasting will be enjoyable and memorable.
You can use thick brewed saffron to decorate the ferni.
Pour a few drops of infused saffron in the middle or around the ferni with the tip of a spoon or a dropper on the ferni that has cooled a little in the bowls and decorate it with pistachio slices or a little cinnamon.
Or, if you want a simpler decoration, decorate it with a few red flowers.
Breastfed children are fed ferni for the first time during infancy because rice flour ferni is a soft, simple food with the least possibility of causing allergies.
At the end of 6 months, when supplementary food should be given to the child, the mother should prepare ferni made with rice flour with her milk, rice causes less allergy than other ingredients, and wheat ferni should only be used at the end of 8 months.
If the mother's milk is insufficient, you can make ferni from pasteurized or cow's milk.
Almond milk can also be used for children. In this way, almonds are ground so they can be easily digestible.
Of course, you can pass the almond milk through a strainer to give the resulting juice and syrup to the baby.
Another Persian dessert like Ferni is Shir Berenj; They have the same ingredients, but Shir Berenj uses rice grains instead of rice flour.
Ingredients for making ferni (Firni):
| | |
| --- | --- |
| Milk | 4 cups |
| Rice flour | 1/5 cups |
| Rosewater | 2 Tbsp |
| sugar | 8 Tbsp |
| Brewed saffron | as your desired |
Recipes to make ferni (Firni):
first step
Pour the milk into a pot and put it on low heat; add sugar gradually and stir until it dissolves in the milk completely. Then add the rose water and rice flour and stir them.
second step
Then mix the ingredients slowly so there are no lumps in the milk and continue to stir; reduce the heat until the milk boils. You must constantly stir the ingredients so they do not stick to the bottom of the pot until they become thick.
third step
After the pudding Rice has thickened( be careful not to harden it too much because it will become a little harder when the Ferni cools down), take the pot off the heat and set aside, but continue to stir. For this reason, we continue to stir because the pudding rice is still hot and will sink if left.
fourth step
You can have a Two-color Ferni. For this work, pour half of the rice pudding into a bowl, add saffron, and mix well. After the Ferni cools down, pour the white rice pudding into a bowl and then pour the colored. Depending on your taste, you can serve this favorite dessert hot or cold.
Note: There is no difference between Afghan and Iranian ferni.
Conclusion:
Thank you for being with us in this article; We would be happy if you share your comments with us.
Frequently Asked Questions:
How can we serve this food?
In general, this dish is served hot on cold winter days.
What is the difference between Ferni and Shir Berenj?
In Shir Berenj is used whole rice grains instead of rice flour.