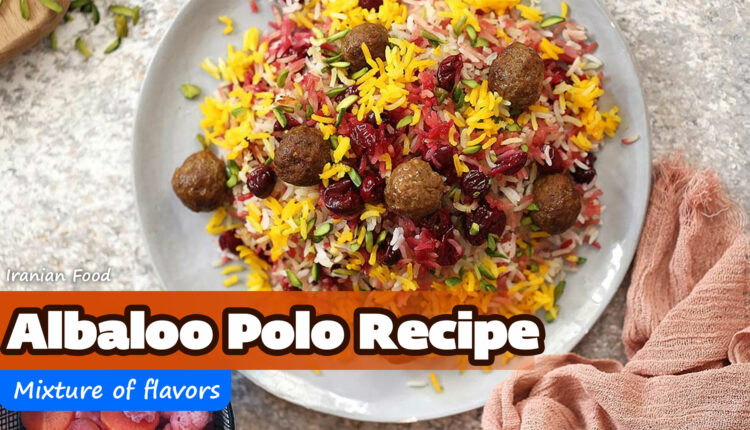 Albaloo Polo Recipe, a Carnival of 1000 amazing flavors
If you want a mixture of flavors, Persian people will definitely suggest Albaloo Polo or Persian cherry rice. Albaloo Polo with meatballs has a carnival of sweet, sour, salt, Carbohydrates, fat, proteins, soft, crispy, and bright, uplifting colors, all packed into one surprisingly humble dish. It is a delicious and flavorful meal and an authentic guest meal that satisfies your pallet's different taste buds.
Actually, this food usually is made in summer due to the cherry, which is a summer fruit. Albaloo Polo is originally from Shiraz. In this article, Cookery Magazine will teach you the easiest recipe for cooking Persian cherry rice.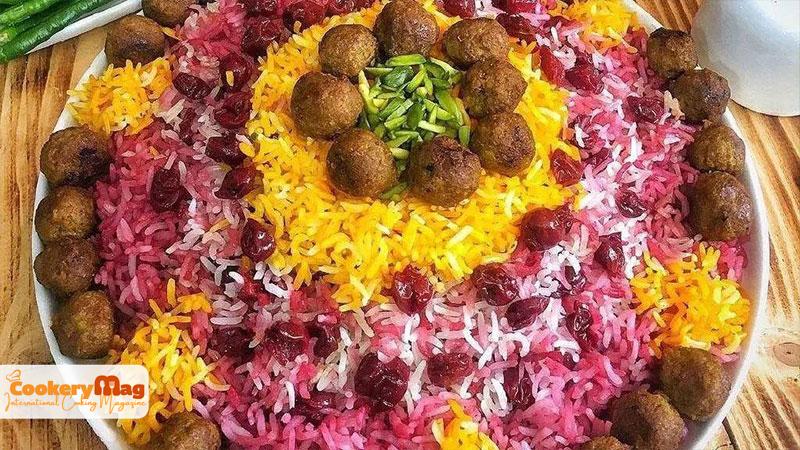 Albaloo Polo ingredients for 4 people
| | |
| --- | --- |
| Ground beef | 1 pound |
| Black pepper | 1 teaspoon |
| Saffron | 1/4 tablespoon |
| Olive oil | 5 tablespoons |
| Salt | 3 teaspoons |
| Turmeric powder | 1 teaspoon |
| Basmati rice | 4 cups |
| Slivered pistachio | |
| sugar | 1/4 cup |
| onion | 1 large |
| sour cherry | 1 cup |
Making Meatballs ready for Persian Cherry Rice
To get sorted, mix 1 pound of ground beef with 1 teaspoon of salt, 1 teaspoon of turmeric powder, 1 teaspoon of black pepper, and one large grated onion (Keep in mind to squeeze out the onion juice after you grated your large onion). Let it rest for 68 hours in the fridge so that the meat of swarms all the goodness and flavor.
When you want to start creating your meatballs. Add 4 to 5 tablespoons of olive oil or any vegetable oil into a large saucepan and start shaping your meatballs. It's traditional to make tiny meatballs for this dish but feel free to make them larger. An advantage of making tiny meatballs is that they will cook throughout evenly and in a uniform fashion.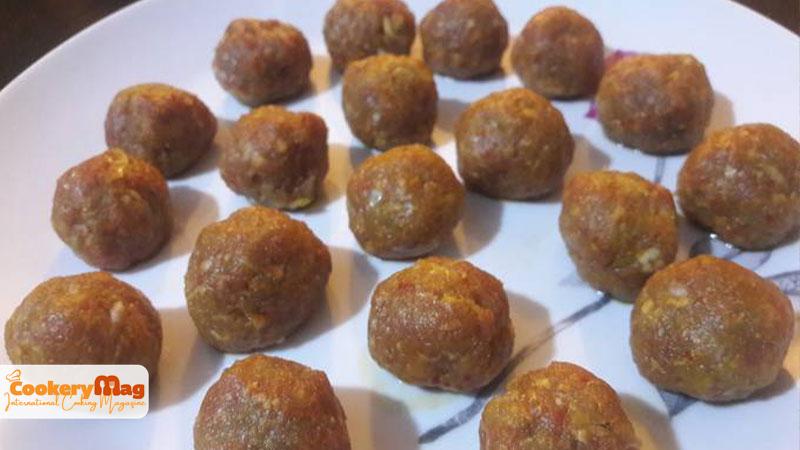 Once all the meatballs have been formed, sauté them until they're fully cooked and crispy on a medium heat which typically takes about 15 to 25 minutes.
Rice in Albaloo Polo
To cook your rice bring 8 cups of water and 2 tablespoons of salt to a boil on medium-high heat. Add 4 cups of rinse basmati rice and boil on high heat uncovered for about 5 to 12 minutes. Until the rice has become semi-cooked, additionally, keep in mind that you must soak your basmati rice in water for about 4 to 6 hours before cooking when rice grains are semi-cooked, which means that the exterior is soft, but the interior is quite firm. Later drain the rice in a colander, rinse and set it aside.
Soaking Saffron for Persian cherry rice
Mix 1/4 of a tablespoons saffron thread with 1/4 a cup of hot water to make your liquid saffron. Let it soak for about 15 minutes, and you'll have this fantastic liquid saffron with vibrant color.
Cherries for Albaloo Polo
For this recipe, you need 1 to 1 and a half cups of sour cherries, and you need to remove the seeds either manually or use your machine. Once you've removed the cherry pits, leave them at room temperature overnight, and all produce juice that is necessary to make your sour cherry syrup. Place the sour cherries in a saucepan and 1/4 of a cup sugar or Monk fruit sweetener and cook on medium-low heat uncovered for 3 to 5 minutes.
If you decide to use frozen sour chicken please let them defrost first and then you can go ahead and remove the pits
Juices from the cherries combined with sugar will create a luscious cherry syrup that will get used with the meatballs. Stream the cherries and cook the sauce on medium-low heat for 10 minutes until it gets slightly thickened.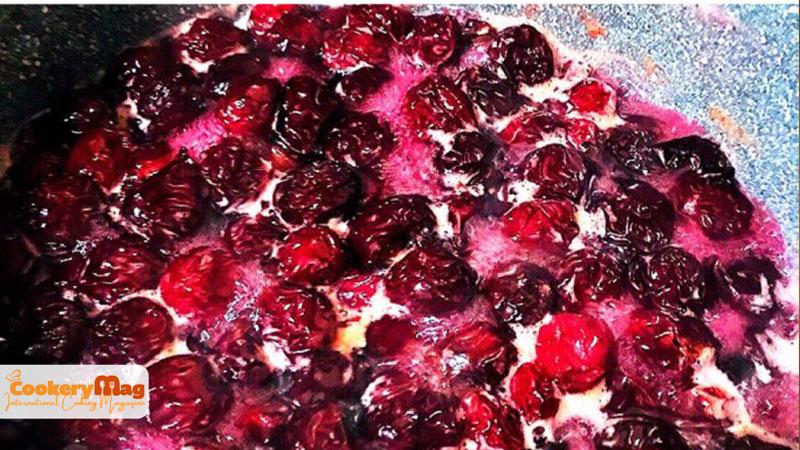 Add 1/4 of a cup to half a cup of the reserved cherry syrup to meatballs in addition to 1 to 2 tablespoons of liquid saffron. Swirl around for the syrup to be better mixed and code the meatballs.
Final step
Now it's time to mix all the ingredients and steam the rice. Add 2 to 3 tablespoons of ghee into a large pot on medium-low heat. In a small bowl, mix one to 2 cups of lightly cooked rice with 2 to 3 tablespoons of liquid saffron.
Gently mix and spread evenly in the bottom of the pot. This will be the crispy rice referred to as Tahdig, which means the bottom of the dish (we thoroughly explain Thadig in Morasa Polo Recipe). Repeat the same process but this time, mix 1 to 2 cups of lightly cooked rice with a cup of your cherries syrup.
Begin layering your ingredients in the large pot, which includes saffron rice, white basmati rice, sour cherries syrup, rice meatballs, and cherries; repeat this process until all of the rice meatballs and cherries have been layered in the pot. Next cover the pot and allow the rice to steam over medium-low to medium heat for about 30 to 35 minutes.
Serving Albaloo Polo
After your rice has been steamed, remove it from the pan and place it on a serving platter. Arrange the meatballs on the serving platter, and you may Garnish them with pistachios, almonds, or rose petals. I highly recommend serving this dish with a side of yogurt and a half or fresh herbs. Don't forget to comment for us with your recommendations.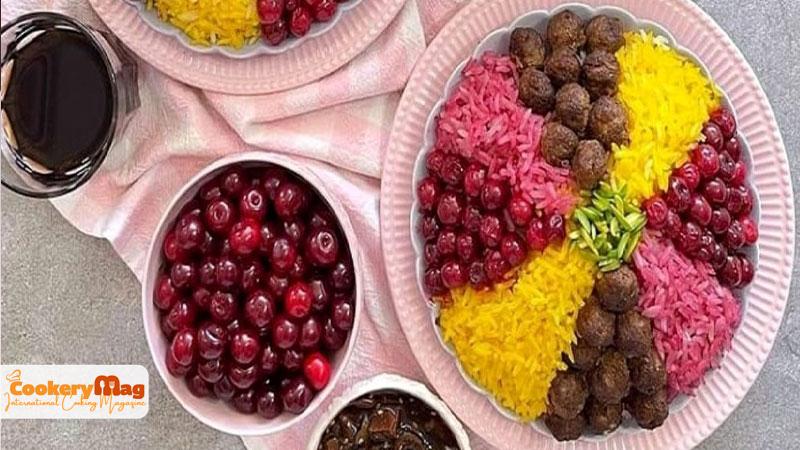 Persian cherry rice tips
Please note that you can serve these sour cherry races with stewed beef, stewed lamb, or roasted chicken.
To make delicious, high-quality meatballs, you need high-quality meat.
I would recommend blending two or three kinds of ground meat for making meatballs.
Albaloo Polo can easily be made vegetarian or vegan by simply not using natural beef.