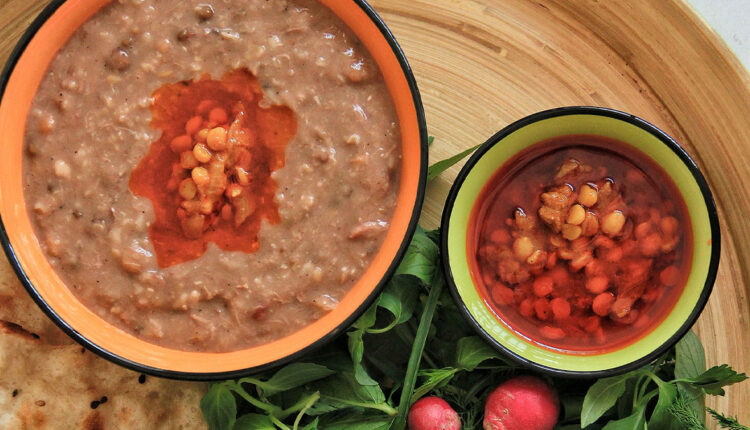 Sholeh Mashhadi Recipe, a Persian soup for cold days
Sholeh Mashhadi is one of the delicious and traditional Iranian dishes whose origin belongs to the Khorasan (Mashhad) province.
The origin of Sholeh Mashhadi goes back to the time of the Mongols' attack on Iran from the Khorasan side.
Due to the lack of time and food, people cooked any food that was found and available, mixed them, and put them into big pots.
So, it is wrong to say that Sholeh Mashhadi is a Mongolian food, and the meaning of being Mongolian means that it was created in Iran since the time of the Mongols. Anyway, Let's learn how to cook it in Cookery Magazine.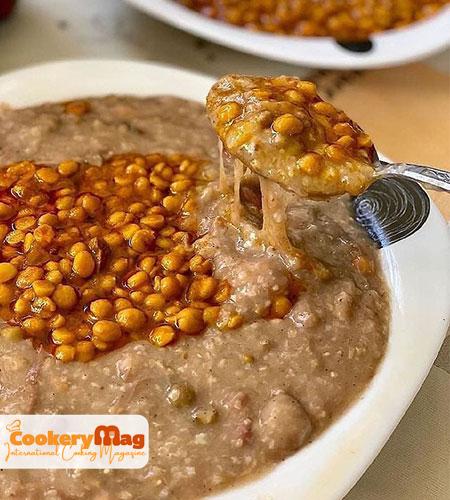 Ingredients for making Sholeh Mashhadi:
| | |
| --- | --- |
| Calf shank (Lamb and mutton) | 1.5 kg |
| Peas | ½ cup |
| Pinto beans | ½ cup |
| kidney beans | ½ cup |
| Mung beans | ½ cup |
| Rice | ½ cup |
| bulgur wheat (wheat semolina) | 1.5 to 2 glasses |
| onion | 5 pcs in medium size |
| cardamom and cinnamon powder | As much as needed |
| nutmeg and ginger | As much as needed |
| black pepper and red pepper | As much as needed |
| salt and turmeric | As much as needed |
khoresht gheymeh (split yellow peas) for decoration and design.
How to cook Sholeh Mashhadi:
The first step:
To prepare Sholeh Mashhadi, first, we chop the onions into gems and fry them with some oil in a suitable pot; when the onion turns golden, add some turmeric and continue frying until the onions and turmeric get mixed very well.
Next, we chop the meat and add it to the pot, then fry well until the color of the meat changes and gets a little fried.
Now we add a piece of cinnamon stick along with 2 to 3 glasses of boiling water to the pot and cover the pot to cook the meat.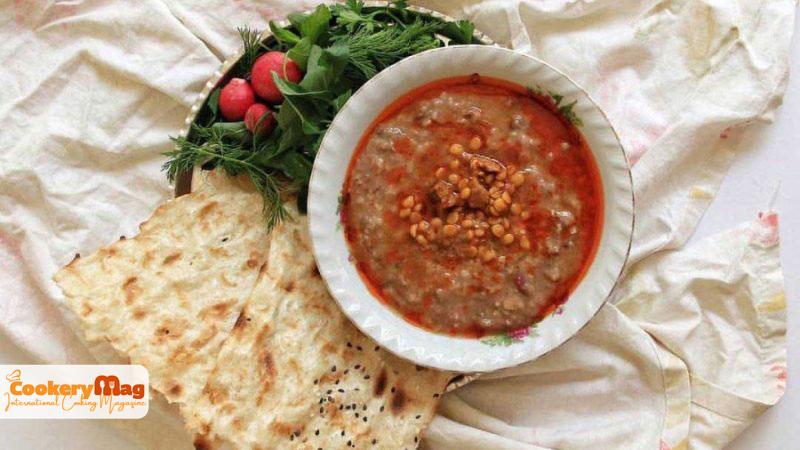 The second step:
We rinse the Peas, pinto beans, and kidney beans that we soaked the night before, put them in a large pot with 8 glasses of boiling water, and let them cook.
After the meat is cooked, we shred it and keep the water aside.
After the beans are cooked, we add the mung beans to the pot along with the water of the meat (broth), rice, and wheat semolina.
Now we add cardamom powder, nutmeg, black pepper, red pepper, ginger, and some salt and let the ingredients cook.
The third step:
This soup will settle very quickly, so we have to constantly stir the ingredients so that the soup does not settle. Now we have to wait until the ingredients of the soup are cooked, and the soup thickens and settles.
After the soup settles, we take it off the heat, put a cloth as a steamer cover, and let it brew for 15 minutes. After 15 minutes, we put the soup in the desired dish and garnish it with khoresht gheymeh (split yellow peas).
I hope you enjoy this Persian dish and share it with your dear friends 😉