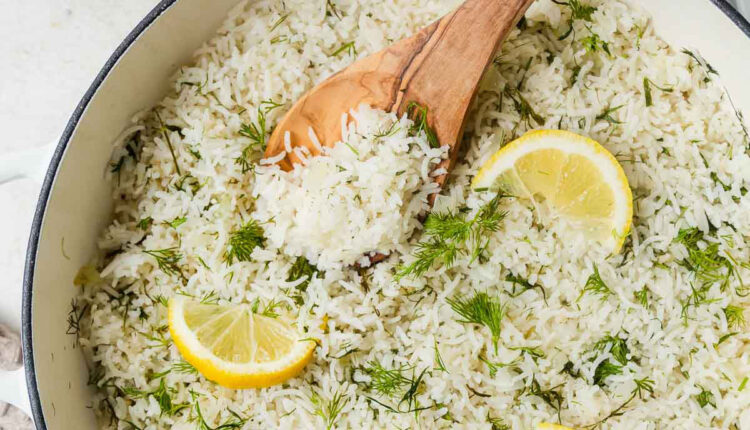 Shevid polo Recipe | Persian dill rice recipe, in 4 steps
Shevid polo | Persian dill rice is one of the main dishes, which accompanies chicken, fish, tuna, and muscle, This delicious rice is one of the popular pilafs that is mostly welcomed in Iranian table.
As a basic rice dish, shevid polo can be used with other meat products such as chicken, fish, tuna, etc., and even with shallot yogurt (Mast o musir) or salad, and its combination in the form of bean dill (baghali polo) is very tasty and delicious.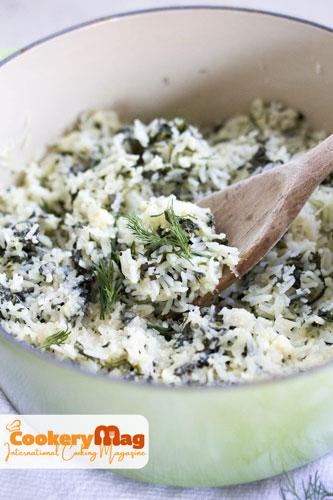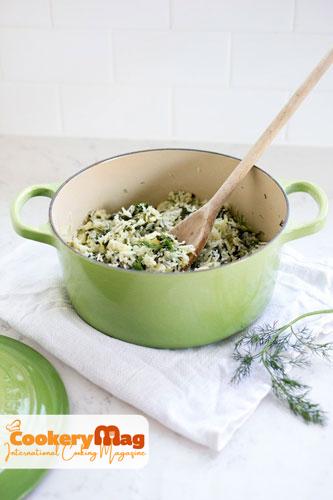 Preparing shevid polo is very easy, and you can make this rice with dry or fresh dill or add beans or potatoes to make a very elegant dish.
Dill, as an edible vegetable, has a history that says that the seed of this plant found its way from Iran to India and Egypt, but the consumption of dill does not end only in rice, and you can use this edible plant, which has many Properties, to make tea, herbal medicines, and even to flavor sauces.
To make a delicious shevid polo that no one miss, and when it is on the table and next to any food, no one stops eating until the meal is finished, stay with The Cookery Magazine so that we can teach you how to prepare a simple and delicious shevid polo with dry dill.
Properties of dill in shevid polo for the body:
Reduction of menstrual pains
Menstrual pain is called dysmenorrhea.
Painful menstruation or dysmenorrhea can cause severe discomfort in the abdominal area.

In addition to the abdomen, the thighs, pelvis, and lower back are also heavily affected
by menstrual pain.
Dizziness, diarrhea, nausea, and vomiting are other symptoms of menstrual pain. One of the properties of dill is the treatment of these pains.
Dill and improve digestion
Dill is used as a home remedy for many problems. For example, it is used to treat anorexia, flatulence and stimulate bile and digestive juices.
The pancreas secretes digestive juice and contains enzymes that break down carbohydrates, fats, and proteins in food; The oils in the dill increase bile and digestive juices.
Dill and cholesterol reduction
Dill leaves can reduce cholesterol. A study in this field was conducted on mice, and it was found that the consumption of dill extract and tablets in mice with high cholesterol caused positive effects on their lipid profile.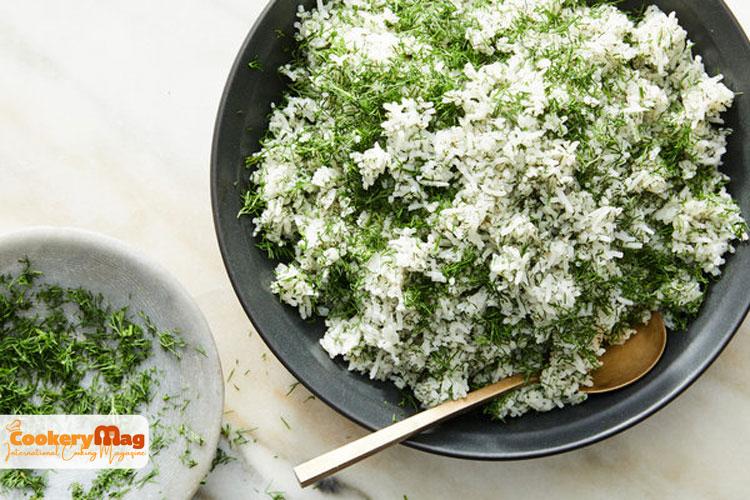 Anti-cancer properties
Dill has anti-cancer properties due to the presence of 3 monoterpenes mentioned (limonene, carvone, and anthofran). Monoterpenes, enzymes called glutathione-s.
They influence the transferase (glutathione-S-transferase), and stimulating these enzymes prevents cancer from starting in the body.
Prevention of skin aging
Treatment of constipation
Digestive health
Strengthening teeth
Strengthening nerves and psyche
Help to treat sinusitis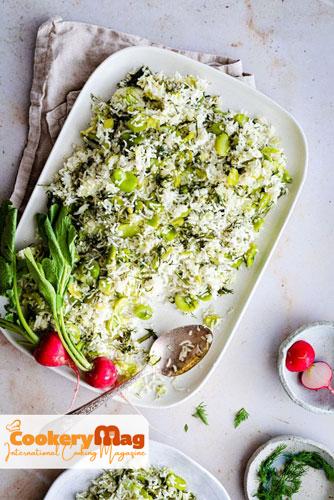 Ingredients for making Shevid polo | Persian dill rice:
| | |
| --- | --- |
| Rice | 3 cups |
| Dill | ⅕ (one fifth) of a cup |
| Salt | As much as needed |
| Liquid oil | As much as needed |
* You can use potatoes, lettuce leaves or lavash bread for the bottom of the pot as Tahdig.
Recipe for making Shevid polo | Persian dill rice:
The first step:
Wash your rice well, then soak it in water and salt. Fill a pot more than half with water and put it on the heat until it boils. After the water boils, add two spoons of salt to it.
Empty the rice water you left to soak and add the rice to the pot with the boiled water; After a few minutes, when the rice is cooked, add the dill and stir. After completely mixing the rice and dill, put them in the pot and let the rice become half-cooked.
The second step:
Test it with your finger to find out if the rice is half cooked. Take a grain of rice and measure its hardness and softness.
Your rice should be easy enough and crushed. It usually takes between 8 and 10 minutes for the rice to reach this degree of cooking. Drain the half-cooked rice; Please do not stir it too much at this stage so it does not break. You can add the dills in this step after draining the rice.
The third step:
Place the rice in a colander for two to three minutes until completely drained.
Pour a little oil into the bottom of the pot and place the bread or potatoes you have planned for Tahdig on it. Then pour the rice on it.
The fourth step:
Pour half a glass of water and half a glass of oil on the surface of the rice, then put the pot's lid, lower the gas heat, and let the rice brew.
Your rice is ready about 45 to 60 minutes later, and you can serve it.
Conclusion:
Thank you again for being with us with an excellent, delicious, authentic Iranian recipe. Share your experiences with us, and if you have any tips to improve the food recipe, be sure to comment; thank you.
And finally, I would like to thank those who took the time to read this article about shevid polo. It is hoped that among the delicious foods of different societies, Iranian food is gaining more and more fans every day.
Frequently Asked Questions about Persian dill rice:
Can we consider shevid polo as a complete separate meal?
Yes! shevid polo can consider as a separate meal that you can have it for dinner, lunch and suhur.