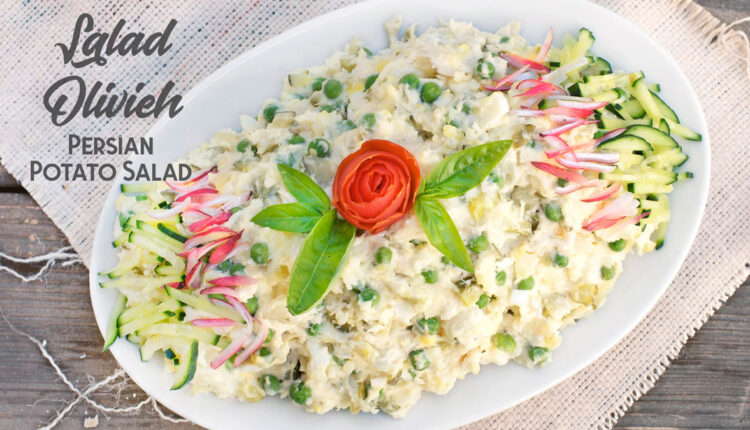 Olovieh | Salad olivieh, an Iranian salad or persian potato salad with rusian origin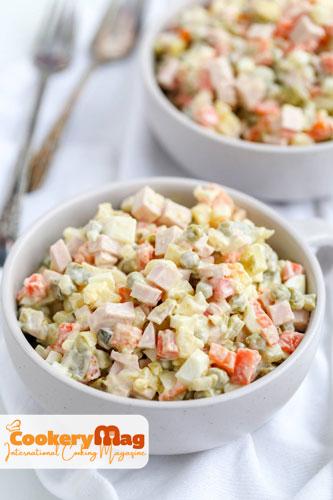 Olivier Salad (Russian Potato Salad (Салат Оливье)) or in Persian culture is known as Olovieh or Persian Chicken Salad, now we're going to get more familiar with this amazing salad in The Cookery Magazine.
Olivier Salad (Russian Potato Salad) is one of the famous and popular salads all over the world, whose originality belongs to Russia.
This salad was invented in the 19th century by Lucien Olivier, the French-born Belgian chef of the "Hermitage Restaurant" in Moscow, and gradually gained many fans in Russia, European countries, and many other countries of the world.
Olivier salad is the main course of New Year's in Russia, which is more important than Christmas for the people of this country.
Russian salads, the main of them is salad olivieh, are not those full of vegetables we see in most places.
Usually loaded with mayonnaise, root vegetables, and a variety of protein ingredients, Russian salads are a branch of salad in themselves and provide the calories needed to survive the people in cold Russian winters day.
Even though it later became a popular salad among the Soviet people, it was originally a food for the nobles class.
This salad disappeared for a short time after the Russian Revolution before it reappeared in the 1930s by the former student of Lucien Olivier.
He named this dish Stolichni, which had potatoes and peas in the original recipe, but he put sausage, carrots, and pickles in the ingredients and replaced them with bourgeois food.
Ingredients for making Olovieh (Salad olivieh) or persian potato salad:
| | |
| --- | --- |
| Boneless chicken breast and thigh | 400 grams |
| pickled cucumber | 6 to 8 average size (about 300 grams) |
| Egg | 4 pieces |
| Peas | 100 grams |
| Onion | 1 piece |
| Medium potatoes | 2 pcs |
| Mayonnaise sauce | As it needed |
| Lemon juice | 1 tablespoon |
| Salt and black pepper | As it needed |
| Turmeric | As it needed |
* It is going to be said that although Chicken gives a very good taste to the salad, you can find an alternative for it if you want to remove the chicken from this salad.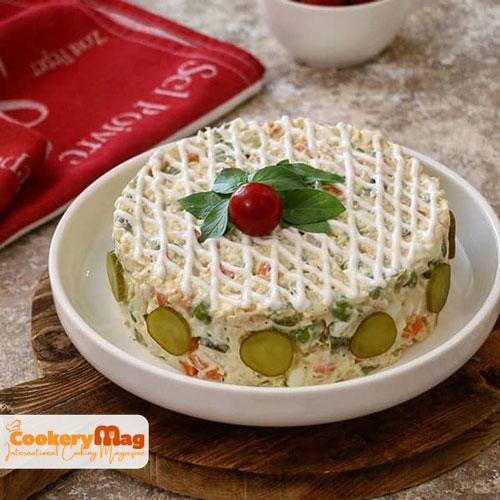 You can replace it with ham and sausage. Of course, if you are a vegetarian, instead of using chicken, you can use other vegetables such as roasted mushrooms, bell peppers, etc. in your salad.
Recipes to make Olovieh (Salad olivieh) or persian potato salad:
The first step:
To prepare Olivier Salad (Russian Potato Salad), we first wash the potatoes and eggs, then put them in a small pot with a few glasses of water and put them on high heat so that they are boiled faster.
Next, we clean the chicken breast and remove its extra skins, then put it in another pot on the heat along with 2 glasses of water, onions, some salt and turmeric to cook.
The second step:
After the eggs and potatoes are boiled, we let its temperature get a little cool down, then peel them. We choose a large and spacious bowl and grate potatoes and eggs in it.
After the chicken meat is cooked, we cut it into small pieces and add it to the bowl containing potatoes and eggs.
Grate the pickled cucumber with a fine grater, then squeeze the extra water by hand and add it to the other ingredients.
The third step:
At this step, we have to prepare the peas, if we use canned peas, we just have to drain them and add them to the other ingredients. If we have raw peas, we should cook them (as cook i mean boil them) with some water and salt, then add them to other ingredients.
Now we have to make the salad dressing; For this purpose, we mix mayonnaise with lemon juice, black pepper and a little salt in a small bowl until they are uniform, then add to the salad and mix well until the sauce reaches all parts of the salad.
The fourth step: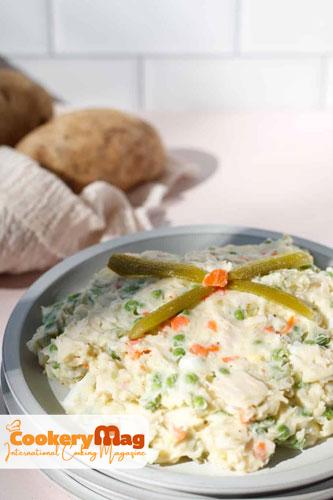 After the salad is ready, we put it on the dish we want, then cover it with a cellophane and put it in the refrigerator for at least two hours to set the salad.
If you want your salad to be tastier, it is better to make it the day before and put it in the refrigerator.
Enjoy your meal😊
Conclusion:
Thank you again for being with us with an excellent, delicious, authentic Iranian recipe. Share your experiences with us, and if you have any tips to improve the food recipe, be sure to comment; thank you.
Frequently Asked Question:
1. what eat with salad olivieh?
Usually they serve Salad olivieh with pickled cucumber, tomato, lettuce salad, baguette and soda.
2. How many calories in salad olivieh?
In each 3.2 ounce it has 162kcl
3. Can I serve Persian Salad Olivieh warm?
No, absolutly not, it can't taste what it should be; this salad must to be served cold.