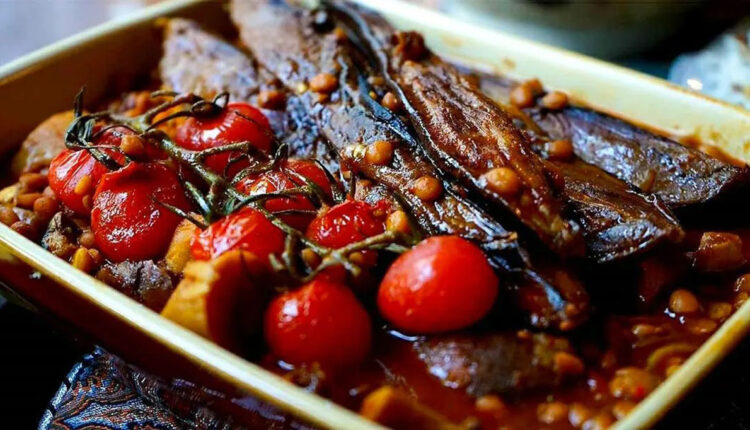 Khoresh bademjan | persian Eggplant stew recipe, one of the best and old Iranian stews in 7 steps
Khoresh bademjan | Eggplant stew is a popular Iranian dish with a long history in Iranian culture and cuisine, which in The Cookery Magazine you are going to know it more.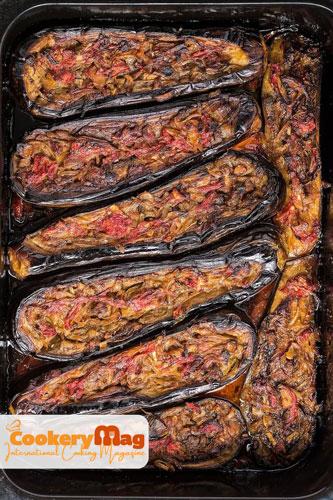 Khoresh, which is called Stew in English, is one of those foods found in almost all food programs in the world.
The ingredients of a stew can include any combination of vegetables, meat and legumes or beans, and at the same time, each stew has its seasoning and flavouring.
Stews are usually boiled or steamed at a relatively low temperature so that the flavours of the ingredients mix well.
Although these days, due to vegetarian diets, the use of meat in stews is limited, and many people try to replace the meat in the stew with other ingredients such as mushrooms.
Another thing that can be mentioned about stew is that in most parts of the world, stew is considered among the dishes suitable for cooking at the lowest cost.
Cooking stew seems easy, but having stews that last and have the right concentration is only some people's job.
Stew is a food that needs time to settle and cannot be classified as instant and fast foods.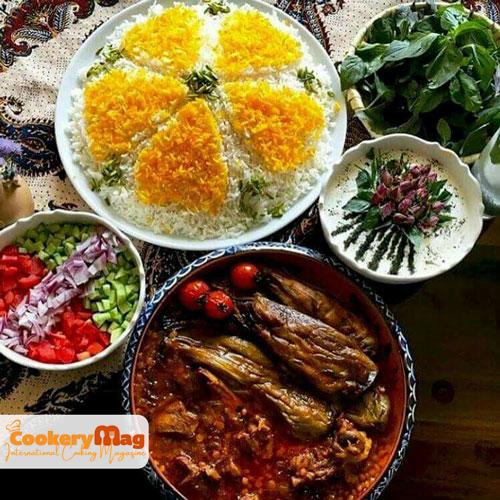 Khoresh bademjan probably originated in Iran in ancient times. Still, it may be difficult to determine the exact date of the invention and discovery of this food because it has been consumed in Iran for many years, and accurate information about the time of its well-knowing has yet to be made available.
But this dish is considered one of the most popular and famous Iranian dishes still in Iran and worldwide.
Eggplant is one of the significant products of arboriculture trees in Iran, and the history of its cultivation and consumption goes back to very old times.
Therefore, Khoresh bademjan has been in Iranian cooking and cuisine for a long time.
Through historical documents and explanations, we can find signs of the use of eggplant in Iranian cuisine in different historical periods.
For example, in the book "Iranian Cooking" by Nasserullah Asadi, there are references to the use of eggplant in old Iranian dishes.
The use of eggplant in dishes and stews is also mentioned in historical sources and Iranian classical literature.
In Iranian culture, Khoresh Bademjan is commonly served during special occasions and gatherings. It is a dish that brings people together and represents the warmth and hospitality of Persian cuisine.
Overall, Khoresh Bademjan is a flavorful and hearty stew that has stood the test of time in Persian cuisine. Its combination of tender eggplants, savoury meat, and aromatic spices makes it a beloved dish enjoyed by many.
Ingredients for making Khoresh bademjan | persian Eggplant stew for 8 people:
| | |
| --- | --- |
| Mutton or chicken | 500 grams |
| Eggplant | 8 pcs |
| Onion | 1 medium size |
| Tomato | 4 medium size |
| Liquid oil | more than half a cup |
| Brewed saffron | 1 tablespoon |
| Garlic | a few small cloves |
| verjuice | one tablespoon |
| Tomatoe paste | 2 tablespoons |
| Turmeric | As much as needed |
| Salt | As much as needed |
Recipes for making Khoresh bademjan | persian Eggplant stew:
First step:
Cut the onions into small pieces, dice them carefully, and fry them with a certain amount of oil. Add some turmeric to the frying onions when the onions change colour and become golden.
This work plays a significant role in spicing the onions and frying them well.
Second step:
At this stage, it is necessary to add the stewed meat to the fried onions. Be careful that changing the colour of the meat is enough at this stage, and you should not allow the meat to be fried because frying the meat causes it to harden and, as a result, simmer it.
After changing the colour of the meat, it is time to add the tomato paste. Tomato paste should also be roasted well to remove its rawness.
Third step:
Frying the tomato paste well at this stage will give your stew an excellent taste and smell.
After roasting the tomato paste, it is time to add a volume equal to 3 full glasses of water to the container containing stewed meat, onion and tomato paste and allow the water to boil and steam. (At this stage, it is necessary to have a high flame under the pot so that the added water boils and evaporates very quickly.)
Fourth step:
When the water in the pot boils, reduce the temperature and give time (one and a half to two hours) for the meat to cook slowly and well.
You can also peel the eggplants and cut them lengthwise during the meat cooking.
After cutting the eggplants, place them on a tray and sprinkle salt on them. Doing such a thing plays a significant role in eliminating the bitter taste of eggplants, as well as absorbing less oil during frying.
Fifth step:
After half an hour of sprinkling salt on the eggplants, it is time to rinse them. After rinsing the eggplants, it is necessary to dry them and then fry them.
To absorb excess oil from eggplants, place them on a few sheets of disposable paper towels or a towel after frying.
At this stage of preparing eggplant stew, you can also cut tomatoes into pieces and fry them.
At this stage, it is necessary to add the brewed saffron, black pepper, salt and turmeric to the pot containing the stew and stir the stew slowly to absorb the spices.
Sixth step:
After adding the spices and brewed saffron, it's time to add the fried eggplants along with the roasted tomatoes to the pot containing the stew.
Be careful not to stir the stew contents too much by adding the eggplants.
If you want your Khoresh bademjan to have an excellent taste, you can add some lemon juice or verjuice to it.
Seventh step:
By adding the eggplants to the pot, give the stew time for about 30 minutes so that the oil does not drop and it settles. After half an hour, your eggplant stew can be served. Enjoy your food.
IMPORTANT thing about khoresh bademjan and Khoresh Gheymeh :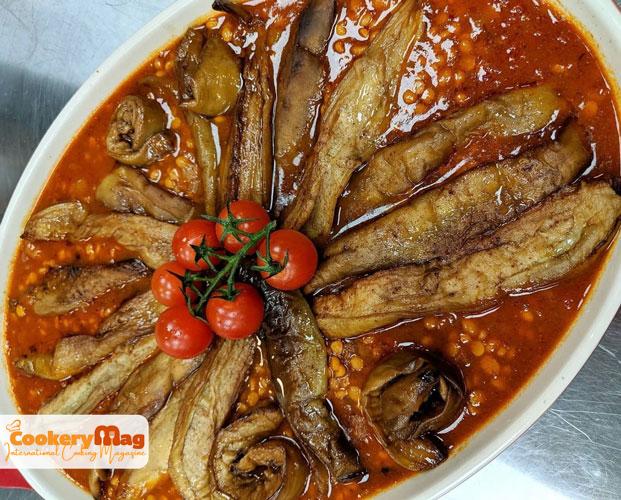 gheymeh bademjan is another Iranian dish that make from the combination of khoresh bademjan and Khoresh Gheymeh, and as we explain the Khoresht Gheymeh recipe in previous articles, now it is going to be said that by just read Khoresh Gheymeh recipe and mix it with khoresh bademjan can make another delicious food.
Conclusion:
Thank you again for being with us with an excellent, delicious, authentic Iranian recipe. Share your experiences with us, and if you have any tips to improve the food recipe, be sure to comment; thank you.
And finally, I would like to thank those who took the time to read this article about Persian Eggplant stew. It is hoped that among the delicious foods of different societies, Iranian food is gaining more and more fans every day.
Frequently Asked Questions:
What is the meaning of Eggplant and stew in persian?
Eggplant is Bademjan and Stew is Khoresh as you know.