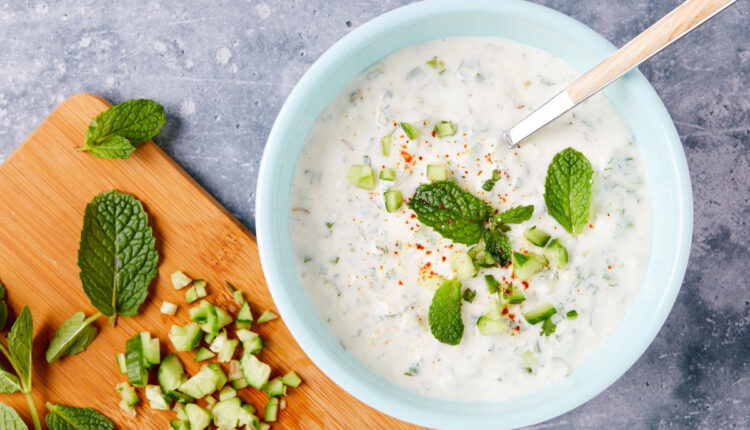 Mast o Khiar | Persian Cucumber and Herb Yogurt recipe, make this best delicious authentic meal in 20 minutes
Mast o Khiar (Persian Cucumber and Herb Yogurt) is one of the Iranian seasonings, the main ingredients of which are yogurt and cucumber, and it is prepared in a unique style in every part of Iran.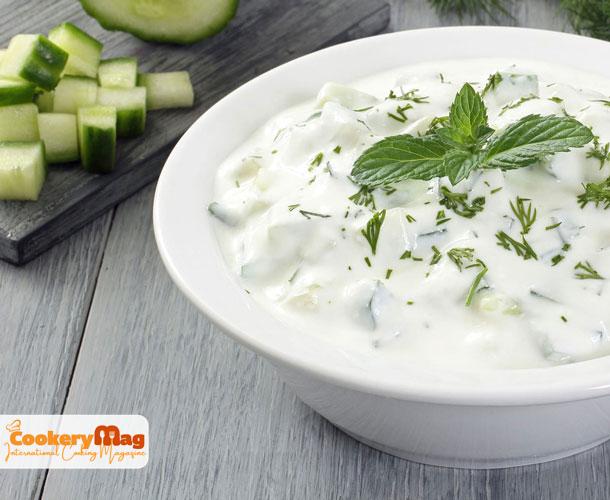 Mast o Khiar is a delicious and popular Iranian appetizer with a special place on the Iranian table and can be an attractive option at the table at parties.
Today, the Mast o Khiar in Iranian homes is in its usual style and combines yogurt, cucumber, and dry mint; In The Cookery Magazine, you will learn both regular and royal methods of making Mast o Khiar.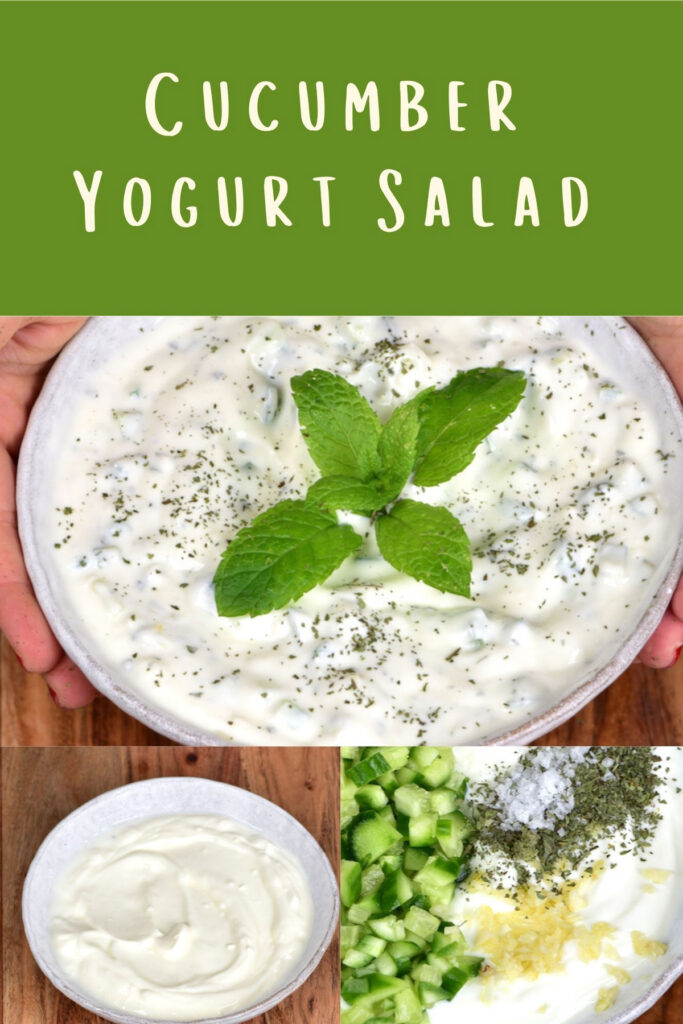 However, in the past, the side dishes added to it were so heavy that this delicious appetizer turned into a separate dish and main course, and we use those ingredients in making Abdoogh Khiyar today.
To prepare Mast o Khiar, the cucumber is cut into pieces in dice shape and mixed with yogurt, a combination of sour and creamy yogurt.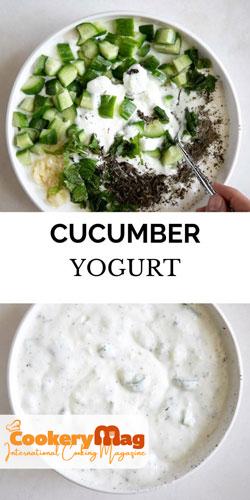 You can also add onion, chopped garlic, and lettuce to it. Dry mint, thyme, and damask rose are also used to flavor yogurt and cucumber. You can also add salt and pepper to it as desired.
In some regions of Iran, walnuts and raisins are added to Mast o Khiar.
Amazing and funny story of Mast o Khiar!
It is said that one day during the time of Naser al-Din Shah Qajar, Amir Kabir, who was fed up with the misappropriation of food at the court table, suggested to the Shah that they should eat what the bondmen eat for one day.
The king asked what do our bondmen want?
Amir Kabir said: Mast o Khiar
The king called the chef and ordered him to make Mast o Khiar for tomorrow's lunch
The chef ordered the supplies to prepare the following ingredients: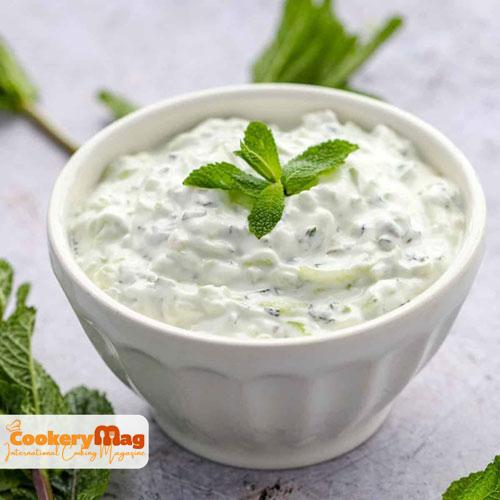 *Man: unit of measurement in ancient Iran; And each 'man' is equivalent to 3 kilograms
1) Full-fat yogurt for at least six-man
2) hothouse cucumber of Varamin, two-man
3) White kernel walnuts of Baneh, 1 kilo
4) Hamedan superfine onion, one man
5) superfine seedless raisins and royal currants, 1 kilo
6) High-quality bread, three man
7) Excellent garden mint and spring vegetables 1 kilo!
8) and…
After Naser al-Din Shah had eaten whole of Mast o Khiar, ordered an additional bowl, and while he was eating, returned and said to Amir Kabir:
"Sun of a gun, what an amazing food our bondmen eat, and we were unaware!
from now on any of the bondmen displeased and blasphemed, give the bastinado to him.
Unfortunately, Naser al-Din Shah did not realize that the Mast o Khiar made for the king's court is very different from the one that the common people, and what he tasted was a noble food.
Ingredients for making Mast o Khiar:
| | |
| --- | --- |
| Cucumber | 1-2 Diced cucumber |
| Condensed or creamy yogurt | 200 grams |
| Chive | 4 stalks |
| Crushed Garlic | 1 clove or ½ teaspoon |
| Chopped fresh mint | 2 soup spoons |
| Chopped walnut | 3 pieces |
| Raisin | 2 tablespoons |
| Dry mint | 1 tablespoons |
| Black pepper and salt | As much as needed |
| Fresh mint leaves and Damask rose for decoration | As much as needed |
Recipes for making Mast o Khiar:
To make Persian Cucumber and Herb Yogurt, we wash the cucumbers, then chop them with a sharp knife without removing the skin.
You can also grate with a coarse grater; chop it finely if you like the cucumber to come under your teeth.
We recommend you dice it as you see in the picture.
We wash the cleaned chives, and after the excess water is removed, we put them on the kitchen board, chop them finely, and set them aside.
Peel and crush the garlic; then we chop the washed fresh mints.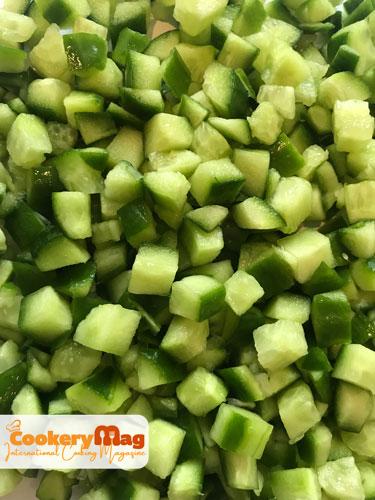 Put the yogurt in a suitable container and add the crushed garlic, salt, pepper, chives, and chopped mint. At the end, add the chopped cucumber and mix all the ingredients thoroughly.
When the ingredients are thoroughly mixed, and the flavors are combined, we use fresh mint leaves and Damask rose to decorate our Persian Cucumber and Herb Yogurt. Enjoy your meal.
Attention!
Mast o Khiar is a combination with a cold nature or temperament, so be aware that if you eat it with cold foods, you must eat sweets or something with hot nature afterward to avoid feeling sick.
The next point is that you should not eat Mast o Khiar with meat dishes because it destroys the iron in the meat.
Conclusion:
Thank you again for being with us with an excellent, delicious, authentic Iranian recipe. Share your experiences with us, and if you have any tips to improve the food recipe, be sure to comment; thank you.
Frequently Asked Question:
What is the translation of mast-o-khiar?
It literary mean yogurt and cucumber.