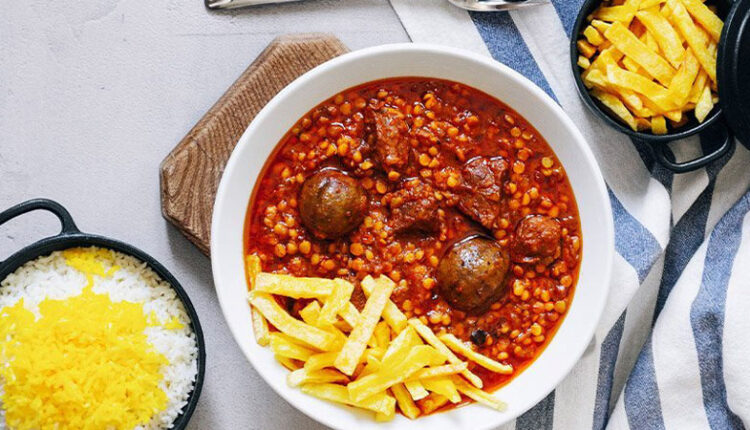 Khoresh Gheymeh Recipe, Make the best Persian stew
If you are familiar with Iranian culture, you will know that Persian people are known for two popular dishes, Khoresh Gheymeh, and Ghormeh Sabzi. Today we want to introduce Khoresh Gheymeh, a popular dish among all Iranians.
Generally, Khoresh means stew, and Gheymeh means small pieces of meat. This dish is mainly made of small cubes of mutton or beef, split peas, tomato, onion, and Limu Omani (dried lime), topped with crispy fried potatoes. Koresh Gheymeh Is served on religious occasions known as Muharram and is the most popular among Nazri dishes(free food). If you have never tried to make this split peas stew, you can see a wonderful recipe in Cookery Magazine.
ingredients
| | |
| --- | --- |
| Beef stew | 300 grm |
| Yellow split pea | 150 gram |
| onion | 2 medium size |
| potato | 2 medium size |
| tomato paste | 2 Tbsp |
| Limu Omani( dried lime) | 4 |
| brewed saffron | 300 gram |
| salt, pepper, and turmeric | as needed |
How to make Khoresh Gheymeh
1-First of all, soak the yellow split pea in water for a few hours, then change the water several times.
2-Finely chop the onion and fry it in a pot until golden and soft. Then add turmeric and continue frying.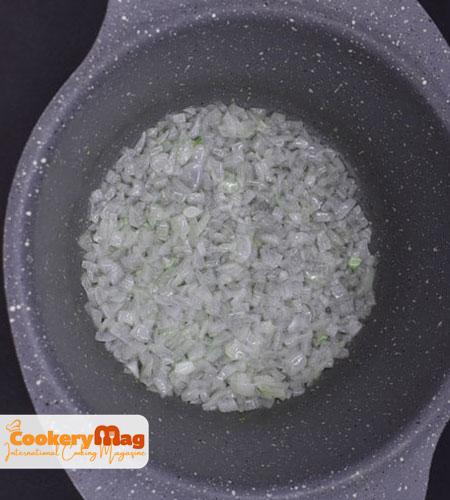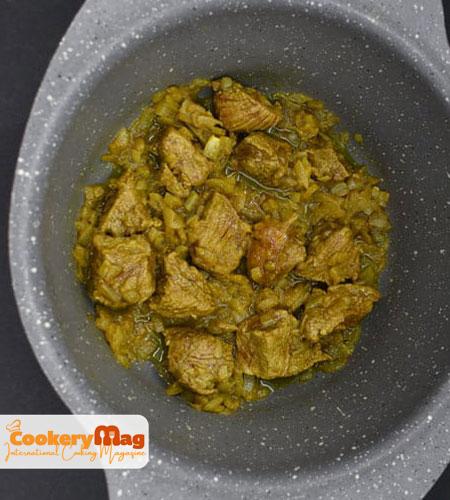 3-Add the meat to the pot and fry until it changes color and is slightly fried. Frying the meat at this stage makes you have a tastier stew at the end of cooking.
4-Add tomato paste to the stew. And fry it well until it becomes dark a bit. Then add 4 glasses of water to the pot and increase the heat so the water boils faster. After boiling the water, lower the heat so the meat cooks slowly for about two hours.
5-While cooking the meat, put the yellow split pea in a separate pot with some water and let them cook completely; after the yellow split peas are cooked, drain them and set aside
6-now cut the Limu Omani in half, then remove its seeds. The most important reason for the bitterness of the stew is Limu Omani seeds. After the meat is completely cooked, add the dried limes and yellow split peas to the stew. Then add brewed saffron, salt, and pepper. Reduce the heat so that the stew cooks on gentle heat.
7-at this stage, peel the potatoes, slice them, and wash them with cold water to remove starch. Then dry them with a clean towel.
8- pour some oil into a pan and let it hot, then pour the sliced potatoes into the pan and sauté them. You can add turmeric to the potatoes.
9- After the stew thickens, remove it from the heat. The Khorsh Gheymeh should have a little water, so you have to keep it in the middle. Neither let the stew be too hard nor too watery.
How to serve Khoresh Gheymeh
Place the stew in a  serving bowl, garnish it with crispy and fried potato, and serve it with Persian saffron rice. Instead of potatoes, you can use fried eggplant to serve this Stew, and it is called Gheymeh Bademjan. The use of each of them depends on your taste.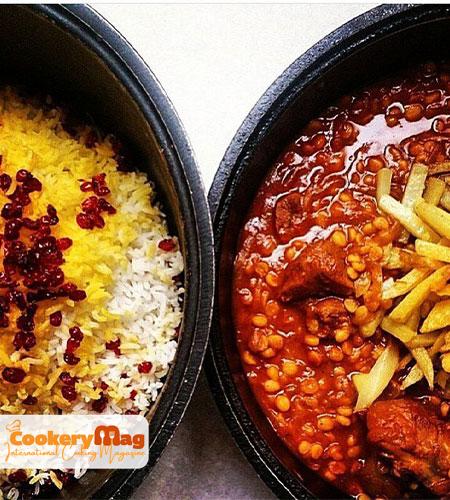 Important tips about cooking Khoresh Gheymeh
One of the most important reasons that make Gheymeh stew bitter is that are poured Limu Omani into the pot at the beginning of cooking the stew. Be sure to add Limu Omani to the stew in the last 30 minutes; besides the fact that the stew will not become bitter, it will also taste very good. Just make sure to remove their seeds before adding them to the stew.
Do not fry the tomato paste too much; it should be fried to the extent that its raw taste and smell are removed. Overfrying the tomato paste will make the stew taste bitter or unpleasant.
Frequently Asked Questions
What kind of meat should we use?
Two types of meat are usually used in  Khoresh Gheymeh, beef and mutton, but if you like none of them, you can use chicken.
What are the ingredients of Khoresh Gheymeh?
It is mainly made of small cubes of mutton or beef, split peas, tomato, onion, and Limu Omani (dried lime), topped with crispy fried potatoes.