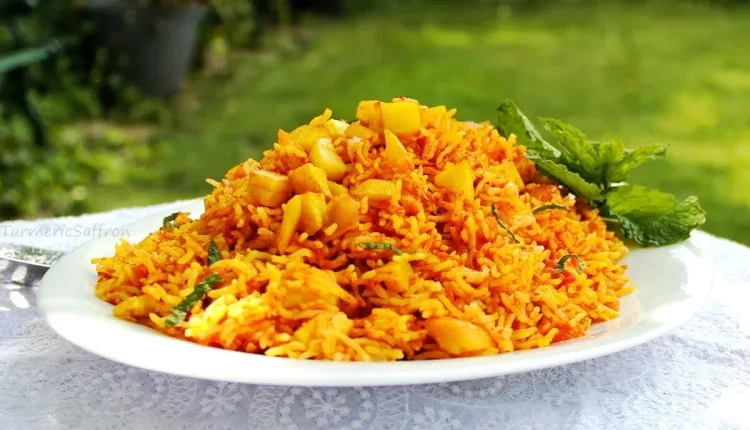 Estamboli polo recipe| Persian Tomato Rice (Dami Gojeh Farangi) in 5 steps
Estamboli polo, or demi Gojeh Farangi, is one of the popular Iranian dishes whose roots go back to Turkey. This dish made its way to the tables of Iranians during the Qajar period and soon became one of the favorite dishes of Iranians.
Be with The Cookery Magazine, and let's see the story of Estamboli's arrival in Iran. And how to make estamboli polo?
Ingredients for making Estamboli polo
| | |
| --- | --- |
| Rice | 2 cups |
| Tomatoes | 2 pcs |
| Potatoes | 2 medium pcs |
| Tomato paste | 1 to 2 tablespoons |
| Brewed saffron | 1 teaspoon |
| Minced meat (optional) | 350 grams |
| Oil | 1 tablespoon |
| Onion | 1 pcs |
| Garlic | 2 cloves |
| Water | 4 cups |
| Pasteurized butter | 2 teaspoons |
| Salt, pepper and turmeric | As much as needed |
Recipe for making Estamboli polo
The first step
There are do's and don'ts for making kateh rice; knowing them will help you get a better result.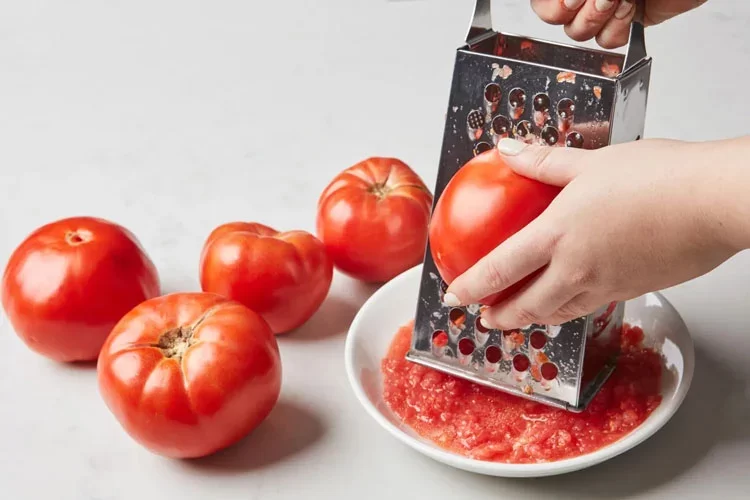 Now, to prepare this Estamboli polo or our delicious Dami Gojeh Farangi, it is better to grate the tomatoes in the first step or dice them if you like.
Of course, if you are in a hurry, put it in a food processor to make a puree.
Tomato puree should be as much as two cups. (You can peel the tomatoes completely before putting them in the blender.)
The second step
Then cut the onions into small pieces and put them in the pot until they get fried and golden.
Pour three cups of rice into a medium bowl and wash it. After that, pour water on the rice and add some salt. Let your rice soak for 30 minutes. Meanwhile, while the rice is soaking, take a pot, pour two tablespoons of olive oil or frying oil into it, and put it on low heat.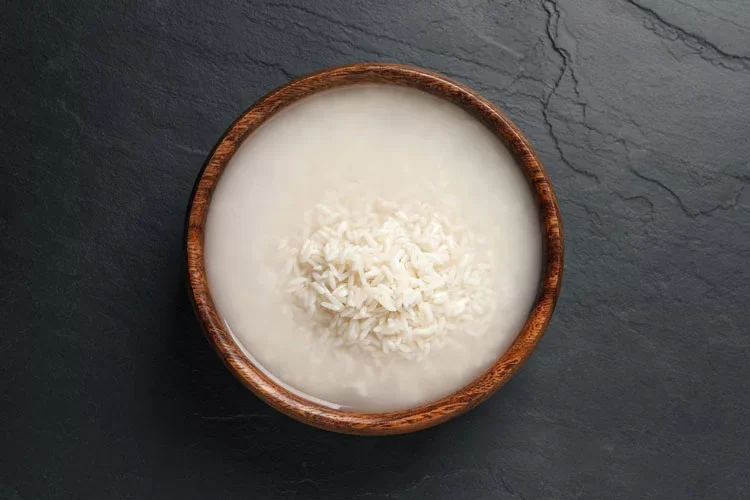 The third step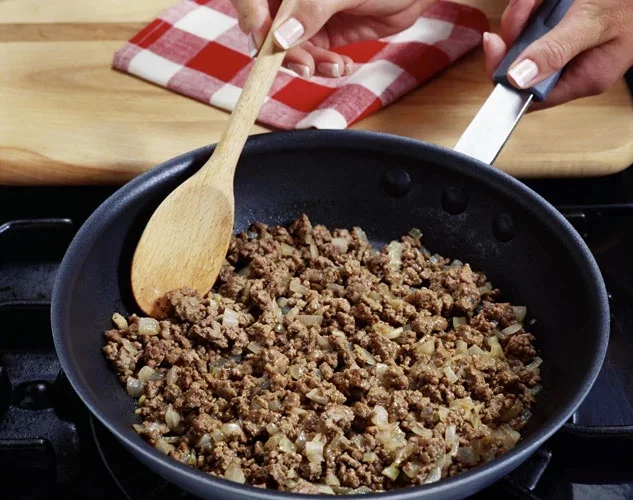 Then, if you like, you can add the minced meat to the onions at this stage. Add turmeric, pepper, and salt to the pot at this stage.
After roasting the minced meat, add the tomato puree to the meat and let it cook for about three minutes.
*If you don't like the way of preparing Estamboli polo with meat, you can just fry tomato puree with onions.
The fourth step
Now it's time to add the potatoes. Cut the potatoes into small pieces like cube potatoes, put them in another pan, put them on low heat, and wait until they turn golden.
Then add the tomato paste to the fried potatoes and stir.
If you want to include peas in your Estamboli polo recipe, you should add the green peas to the potatoes at this stage and pour ⅓ of a cup of water until they get cooked. If not, continue with the steps.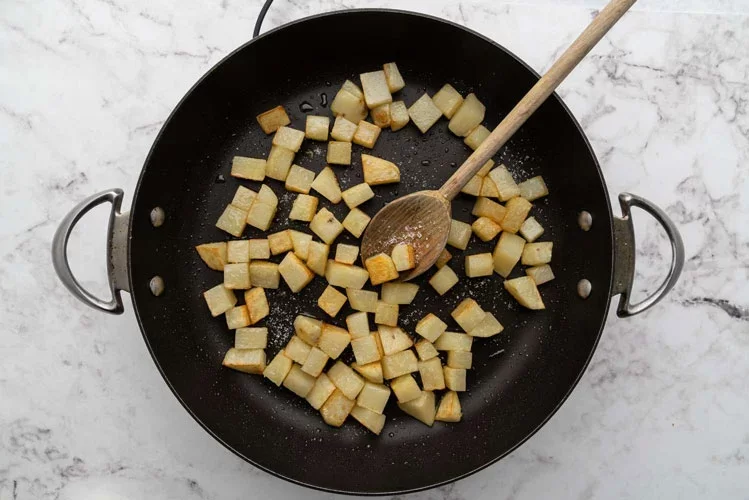 The fifth step
At this stage of preparing Estamboli polo, add the washed rice to the ingredients in the pot.
Add the potatoes to the pot. Be careful not to put too much water in the pot because it will make the food doughy, loose and concrete.
When the water in the pot boils and is almost finished, we reach the last stage.
At the last stage, add a tablespoon of brewed saffron and a couple of teaspoons of pasteurized butter to the tomato paste for a better flavor. Then close the pot and let it cook on low heat for about 40 minutes.
Your pilaf istanbuli is ready after 40 minutes.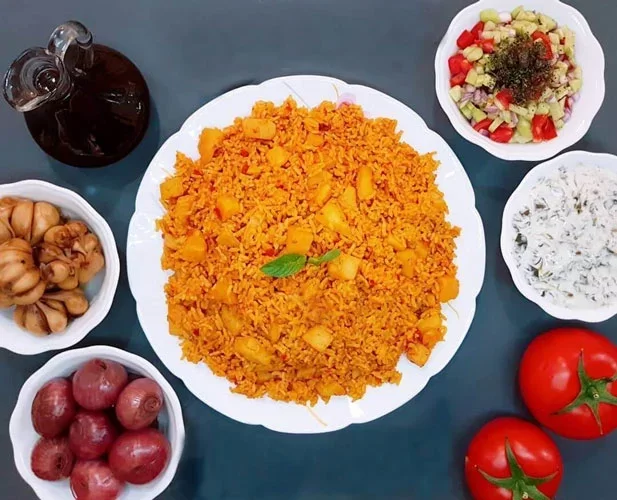 Estamboli polo with chicken
To add chicken to Estamboli polo, for the above ingredients, boil about 300 grams of chicken breast meat separately with an onion and a little turmeric, then chop the chicken meat into small pieces and add it to Estamboli polo. Follow the steps above.
Golden tips for having the best Estamboli polo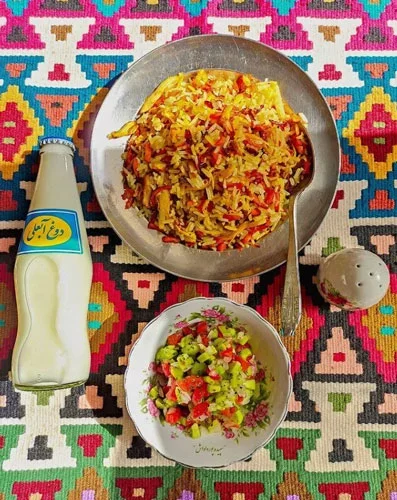 If you use a flame spreader, you will have a better Tahdig.
You can use cinnamon spice to improve the appetite and aroma of lunch.
You can roast the tomatoes before pureeing. The taste of grilled tomatoes will make your Estamboli polo.
Many people break a few eggs on the rice in the final stages of making the Istanbul pilaf, so the eggs will be cooked and eaten when the rice is cooked.
Mushrooms are also one of the materials that give Stamboli Polo a wonderful taste.
Having a journey in the history of Estamboli polo
During the Qajar period, Moshir al-Dowleh was Iran's ambassador in Istanbul. This person, who had lived in Türkiye for many years, Finally returned to Iran with the king's summons to take charge of the Ministry of Foreign Affairs.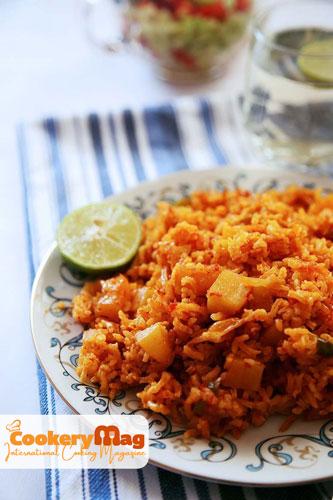 Moshir od-Dowleh; On this occasion, one day, he invites the king, the chancellor, and some of the nobles of the court and sets the table in his mansion for you to come and see! among colorful foods; Several new dishes are seen that no one has seen before.
The host is Moshir od-Dowleh; He puts a dish of food in front of the king and says: King, the name of this dish is Istanbuli (estanboli polo), and it is the first time it is cooked in Iran.
When we lived in Turkey, my wife learned to prepare this dish from Turkish women. It happened that the king ate from it and spoke highly of it, and from that day on, estanboli polo became the favorite food of Iranians.
Frequently Asked Questions about Estamboli polo
What are the calories and nutritional value of Stamboli Polo?
The main ingredients of Stamboli are rice and green bean pilaf. Rice is a good energy source, and green beans can help build strong bones.
14.5 ounces (412 grams) of Stamboli has 758 calories. Rice beans contain a lot of selenium.
What can you eat along with this food?
Conclusion
Share your experiences with us, and if you have any tips to improve the Estamboli polo recipe, be sure to comment; thank you.
Thank you again for being with us with an excellent, delicious, authentic Estamboli polo recipe.
amazing food that its origin back to turkey, but Iranian chef could cook it more delightful and tasty.
It is hoped that among the delicious foods of different societies, Iranian food is gaining more and more fans daily.
Please share this article with your friends on Facebook, Twitter, Pinterest, and other social media. 🧡