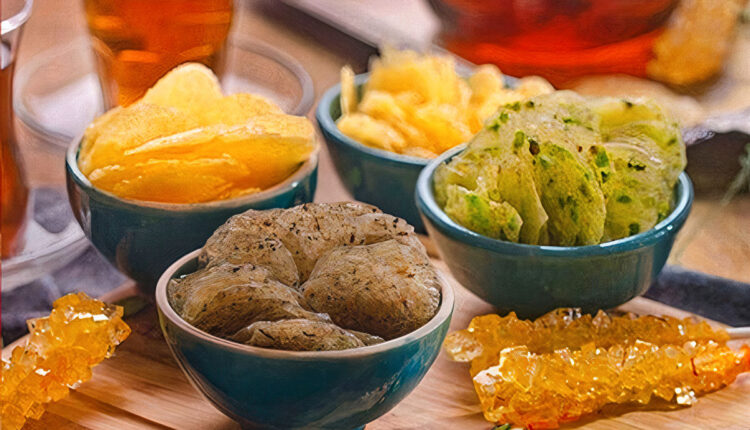 Poolaki recipe | Saffron Sesame Candy or Persian hard sugar candy, an Authentic Persian sweet that is going to be forgotten in 5 steps
Poolaki is a type of candy and one of the delicious edibles that are mostly enjoyed with a hot drink but are also enjoyable to eat alone. 
This delicious and fragrant candy has the right amount of sugar and sweetness and is also produced in various pleasant flavors and aromas.
It should be noted that when we talk about Persian candy, the first thing that comes to our mind is the taste of saffron and its different types, so stay tuned with The Cookery Magazine to find out everything about this delicious Persian hard candy from A to Z.
Isfahan poolaki is one of the by-products of rock candy production, which is made from the juice left over from rock candy.
Ingredients for making Poolaki
| | |
| --- | --- |
| Sugar | 3 cups |
| Water | 1.5 a cup |
| White vinegar | ⅓ a cup |
| Brewed saffron | As much as needed |
| Cardamom powder | As much as needed |
| Almonds, pistachios, or walnut | As much as needed |
| Sesame, Damask rose or coconut powder | Sesame, Damask rose, or coconut powder |
Recipe for making Persian hard candy
The first step
To prepare this Isfahanian sweet at home, we pour water with sugar and vinegar in a pot at the beginning of the work, then put it on medium heat on the oven. Now let it boil until white bubbles form on it.
The second step
Now reduce the heat and stir with a spoon until it becomes golden, then add the nuts of your choice to the pot and mix well until they are slightly fried. Note that sesame and coconut powder are roasted earlier.
The third step
When the nuts are roasted, remove the pot from the heat, then add some saffron powder and cardamom powder and mix. Now we pour the flakes into the steel tray and shake it periodically.
The fourth step
When the Persian hard sugar candy spread in the tray, let it cool completely. After cooling, Poolaki can easily remove from the tray, cut into desired pieces, and place in the desired container.
The fifth stage
Be careful not to touch the flakes that have not changed color. It would be best not to make a poolakis in rainy weather or when the air conditioner is on because it causes the Persian candies to absorb moisture. Enjoy your meal.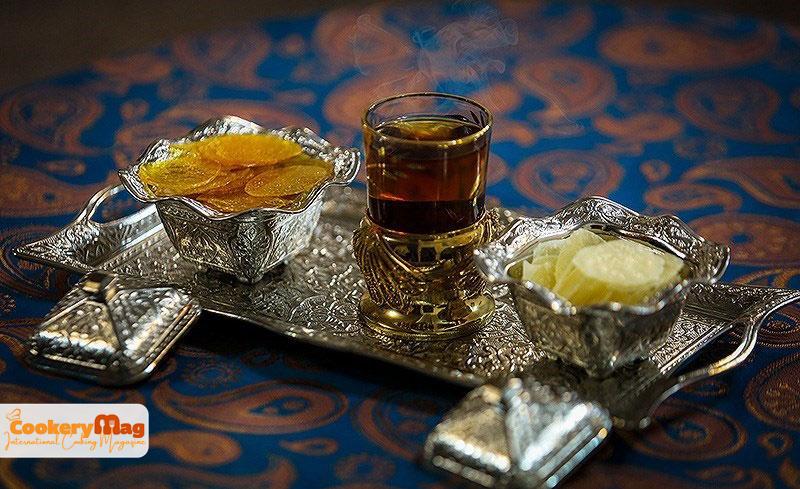 Golden tips for having the best Persian candy
Low heating of the Persian hard candy material causes it to loosen, and overheating causes a burning aroma and smell.
Never use vinegar other than white vinegar to make Poolaki.
You can make these flakes with any flavor and color and add pistachio and almond slices.
The method of making Isfahan poolaki with cinnamon, lemon flavor, with all kinds of nuts, ginger, and even Persian hard candy without sugar is traditional and very popular.
Having a journey in the history of Poolaki
Poolaki is one of the side products of Nabat, which is more than 300 years old in Isfahan.
Poolaki is known as one of the main souvenirs of Isfahan, along with Gaz, but in other cities, there are canteen workshops and Persian candy production. Luckily you can find and buy this product in all parts of the country.
Using Poolaki instead of sugar cubes with tea is an old habit and tradition of the people of Isfahan, which is rarely seen in other cities. If it is seen, it is a souvenir that has traveled from Isfahan.
"Isfahan province" is considered one of the important tourism hubs of Iran and one of the main destinations of foreign tourists due to its various natural, historical, food, and handicraft attractions.
Isfahan has played a colorful and influential role in introducing the history of Iran as the capital of the culture and civilization of Iran.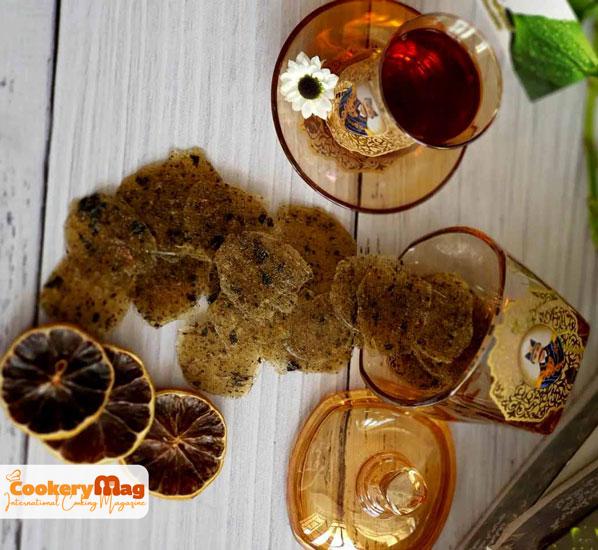 In addition to the historical monuments of Isfahan, the original and unique foods, junk foods, and sweets of this city is popular with every tourist and visitor.
Persian candy is one of the famous and special souvenirs of Isfahan, which travelers and tourists are familiar with it and know well. The people of Isfahan call this special sweet for their city "polek" or "poleki."
Persian candy is actually the juice left over from the candied production process in candied workshops. After the crystallization of candy rock crystals and their production, a little vinegar is added to whatever is left of the juice to prevent sedimentation.
In the past, a tool called a "Moshteh which means punch in english," was used to shape the poolakies. Moshteh (the tool that fits in the fist) was a metal device with a narrow handle (about 15 cm) and a round and wide head.
In Isfahan, different types of poolaki with different flavors and colors are produced, among which the most famous ones include saffron, pistachio, Omani lemon, sesame, coconut, mint, honey, and cocoa poolakies.
Persian hard candy properties
Poolaki is a simple candy served with tea or on its own. This Persian candy is a suitable sugar substitute and does less harm to the teeth' health, Of course, if it is not chewed.
At the same time, its consumption is recommended due to its low sugar content. The properties of flakes are different according to the various compounds used in them.
You can prepare different types of Persian candy and benefit from their properties in addition to their taste.
All kinds of Saffron Sesame Candy | Persian hard sugar
Poolaki is one of the traditional souvenirs of our country which is very popular. The process of producing Persian hard sugar has changed from the past to the present.
These changes have often been aimed at satisfying customers and creating more variety. For example, the use of nuts in preparing poolakies has been well received. Therefore, today, let's name the types of Poolaki as follows: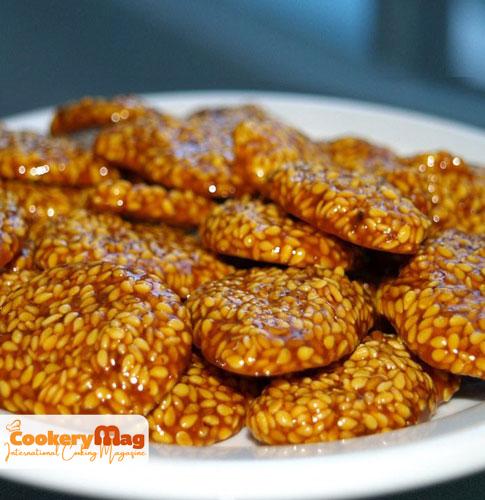 Sesame poolaki (poolaki konjedi or sesame Persian candy in Farsi it is in the form of پولکی کنجِدی)
poolaki asali, honey poolaki, Farsi it is in the form of پولکی عسلی)
Saffron poolaki or saffron Persian candy in Farsi is in the form of پولکی زعفرانی).
Lemen poolaki, poolaki limoee, or lemon Persian candy in Farsi it is in the form of پولکی کنجِدی).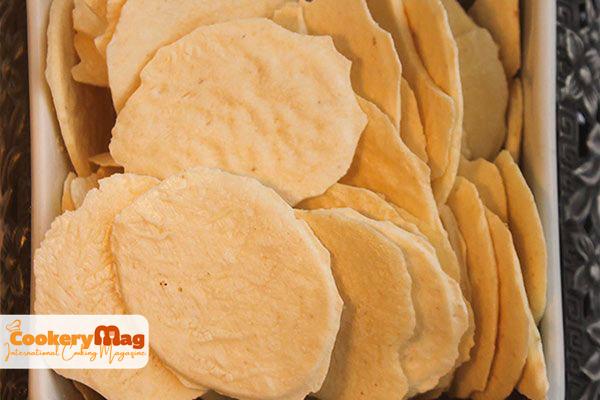 Ginger poolaki and in Farsi, we call it پولکی زنجبیلی.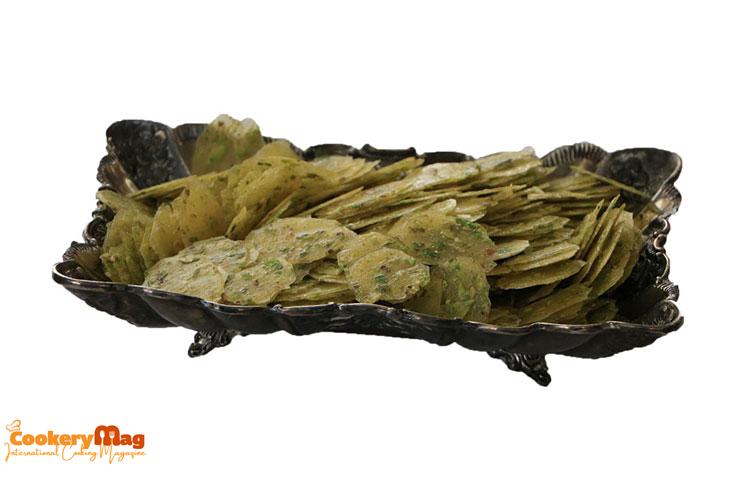 Poolaki with pistachio powder, and in Farsi, we call it پولکی با پودر پسته.
Damask rose poolaki, or poolaki gol Mohammadi ro gol sorkh and in Farsi, we call it پولکی گل سرخ.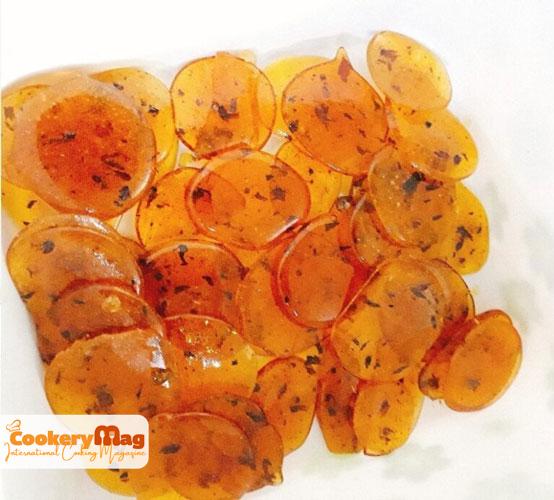 Cardamom poolaki or poolaki hel, and in Farsi, we call it پولکی هِل.
Chocolate poolaki, and in Farsi, we call it پولکی شکلاتی.
There are other Persian candies in different flavors that are not very popular and are also not easily found in most stores.
Orange peel, and in Farsi, we call it پولکی پوست پرتقال.
Coconut, and in Farsi, we call it پولکی نارگیلی.
Cinnamon, and in Farsi, we call it پولکی دارچینی.
Coriander and mint, and in Farsi, we call it پولکی گشنیزی و نعنایی.
Poolaki maintenance conditions
According to your taste, for each of the types of Persian hard sugar that you have chosen and prepared, it is necessary to pay attention to some points for their maintenance and longevity.
For example, if you buy Persian hard sugar in closed containers, open and close the lid so that air does not enter the container or the vacuum plastic does not tear.
You should store most foods, especially sweets, in a cool and dry place.
The moisture in the environment affects the quality of Persian candy and other sweets and may provide conditions for reducing their shelf life due to mold.
The meaning of humidity is not only the humidity related to the living environment (for example, northern or southern cities); Instead, even if you put a Persian candy dish in a place exposed to steam from a kettle, the same thing will happen.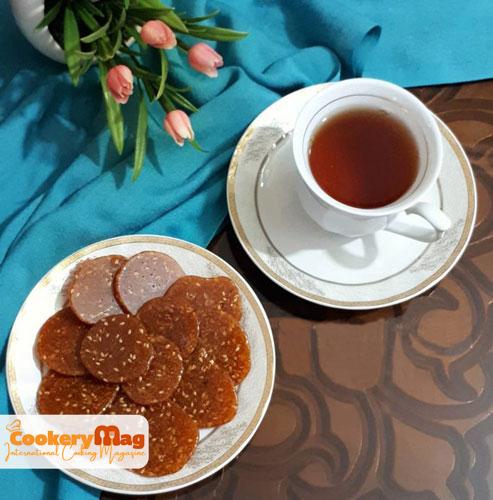 Avoid putting a large amount of Persian candy in sugar bowls or any other container. Ants may steal your poolakis without informing you 😉!
The best place to store them for a long time is in the refrigerator, preventing them from sticking together.
Frequently Asked Questions
Does eating Persian candy harm the teeth?
As we mention, this Persian candy is a suitable sugar substitute and does less harm to the teeth' health if it is not chewed.
Why do Persian hard candy stick to each other?
Poolakis stick together because they can be placed in a high-humidity environment.
How to prevent Persian hard candy hardening?
So that it does not harden, you must store it in a container with a lid.
How to have a diet poolaki without sugar?
We can use diet sugar or honey.
How to prevent Poolaki from granulating?
Adding vinegar to the Persian candy will make your poolaki not sugary.
Conclusion
Thank you to all of you good-tasting cooks who accompanied us until the end of these stages.
If you have any tips or recipes for cooking this delicious Persian hard candy, we will be happy to share them with us.
Please share this article with your friends on Facebook, Twitter, Pinterest, and other social media. 🧡