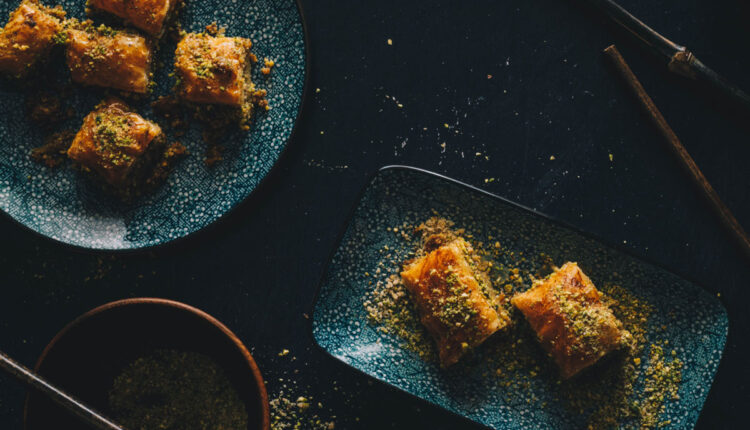 Baghlava | Baklava recipe, Iranian sweet and dessert that have a heavenly taste in 9 steps
Baghlava is read and pronounced in many languages with very few phonetic and pronunciation changes, and its origin back to the Mongolian language is a traditional sweet from Turkey.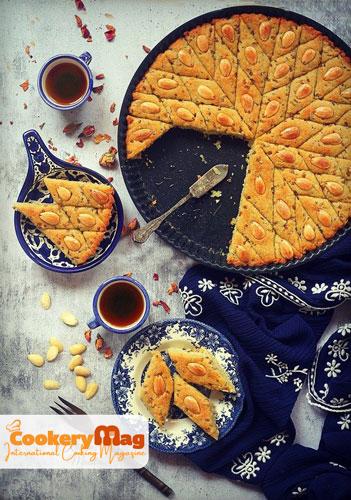 Of course, in the countries of Iran, Central Asia and the Caucasus, some Arab countries, Greece, and Cyprus, it is prepared in some regions of Russia. It has its fans; if you want to know about it and how this fantastic sweet was made, be with The Cookery Magazine.
The layers of this traditional and native sweet are filled with crushed and sweet nuts and dipped in syrup or honey. Of course, this feature comes from the cuisine of the former Ottoman Empire.
The word baghlava was first born in English in 1650.
Regarding the authenticity of this Istanbul sweet, there are disagreements, debates and differences of opinion between the Turks and the Greeks so that each can claim the authenticity of this sweet.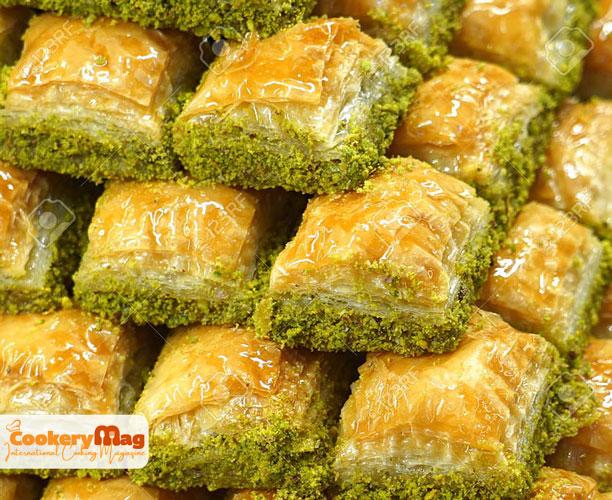 The oldest recipe for this sweet goes back two centuries BC. The most interesting thing about this dessert is the use of 33 layers of dough in Greece, which refers to the age of Jesus Christ.
The strangest thing about this popular sweet is the celebration on November 17 every year in America, and the lovers of this sweet get together and celebrate.
Baghlava has no historical background in America, but it is the only country in the world that has National Baghlava Day on its calendar.
In America, it is seen in many restaurants, cafes, Greek, Iranian and Arabic supermarkets, which shows this sweet's popularity. Because of this popularity, they chose a day as National Baklava Day in the American calendar.
Among the most famous baghlavas, we can mention the baklava of Gaziantep City in Turkey and Baku baghlava, which is called Baki Baklavasi (Bakü Baklavası).
Considering that the history of baghlava is well documented, there is evidence that its current form was first made in the kitchen of Topkapi Palace in Istanbul.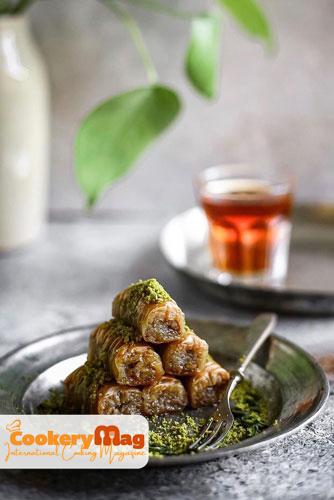 It seems that the Ottoman kings had a tradition that on the 15th day of Ramadan, they started a ceremonial procession called Ala'i Baghlava.
One of the oldest recipes for baghlava dates back to two centuries BC during the ancient Roman era; A similar dessert recipe had a dough layer and was covered with honey.
Because of this, Turks and Greeks are competing to give Turkish or Greek Origin to baghlava.
It is going to be said that, We should not forget that the foods and sweets of both countries have many common roots.
There is another recipe that is called the Origin of baghlava.
A recipe for a similar Turkish dessert called güllaç, A dessert with many fans in Ramadan, made from a layer of phyllo dough soaked in warm milk and sugar and flavoured with walnuts.
History of baghlava in Iran
The history of Iranian baklava dates back to the time of the Assyrians; of course, the way of preparing it is different from today's; it was made by putting dry fruits between two doughs and baking it in the oven.
Baghlava in Iran is prepared and produced in various shapes such as rhombus, square and tube and various flavours of pistachio, almond, coconut and other nut flavours; For example, unlike Qazvin and Yazd, Tabriz's baklavas are rich in nectar, and the baklavas of the central regions are less sweet but full of nuts.
In Iran, they use rose water, sugar, cardamom, flour, baking powder, egg yolk, powdered sugar, milk and oil to prepare baghlava. In Iran, this sweet is prepared in the cities of Qazvin, Yazd and Tabriz more and better than anywhere else.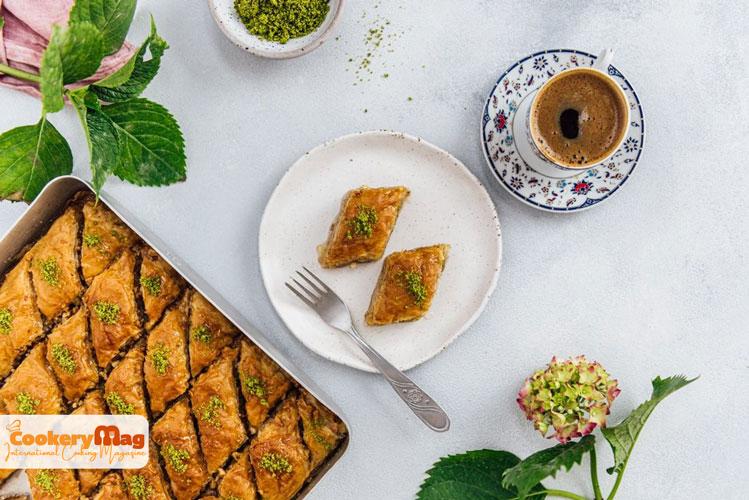 Gilanian Baghlava | Yas (Jasmin) Baklava
In Gilan province, almonds are used in baghlava due to the abundance of jasmine flowers. This way, almonds are placed in a container after peeling and drying.
They pour some jasmine flowers on it and close the container. The next day, the shrivelled jasmine is removed and replaced with fresh jasmine so that the almonds get the full taste and smell of jasmine.
Then the almonds are ground and mixed with powdered sugar and used to prepare baklava.
This baklava is called Yas (Jasmin) Baklava, which is very aromatic, and for this reason, cardamom is not used in this baklava.
Qazvinian Baghlava
Another baklava prepared in Iran is called Qazvini rose baghlava. The dough of this type of pastry is like regular baklava and consists of flour, oil or butter, sugar, thickened syrup, milk, rose water and egg yolk.
This kind of baklava contains almonds, cardamom and powdered sugar. Its difference from ordinary baklava is in its appearance.
In this type of pastry, the dough is spread in one layer and cut into a square shape, then put the baklava ingredients on the dough and roll it into a flower shape; The dough is cooked in the oven or in a lot of oil and dipped in the thickened syrup.
Qazvin baklava, which is known by different names (flag baklava, three-color baklava, lozineh baklava, twist baklava). It has three main parts:
Baklava dough:
(hot water, solid oil, rose water, sifted flour)
Center of Baklava:
(almond and pistachio powder, sugar powder, cardamom powder, water-soluble saffron)
Baklava syrup: (rose, cardamom, water, sugar, powdered sugar)
Kashanian Baghlava
Five-grain baklava of Kashan is one of the most important souvenirs of this seven-thousand-year-old city, known as five-grain baklava or nutty baklava.
Kashan baklava consists of three parts, dough, underlayer, and topping including (rose water, water, oil, sifted flour, and eggs), ingredients inside the baklava include (pistachios, walnuts, almonds, hazelnuts, cashews, saffron, cardamom).
After the baklava is cooked in the oven, thick syrup of saffron and rose water is poured on it.
Tabrizian Baklava
Considering the short distance between Tabriz and Turkey, the oldest baklava type belongs to Tabriz.
Tabrizi baklava is the most popular sweet of the Tabriz people during the holy month of Ramadan.
Istanbul baklava is one of the most famous baklavas of Tabriz city, which is very similar to its Turkish version. There is another type of this sweet, which is known as phyllo baklava (reshteh khattaei).
Yazdian Baklava
Indeed, when the name of Yazd sweets is mentioned, the name of Haj Khalife Ali Rahbar, "Father of Iran's Confectionery," comes to your mind.
Yazdian baklava is one of the oldest types of Iranian baklava, which is known as a popular souvenir of Yazd.
It takes a lot of patience and precision to prepare this traditional sweet. To prepare this type of baklava, they use a dough similar to bread dough called «لواش باقلوا» "baklava lavash" in the local dialect.
To prepare this sweet, they use an ingredient that contains a lot of pistachio powder, and finally, by pouring syrup on it, remarkable baklava for Yazd is prepared.
It is considered the oldest type of sweets in Yazd. Rose water, sugar, cardamom, flour, baking powder, egg yolk, powdered sugar, milk and oil are the basic ingredients of this dessert.
Types of Yazdian baklava
Almond
Persian willow (pussy willow)
Diamond
Coconut
Baklava around the world
In Turkey, baklava is traditionally prepared by filling the middle parts of the dough layers with pistachios and walnuts; The people of parts of the Aegean Sea also add almonds to it. While in the Black Sea region, hazelnuts are used to fill the layers of baklava.
In Greece, baklava is made from 33 layers of dough, which refers to the age of Christ.
In the Republic of Azerbaijan, baklava, or pakhlava as they call it, is made with walnuts or almonds in a rhombus shape, and traditionally in the spring and during Nowruz holidays, special attention is paid to its baking. In Armenia, paklava is prepared with cinnamon and cloves.
In Syria and Palestine, baklava is prepared from sheets of phyllo dough, butter, walnuts, and sugar syrup and cut into small pieces.
For many years, this sweet has gone from the Ottoman lands to Libya, Tunisia, Algeria and Morocco. In these countries, it is cooked for festivals and parties.
Baklavas from Gaziantep city in Turkey and pakhlavasi Baklavas in Baku are considered among the most famous baklavas in the world.
Types of Turkish baklava
Burma
Bülbül yuvası
Künefe
Sütlü Nurıye
Fıstıklı Sarma
Properties of Turkish baghlava
No use of sugar
Using the highest quality honey and milk
high durability
Ingredients for making baghlava
| | |
| --- | --- |
| Walnut powder | 150 grms |
| Powdered sugar | 2 tablespoons |
| Cinnamon powder | ½ teaspoon |
| Cardamom powder | ½ teaspoon |
| Clarified butter or Ghee | 100 grms |
| Baklava dough | 1 package |
Ingredients for making baghlava syrup
| | |
| --- | --- |
| Sugar | 2 cups |
| Water | 2 cups |
| Brewed saffron | 2 tablespoons |
| Lemon essence or lemon juice | Tip of a teaspoon |
Recipe for making baghlava
First step
To prepare delicious Istanbul baklava, we first make baklava nectar. For this purpose, we put a suitable pot on gentle heat, then pour sugar and water into the pot along with the thick brewed saffron.
Second step
Now let the nectar boil for 20 minutes. Next, sometimes we clean around the pot with a silicone brush and water so that the sugar does not stick. Now we add lemon essence or lemon juice to the nectar so that the nectar does not become sugary.
Third step
Note that the nectar does not need to be concentrated. After 20 minutes, we turn off the heat, then let the nectar cool down. Next, we cut the baklava dough to the desired size and melted the butter.
The fourth step
Now we brush the bottom of the mold with melted butter, then put the baklava dough in the mold and again apply butter on the dough.
Note that if you choose yufka (phyllo) dough for baklava, put seven layers on each other.
The fifth step
At this point, apply melted butter on each layer. Next, for the intermediate ingredients, we remove the walnut skin and grind the walnut kernel until it turns into powder. Next, we choose a suitable bowl.
The sixth step
Now add the walnut powder to the bowl, then sift the powdered sugar and add it to the walnut powder. Next, we add cinnamon powder along with cardamom powder to the walnut powder mixture, then mix until the ingredients are uniform.
The seventh step
At this stage, we spread the walnut powder mixture on the baklava dough to cover it completely; then, we press the ingredients with our hands until it is compact and cohesive. Next, we put another baklava dough in the middle ingredients.
The eighth step
Now we apply the melted butter with a brush on the baklava dough. Next, we set the oven to 190 degrees Celsius, then let the oven heat up completely. Next, a knife cut the dough to the desired size and shape.
At this stage, we place the mold on the middle shelf of the oven, then let the baklavas cook for 35 to 45 minutes; at the end, we turn on the grill, then let the baklavas become golden and colourful.
The ninth stage
Now we take the baklava out of the oven, then pour the cool nectar on the hot baklava. Next, we let the baklava stay at room temperature for 4 hours so that the nectar gets into the baklava; then, we put the baklava in the refrigerator for 12 hours.
Finally, after this time, we remove the baklava from the refrigerator, then decorate each slice of baklava with pistachio powder. In the end, we serve this delicious sweet with hot tea. Enjoy your meal.
Conclusion
In the end, it can be concluded that whenever you have an Iranian or Asian guest, one of the original dishes on your colorful tables could be this Iranian food.
And finally, I would like to thank those who took the time to read this article. Among the delicious foods of different societies, Iranian food is gaining more and more fans daily.
Frequently Asked Questions
What are the storage and keeping conditions for baklava?
Like many sweets, baklava should be stored in a dry and cool place.
If you want to keep it for a long time, it is better to put it in the freezer; otherwise, the refrigerator is the best place for a short time.
But the most crucial point that must be observed is to store it in closed containers and nylon bags without holes in the refrigerator or freezer.