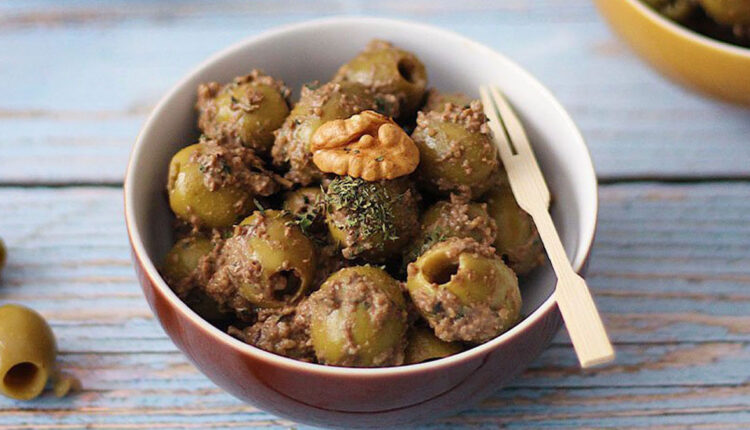 Zeytoon Parvardeh Recipe, Persian marinated olives
Are you familiar with appetizers or side dishes in Iranian cuisine? Have you ever heard about Zeytoon Parvardeh? Zeytoon Parvardeh is green olive marinated in ground walnut, garlic, fragrant herbs, and pomegranate molasses, creating an incredible, deliciously tart condiment. This perfect side dish belongs to the northern regions of Iran, such as Gilan, a province with a strange combination of history, nature, and culture.
Because of the good geographical location of this province, all kinds of citrus fruits, vegetables, and fragrant rice are produced. Rice and herbs are abundant in cooking, and wild ducks, fish, and olives are the signs of a local Gilani table. A sour taste caused by vinegar and juice of unripe fruits (such as Ab Ghooreh) or plums is felt in most foods. In fact, Zeytoon Parvardeh is the symbol of Gilan province, and if you travel to this city, Zeytoon Parvardeh is definitely one of your souvenirs. You can serve this delightful side dish with any dish you like, and also it can be served as a snack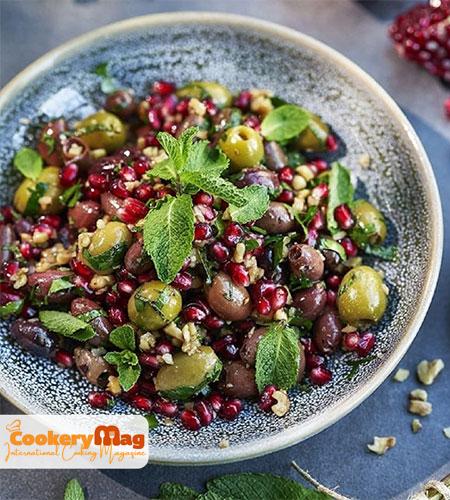 So If you want to know the recipe for one of the most delicious appetizers in Persian cuisine, Stay with Cookery Magazine.
ingredients
| | |
| --- | --- |
| Pitted green olive | 500 gram |
| Pomegranate molasses | 1 Tbsp |
| Ground walnut | 300 gram |
| Pomegranate juice | 1/2 cup |
| Olive oil | 3 Tbsp |
| Grated garlic | 3 cloves |
| Fragrant herbs( cilantro, mint) | as needed |
| salt | as needed |
| Golpar (Persian hogweed) | as needed |
instructions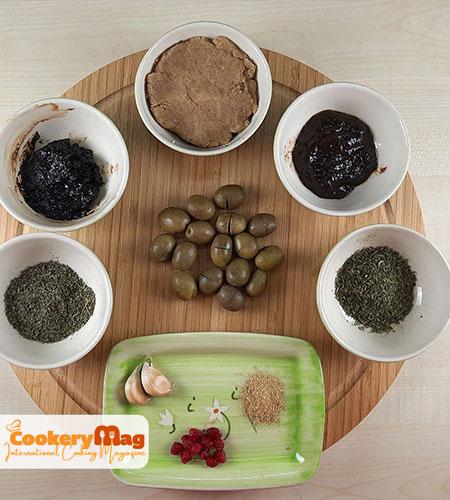 step 1
To make this delicious seasoning, the first thing you have to do; Grinding walnut kernels. It is better to grind the kernels of walnuts until they are completely powdered. Then add pitted olives to these walnuts and mix the ingredients together.
step 2
Note that the olives used should not be sour or salty if they are flavorful; soak them in water for a few hours before preparing the Zeytoon Parvardeh so that the flavor added to the olives is taken. After you are sure that the olives have a natural taste, pour pomegranate juice into the walnut and olive mixture.
step 3
Mix pomegranate paste, olive oil, garlic, chopped herbs, salt, and Golpar together and add to the previous mixture. The point that must be observed at this stage is to mix the ingredients of Zeytoon Parvardeh well; These ingredients should be mixed in such a way that the aroma and flavor of the herbs permeate all the ingredients.
step 4
You can also add some black pepper to the ingredients for a better taste. After preparing homemade Zeytoon Parvardeh, you can put them in a jar and store them in the refrigerator. To achieve more flavor in Zeytoon Parvardeh, let it stay in the refrigerator for a few days so that the ingredients can fully penetrate the olive tissue.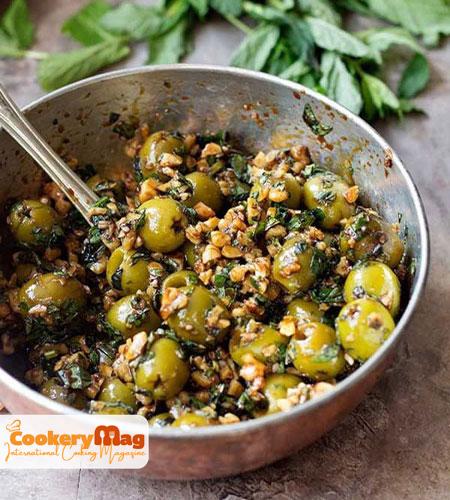 Additional tips about Zeytoon Parvardeh
1-The main herb for making Zeytoon Parvardeh is Chochagh, but since this herb is only found in the north of Iran, you can use a combination of mint and coriander instead.
2-If the olives are very bitter, It is better to boil them to reduce the bitterness.
3-If you prefer the color of the Zeytoon Parvardeh to be light, you should use more walnuts, and if you use more pomegranate paste, its color will be darker.
4- Preservatives are usually used to preserve industrially Zeytoon Parvardeh further, but homemade Zeytoon Parvardeh turns sour quickly. The reason is that the ingredients gradually lose their taste. If you store olives in a glass container, they will last longer.
5- Also, to avoid the rapid bitterness of Zeytoon Parvardeh, it is better to use high-quality and fresh walnuts. Using walnuts that are not fresh will make it difficult for you to store them because it will make them bitter.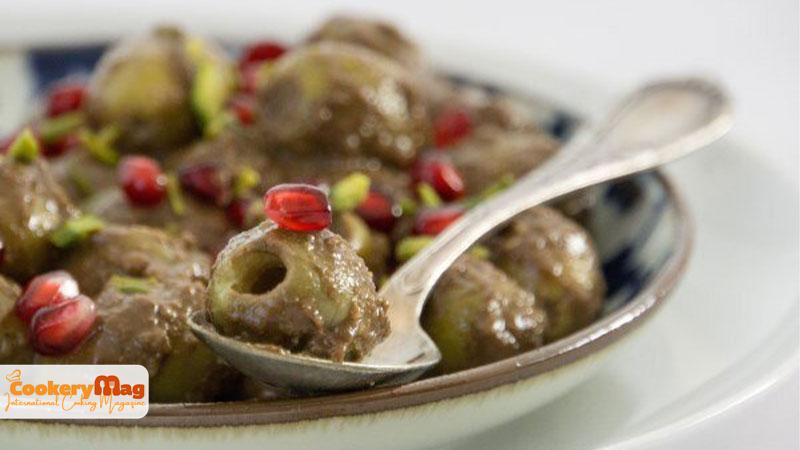 Frequently asked questions
If the olives were bitter, what should we do?
If your olives are bitter, boil them several times and drain the water to remove the bitterness.
Should we make Zeytoon Parvardeh with small olives or with large olives?
The olives you use should be green, pitted, and small. The smaller the olives are, the tastier they are, and the better the flavor of Zeytoon Parvardeh. Therefore, never use large olives to prepare this appetizer.