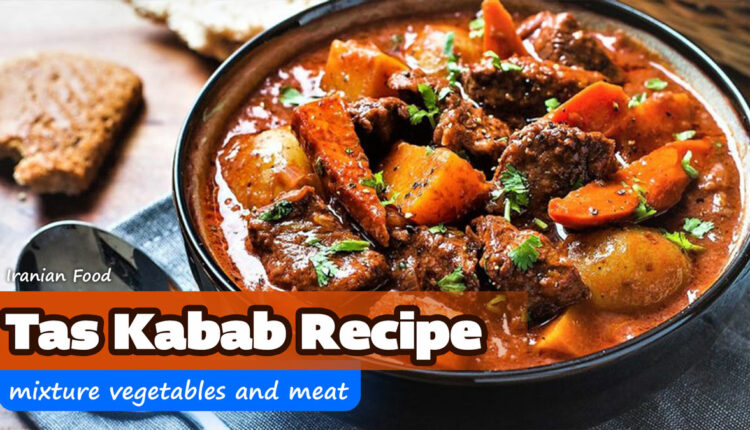 Tas Kabab Recipe, A fantastic mixture of vegetables and meat
Quince in Food? Yes, We want to learn a fantastic recipe of Tas Kabab in Cookery Magazine. Tas Kabab is a meat-based dish with some lovely vegetables. It's a very healthy Persian dish, and the beauty about its recipe is that we're just going to put everything into a pot and let it cook away. Besides that, Tas Kabab is a very good option for your diet. It is a low-calorie food.
Tas Kabab Ingredients
| | |
| --- | --- |
| meat | 1 kg |
| onion | 3 large |
| potato | 3 large |
| carrots | 3 medium |
| quince | 1 large |
| eggplant | 1 large |
| tomatoes | 2 |
| plums | 1 cup |
| tomato paste | 1/3 cup |
| oil | 1/4 |
| turmeric | 2 tsp |
| garlic | 5 cloves |
| Salt | As needed |
| pepper | As needed |
| lemon juice | 2 Tbsp |
| water | 2 cups |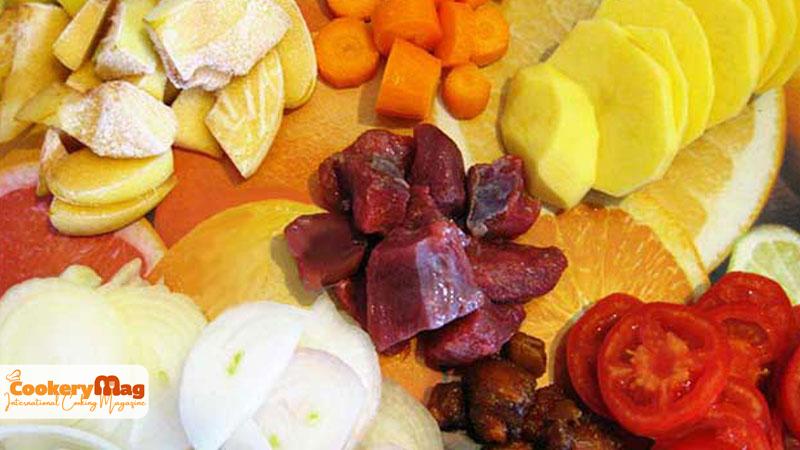 For the first step, thinly slice your onions and set them aside. Then cut your eggplants into one-inch thickness and put them aside. Cut your tomatoes into thin slices and again set aside. Cut your potatoes into thin slices, and cut your carrots diagonally. Finally, the hero vegetable, which is quince, cut it into wedges also, don't forget to remove the seeds from inside. You shouldn't peel the quince and keep the wedge whole with the skin on.
Assembling Tas Kabab
Pick up a medium-sized pot. Add oil into the pot. Then layer the onion slices on the base. Next, add your boneless beef or lamb, which you've cut into large chunks, on top of the onion. Season the meat with turmeric powder and ground pepper. Next, layer the rest of the vegetables one by one, carrots, quince, and here, if you like, you can add dried prune, which is sour and flavorful. Dried prune does a beautiful job of elevating the flavor of your dish. After that, you must layer eggplants and potatoes.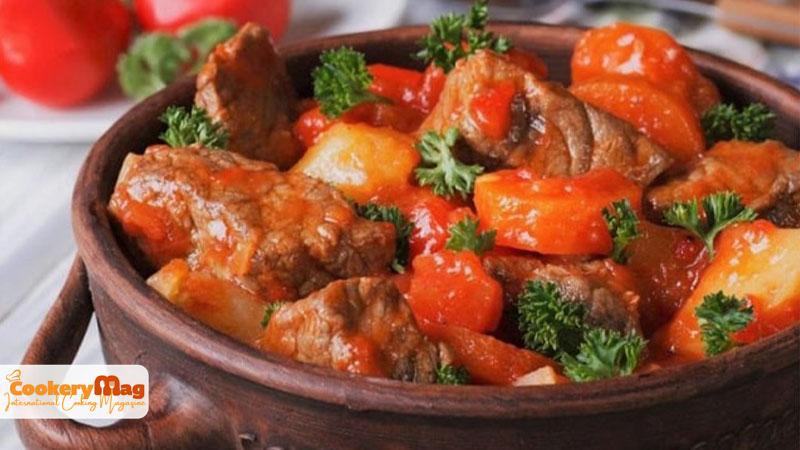 Sauce for Tas Kabab
We will use this sauce to pour over all the ingredients. Add 3 to 4 tablespoons of tomato paste, some salt, and 3 tablespoons of lemon juice to hot boiled water. Mix everything nicely and pour the sauce over the vegetables into the pot. Top up with a bit of vegetable oil, and finally, add the sliced tomatoes. Now cover the lid of your pot and let the vegetables and meat cook away for 2 hours on medium-low heat. I promise you, this dish is going to be wow 🤩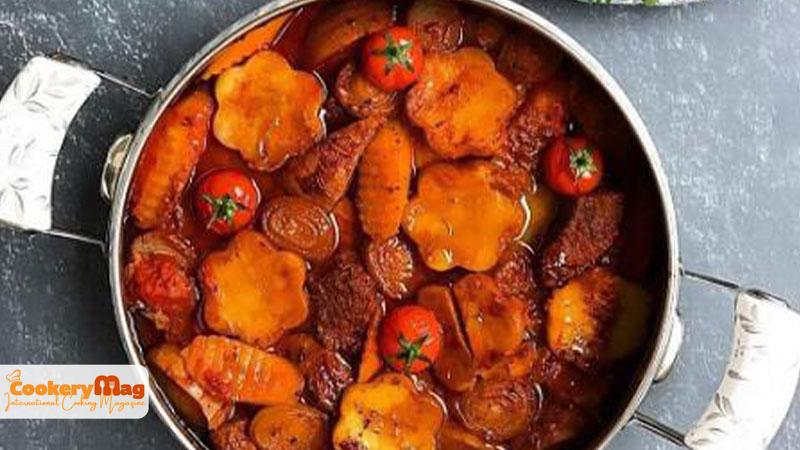 Our recipe is done; it took no time to assemble; you just had to leave it to sit on the fire for a few hours until all the flavors infused together. You can serve this food as a stew along with cooked rice. and Doogh will be a great option as a beverage.
I hope you guys try it, and we'd love to hear your feedback.
Tips for cooking Tas Kabab
In this recipe, we used lamb, but you can also replace it with chicken.
you can add other vegetables such as mushrooms to this recipe, too.
If you want to cook Tas Kabab for children, you can use a cooking mold to shape the potatoes and carrots.