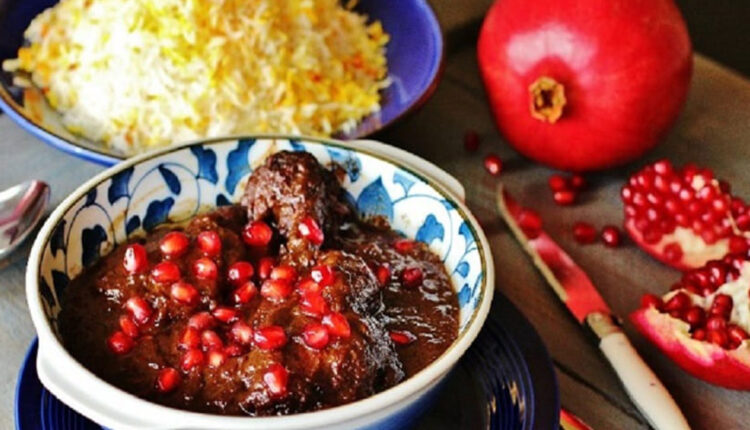 Anar Bij Recipe, a perfect mixture of meatballs and pomegranate sauce
 Do you like the pomegranate taste in your dish? Today we want to introduce one of northern Iran's most delicious local dishes, Anar Bij. If you travel to the northern provinces of Iran, you will be surprised by the flavor of their foods. Using local fragrant herbs and citrus fruits in the food will familiarize you with different flavors. I promise you will never forget the taste of delicious northern foods. Anar Bij is one of the local dishes of Gilan province, which is prepared with ground walnut kernels, local aromatic herbs, minced meat, onions, pomegranate sauce, or unripe grape juice (Ab Ghooreh).
This pomegranate stew is similar to Fesenjan( a Persian stew of chicken cooked in walnut and pomegranate sauce). Still, the main difference is that in Anar Bij, chicken is replaced by meatballs and uses fragrant herbs that give a unique taste to the dish. Northerners use herbs specific to their region in this dish, but we use available herbs such as mint, parsley, and cilantro in this recipe. If you want to try a different taste of food, stay with Cookery Magazine.
ingredients
| | |
| --- | --- |
| Ground walnut | 250 grm |
| Minced meat | 250 gram |
| Pomegranate juice | 1 cup |
| onion | 1 |
| Chopped herbs (mint, parsley, cilantro, chives) | 250 grm |
| Pomegranate paste | as needed |
| Salt, pepper, turmeric  | as needed |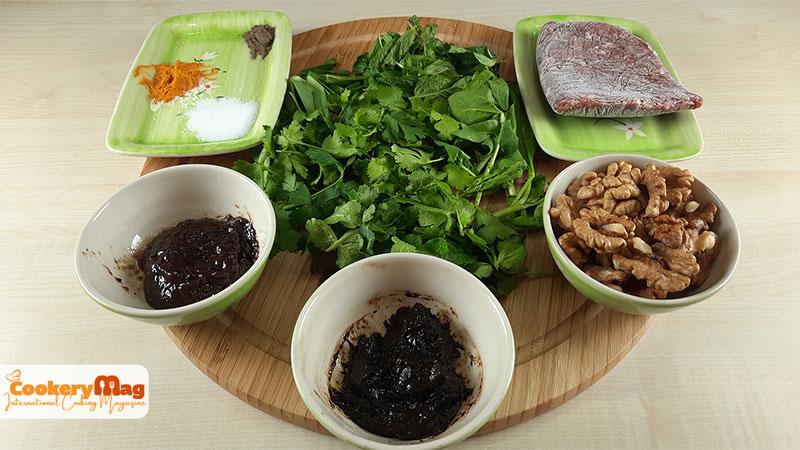 How to make Anar Bij
Step 1
First, pour pomegranate juice into a pot, add salt and turmeric, and gently heat until it boils. Mix the ground walnut with some water, and add it to the pot.
Step 2
 wait for 2-3 hours until the walnuts are cooked. Add cold water to it several times so the oil becomes clear during this time.
Step 3
Now fry half of the chopped herbs with a little oil until their color becomes dark. Add the fried herbs to the pot. They should be cooked with stew for one hour. Keep the remaining chopped herbs for the next steps.
Step 4
Now grate the onion and take its excess water. Then combine minced meat, remaining herbs, salt, and pepper with onion and knead. Then, Form round meatballs by rolling the meat between your hands and making tiny meatballs to the size of walnuts.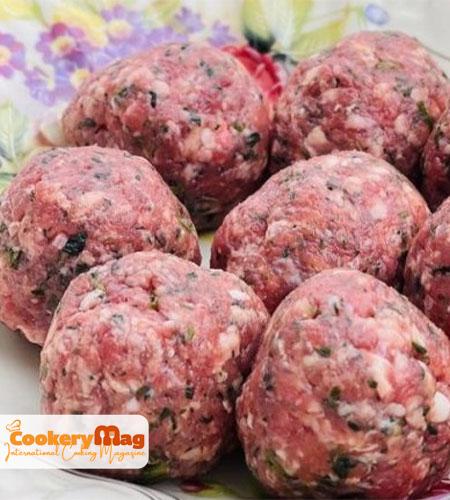 Step 5
Add pomegranate taste to the stew, then Fry meatballs in a frying pan and add to the pot. Wait for an hour until the meat is cooked and the stew reaches the desired consistency.
Our delicious northern dish is ready. Serve it with Persian rice or Kateh(simple Iranian rice as the ease and speed of cooking makes it popular for casual dinners)and a platter of Sabzi Khordan ( fresh herbs).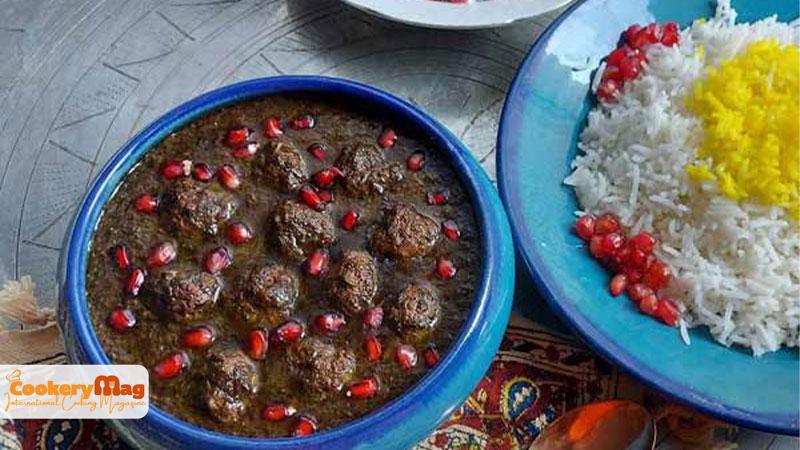 Thank you for taking the time to read our article. Make this wonderful recipe at home and share your experience with us.
Important tips about cooking Anar Bij
Instead of sour pomegranate juice, you can use unripe grape juice.
While cooking walnuts, add cold water several times to clear their oil.
You can add a cup of pomegranate seeds to the stew and reduce the amount of pomegranate paste.
don't stir Anar Bij stew too much because the meatballs fall apart
If you want, add a tablespoon of sugar to the stew to taste.
Frequently Asked Questions
What kind of herbs are used in Anar Bij?
People in the north of Iran use local fragrant herbs, but we can use available herbs such as mint, parsley, cilantro, and chives.