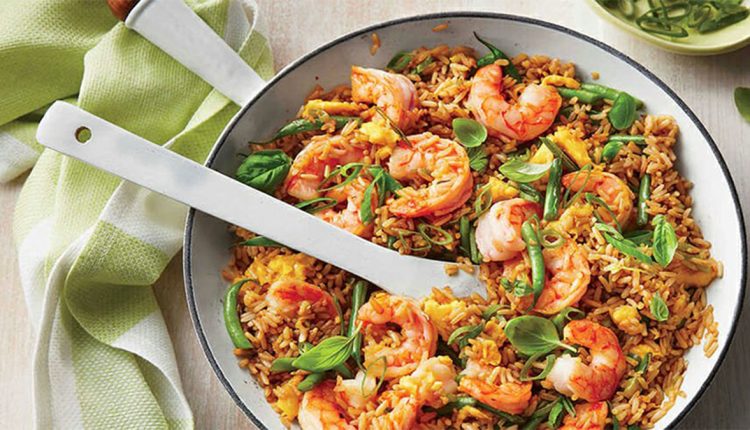 Meygoo polo recipe, a fantastic mixture of rice, herbs and shrimp
Meygoo polo is a flavorful seafood from southern provinces such as Hormozgan and Bushehr, located on the shores of the Persian Gulf. If you are a fan of seafood, I suggest Meygoo Polo. This is nourishing food because shrimp contains phosphorus, Omega-3 and protein. Meygoo polo combines rice, herbs, shrimp and hot spices. The people of southern Iran love spicy foods and use hot spices in most of their dishes. Follow Cookery Magazine for how to prepare this flavored seafood.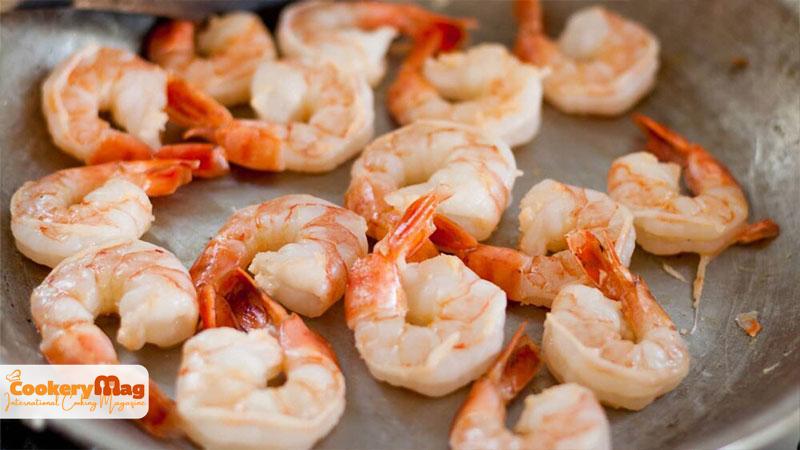 ingredients
| | |
| --- | --- |
| Shelled and cleaned shrimp | 500grm |
| Rice | 4cups |
| Herbs (fenugreek, coriander) | 50 &100grm |
| onion | 1large size |
| Brewed saffron | as needed |
| Curry powder(mixed spices) | as needed |
| salt and Turmeric | as needed |
| Red and black pepper | as needed |
| Ginger powder | as needed |
How to make Meygoo polo
1-first, clean and wash the shrimp and remove the black vein behind them. Then Put the shrimp in a bowl, add saffron and spices, stir well, and let it taste for half an hour.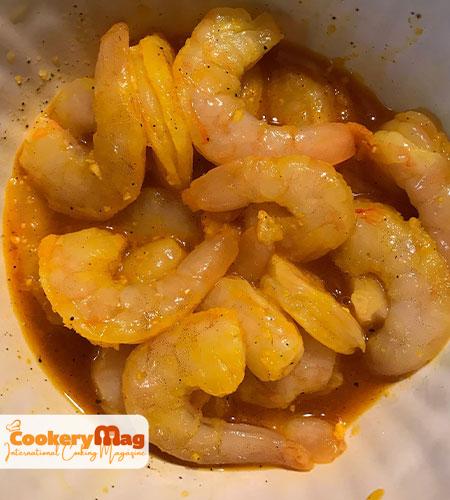 2- chop an onion and fry it until it turns golden, then add chopped cloves of garlic and fry them again.
3- now add chopped herbs to the pan and let it fry. Then add the shrimp and fry well. The frying shrimp should last 5-7 minutes with high heat until smooth. After frying the shrimps add brewed saffron and stir.
4- Add salt, black and red pepper, ginger powder and curry spicy in the next phase and stir well.
5- fill the pot with water and put it on high heat; after boiling, add salt and the pre-soaked rice. When the rice is cooked, drain the water and add cold water to prevent the rice from sticking together, and let it cool.
6- put the pot on the flame, and add oil to it. You can use sliced potatoes for the bottom of the rice(Tahdig).
7- pour some of the rice into the pot, pour a few ingredients on it, and again pour rice and the next layer of ingredients until we finish all the ingredients and the last layer is rice.
Meygoo polo is ready; I hope you enjoyed preparing this delicious seafood. We suggest you serve it with Torshi Anbe and Sabzi khordan. If you also have any related questions about the Meygoo Polo, do not hesitate to ask.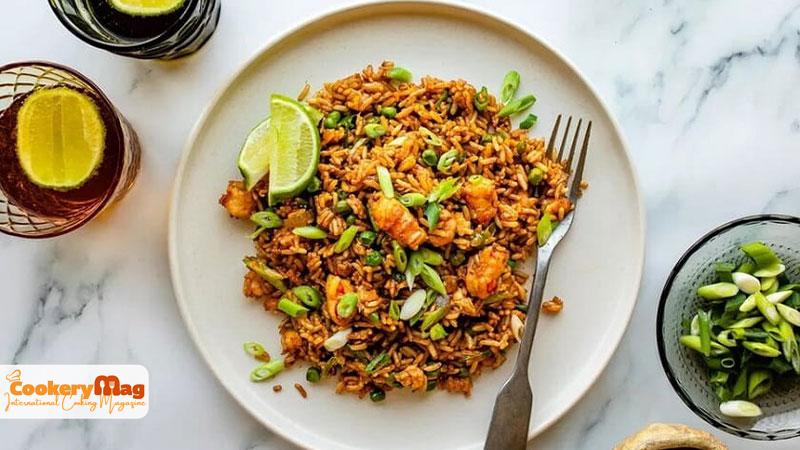 Additional tips about making Meygoo polo
You can use green onion for the ingredients because the dish will be fragrant.
You can add the shrimp separately to the rice and not combine it with the rice.
Do not fry the garlic too much because it will become bitter.
Frequently asked questions  about Meygoo Polo
What kind of herbs are used in Meygoo polo?
Coriander, green onion and fenugreek are used
what are the ingredients of Meygoo polo?
It is a combination of fragrant herbs, shrimp and rice.