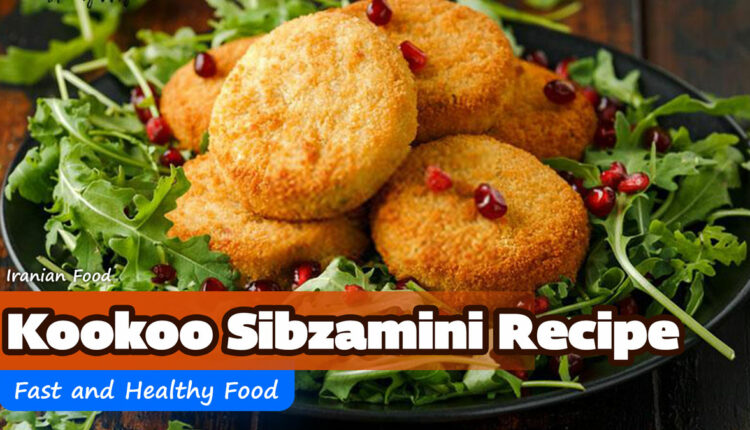 Kookoo Sibzamini Recipe, a Fast but Healthy Food
If you aren't in mood to spend many hours for cooking and you want a fast food but you need it to be healthy. Here I recommend you Kookoo sibzamini, a Persian potato patty. This delicious food can be loved by your children specially when you decorate it by tomato sauce. So You can solve your children's eating problems!
Kookoo Sibzamini is highly recommended as dinner meal. The ingredients in the Cookery magazine recipe is enough for 4 people. But If you need for more, double them. I hope you enjoy this fantastic food.
Kookoo Sibzamini Ingredients:
| | |
| --- | --- |
| potato | 3 medium size |
| sea salt | as needed |
| vegetable oil | 4 tablespoons |
| onion | 1 small size |
| turmeric powder | 1 tablespoon |
| Black ground pepper | 1 teaspoon |
| egg | 4 |
Make potatoes ready for Persian potato patties
First you need to cook 3 potatoes in water on medium high heat for about 35 minutes as if you're preparing mashed potatoes ones. Once cooked peel off the potatoes and mash them using an emergent blender or hand mixer. or an easier way is peeling off the potatoes first and then boil them.
Mixing other Ingredients with Potatoes
Next add 1 cup of grated onion, salt and spices to season your dish. You can add 1 tablespoon of turmeric powder, 1 teaspoon of black ground pepper and 1 teaspoon of sea salt. Also feel free to use other spices such as paprika and sriracha powder.
Then add eggs. the binding agent in this potato recipe is eggs. The number of eggs depends on your amount of potatoes. If you added eggs and your mixture was too loose and hard to scoop and shape, add a little all purpose flour to balance the consistency.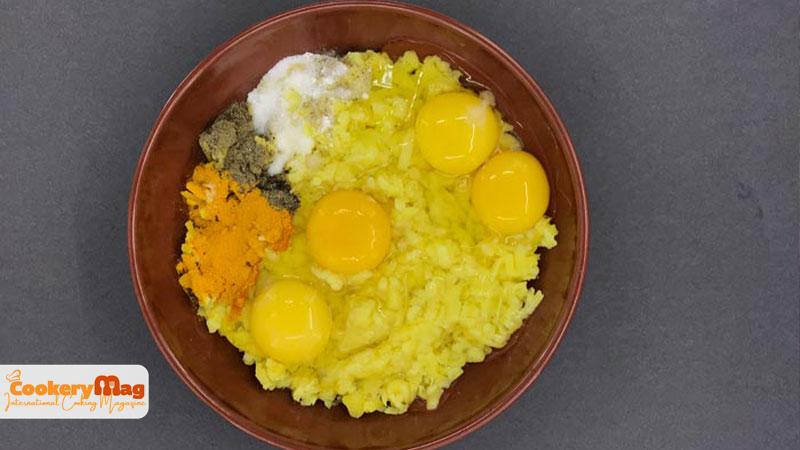 After you mixed all of your ingredients, your batter should have a yogurt like texture. In this step you can choose to add some of dried mint leaves or even other dried vegetables that you like to enhance the flavor of your KooKoo Sibzamini (Persian potato patties).
How to fry KooKoo Sibzamini?
Heat one fourth of cup vegetable oil in a nonstick pan. And when the oil is hot, shape the Kookoo Sibzamini (If it was hard for you to shape them, you can use cooking molds) and fry for about 3 to 5 minutes each side until they become golden and crispy.
Serving KooKoo Sibzamini
Your Kookoo sibzamini is ready. Persian people serve this food with bread specially French bread. If you want it to taste much more better serve Kookoo (patties) along tomato sauce and pickles. Adding a lettuce salad or Greek salad to this meal will make it completely perfect 🙂
Cooking Kookoo Sibzamini tips:
Just use neutral oil because flavored oil such as coconut oil won't work for this recipe.
Also your oil shouldn't be so cold because your patties will be soggy instead of crispy.
If you want to know the right temperature of the oil you can use a toothpick and put it in the oil. once it started to bubble around toothpick your oil is ready for the (Kookoo sibzamini) patties.