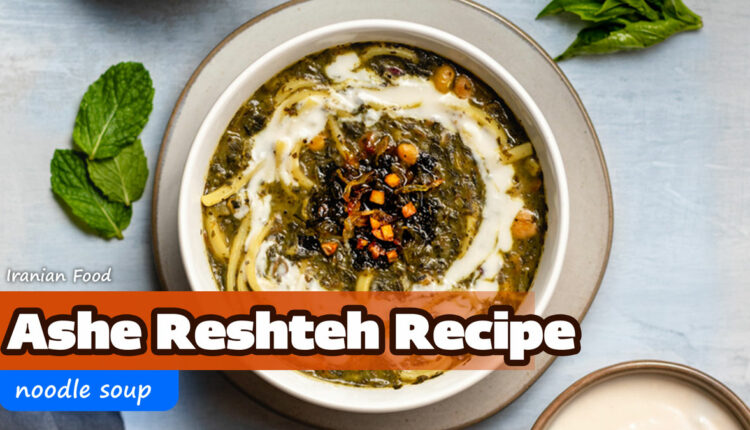 Ashe Reshteh Recipe, A Great Soup For Cold Days
In winter if you ask Iranian people what do you suggest to eat? They will definitely say "Ash". Ashe Reshteh (Persian noodle soup) is a traditional Iranian soup which is one of the best foods for cold days. Although Ashe Reshteh is so easy to cook but contains all the nutritious your body need. You can serve this great soup as an appetizer or even main course.
Iranians have different kinds of Ash like Ashe Doogh, Ashe Jou and so on. In this article we are going to cook Ashe Reshteh in Cookery Magazine together for 4 – 5 people. This recipe is original Persian way of cooking Ash Reshteh.
Ingredients needed in Ashe Reshteh:
| | |
| --- | --- |
| lentils | 1 cup |
| chickpeas | 1/2 cup |
| pinto beans | 1/2 cup |
| green onion | 1 bunch |
| parsley | 1 bunch |
| cilantro | 1 bunch |
| spinach | 4 cups |
| dried mint | 2 tablespoons |
| olive oil | 1/2 cup |
| Chengdu noodles | 1,80 grams |
| curd | 1/2 pound |
| black pepper | 1/4 teaspoon |
| turmeric powder | 2 teaspoons |
| sea salt | as needed |
| onion | 2 medium size |
| garlic | 2 cloves |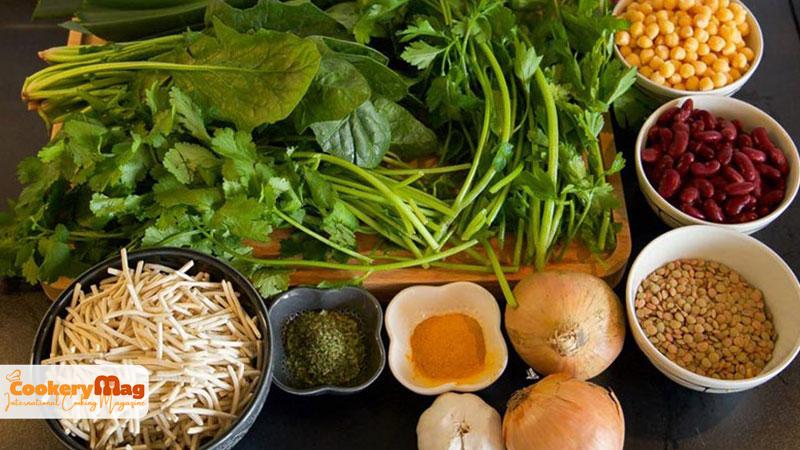 Starting of cooking Ashe Reshteh
To get started fry your cloves of garlic in separate sauce pan using 4 or 5 olive oil to each. It's important to supervise at all times and stir on occasion to achieve crispy and golden cloves of garlic and onions.
lentils and vegetables in Ashe Reshteh
Next add 1 teaspoon of turmeric powder, ¼ of spoon black ground pepper and half of your fried onions to your lentils that have been fully cooked in 4 cups of water on medium high heat.
Later add your fresh vegetables into the pot. Chop your cilantro, parsley and green onions so that each piece is about 1 to 2 centimeters long. Since spinach leaves are much more delicate you want each piece to be 1 to 2 inches long. Let them cook on medium heat.
How to make Nana Dagh or Mint sauce?
In sauce pan add ¼ of a cup olive oil, 2 tablespoon of dried mint and bring it to boil on medium high heat. Once its start to sizzle, add ½ teaspoon of turmeric powder and keep stirring until they are well distributed. You must fry your turmeric powder and be careful not burn it. The frying process for Nana Dagh (mint sauce) will take about 4 to 5 minutes. When your dried mint powder has darkened a bit, it's time for taking of the heat.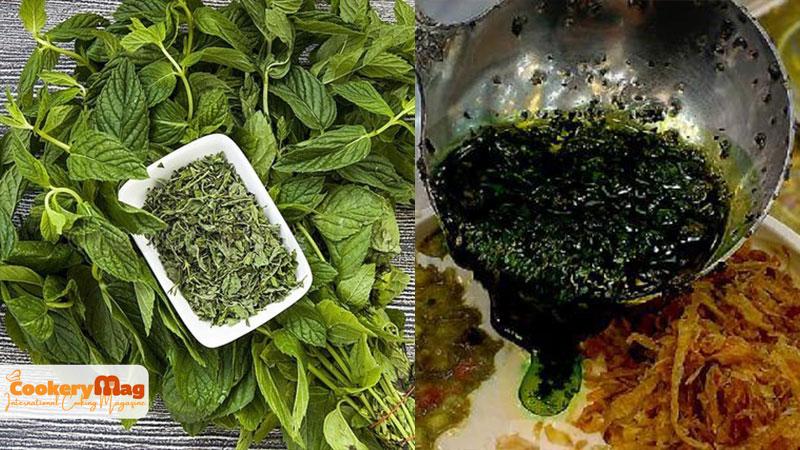 Now add 2 tablespoons of your Nana Dagh (mint sauce) into the mixture pot and keep the rest to decorate your dish for serving. The Nana Dagh (mint sauce) is the key step in intensifying the flavor of your Ashe Reshteh (Persian noodle soup).
Make beans ready for Noodle Soup
The night before you planed to cook, soak your chickpeas and pinto beans in 4 cups of water and let it rest for 12 to 24 hours. Then cook them in water separately on medium heat for 1 hour. (Definitely, you can't cook chickpeas and pinto beans with lentils because lentils take about 15 minutes to be cooked.) Add them to your pot after they are cooked. And stir the mixture.
Last step and Noodles time 🙂
It's time to add noodles. Put some Chengdu noodles into the pot and keep stirring so noodles don't get stuck to the bottom of the pot. You can replace Chengdu noodles with any other kind of egg free noodles. And let it cook for 20 minutes then pour sea salt as much as you like (1teaspoon).
Let's serve your delicious Ashe Reshteh
To Garnish your noodle soup (Ashe Reshteh), you may use fried cloves of garlic, mint sauce (Nana Dagh), fried onions and Kashk (chortan). Also slices of bread on the side.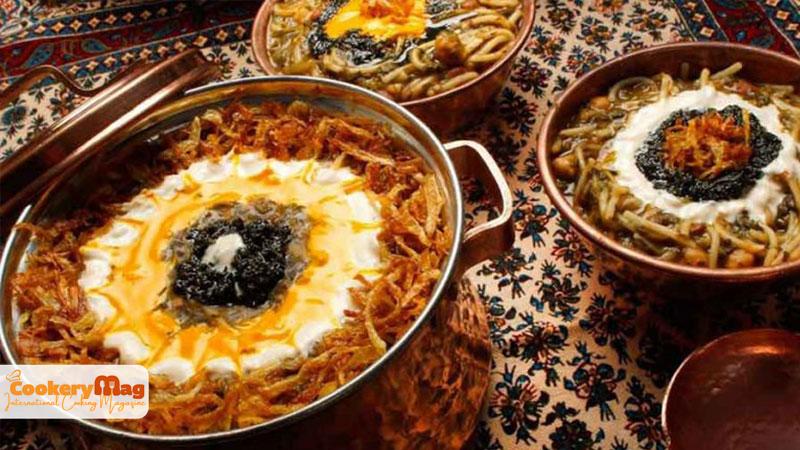 Your Persian Noodle soup is ready! try it and tell us your opinion about this Iranian soup.