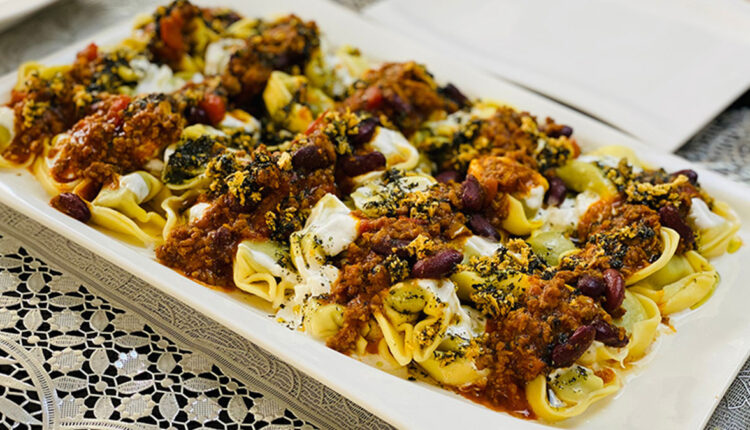 Ashak Recipe, an authentic Afghan dumpling
Today we are here to introduce one of the popular Afghan dishes. Ashak is an authentic and traditional Afghan dish. It is a kind of dumpling filled with chives and cilantro and served with two sauces: creamy garlic yogurt sauce and tomato-based meat or split yellow pea. Afghan people prepare this dumpling on holidays and special ceremonies When all the family members are together and have enough time to prepare a time-consuming meal. Family members sit together and work together to fill and cook the dumplings.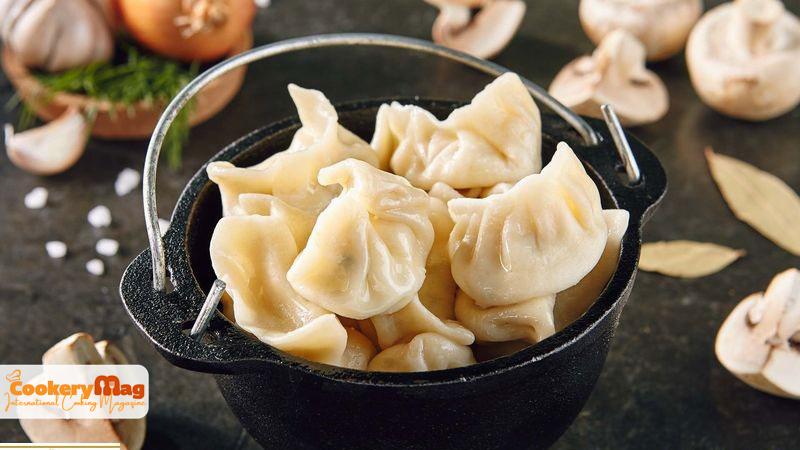 If you don't have enough time, don't make this dish because making the Ashak needs enough time and patience.to learn how to make this delicious dumpling follow Cookery Magazine.
Ingredients for AShak dough
| | |
| --- | --- |
| Flour | 480 gram |
| Water | 1/5 cup |
| Salt | 1 Tbsp |
| Oil |  1/2 Tbsp |
Ingredients for Ashak filling
| | |
| --- | --- |
| Chives | 450 gram |
| Cilantro | 1/4 cup |
| Black pepper | 1 tsp |
| Oil |  1 Tbsp |
Ingredients for tomato with yellow split pea sauce
| | |
| --- | --- |
| Yellow split pea | 1/2 cup |
| Onion | 1 |
| Garlic | 2 cloves |
| Oil |  2 Tbsp |
| Boiling water |   ½ cup |
| tomato paste | 2 Tbsp |
Ingredients for yogurt and garlic sauce
| | |
| --- | --- |
| yogurt | 1/2 cup |
| garlic | 1 clove |
| dried mint | 1 Tbsp |
| salt | ½ cup |
How to make Ashak
Step 1- preparing Ask dough
Put flour, salt, and oil in a large bowl and add water slowly. While adding water, stir the mixture with a spoon until mixed. Then knead for 10 minutes until it becomes smooth and consistent. Cover the bowl's lid with cellophane and put it in the refrigerator for 45 minutes to rest.
Step 2- cutting the dough
After 45 minutes, remove the dough from the refrigerator and divide it into 4 equal parts. Sprinkle a little flour on a flat surface and place one part of the dough on it. Roll out the dough well with a rolling pin until it is 3 mm thick. Then cut the dough into circles.
Step 3-Preparing dumplings
Wash the chives and cilantro, chop them finely in a bowl, then add salt, pepper, and oil and mix them well. Take the cut dough and put a tablespoon of the middle mixture into the dough. Put the mixture on half of the circle and turn the other half of the dough over. Moisten the edges of the dough a little so that they stick together well. Prepare all the dumplings in the same way.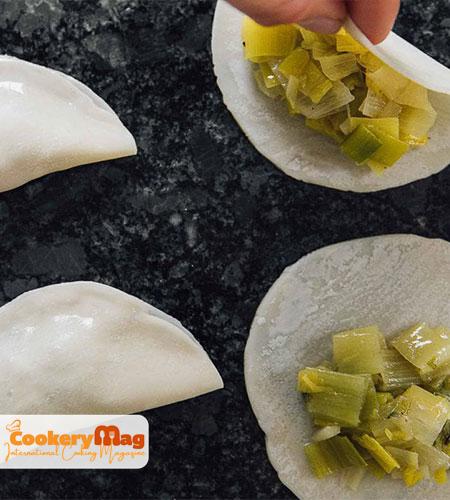 Step 4- Cooking the dumplings
fill a pot with water and place it on the flame. Add some salt and Wait for the water to boil. Put the prepared dumplings in boiling water and let it boil for 4-5 minutes. Then remove from the water.
Step 5-Preparing the tomato with yellow split pea sauce
As we said, there are two types of sauces in the preparation of Ashak. First, we prepare the tomato sauce.
Soak the yellow split pea in water for 30 minutes. Chop an onion and fry until it becomes golden and soft. Then add garlic and fry for 2-3 minutes until fragrant. Add the yellow split pea to the pan and fry it. Then add spices, including salt, turmeric, and red pepper, to the ingredients and stir well until they are combined. Dissolve the tomato paste in a cup of water and add it to the pan. Cover the pan and stay on low heat for 30 to 40 minutes until the yellow split pea is cooked.
Step 6- preparing the garlic and yogurt sauce
Pour the yogurt into a bowl. Chop the garlic and add it to the yogurt. Add dry mint and salt and stir well to combine. Finally, add water to the yogurt to dilute the yogurt and form a sauce.
Serving the Ashak
Prepare the serving plate. Put 2 tablespoons of yogurt sauce and garlic on a plate and arrange the dumplings. Pour some tomato sauce on the dumplings and use the yogurt sauce again.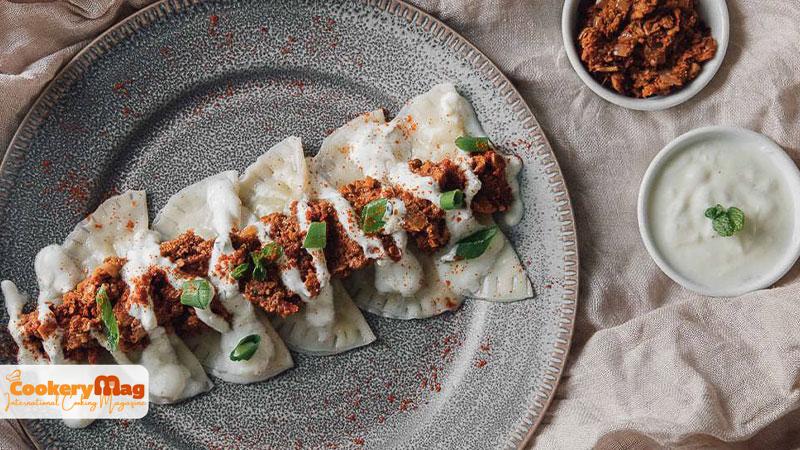 Our delicious dumpling is ready .let us know what you think about Ashak by leaving a comment; we would be glad to hear more from you. Also, I have covered another recipe in Afghan cuisine entitled: Kabuli Pulao; don't forget to read it.