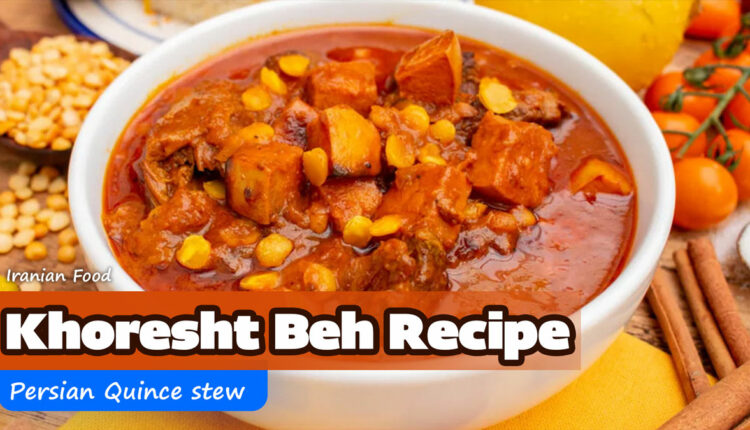 Khoresht Beh Recipe, Quince in a super delicious Persian stew
Khoresht Beh is a quince stew that is made of meat and split peas. This dish has a bit of sweet and sour flavors, and you can play around with that balance according to your own taste with Khoresht Beh.
The nice thing about this recipe is that while it's meat-based in this article of Cookery Magazine, Khoresht Beh can actually be a very lovely vegan recipe just by replacing meat with more beans and nuts such as barberries.
Khoresht Beh Ingredients
vegetable oil
as needed
lamb shanks
500 g
quince
2-3
onion
1 large
turmeric powder
as needed
Grated ginger
as needed
minced garlic
as needed
black pepper
as needed
salt
as needed
split peas
3-4 cups
Aloo Bukhara
(yellow dried plums from Iranian shop)
3-4 cups
sugar
2-3 tablespoons
lemon juice
2-3 tablespoons
How to cook Quince stew
Start with pouring some vegetable oil. Add your onion which you've sliced it. Fry, it to have a golden color. When It's golden, add a couple of tablespoons of minced garlic and 1 teaspoon of ginger powder to your onion and stir it a little bit.
Then Add your chopped meat to the frying onion. In this recipe, you can use lamb meat or beef, or even chicken. Here you should flavor your meat. Add 1 teaspoon of salt, 1 teaspoon of pepper and 2 teaspoons of turmeric powder. When your meat becomes brown, add water to it. Cover the pot and let it cook for about 60 to 90 minutes.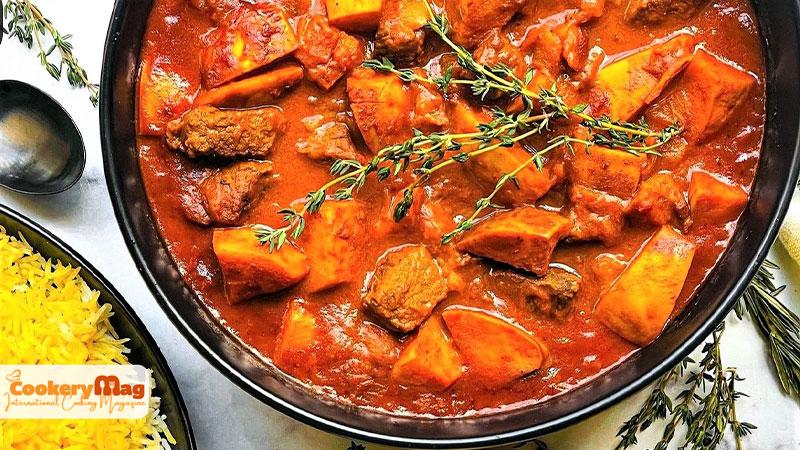 Quince in Khoresht Beh
Now prepare your split peas and quince. You must soak your split peas for about a day or at least 10 hours. Then parboil them with water. Cut your quince into bite-sized cubes. Don't forget to remove its seeds. Add some vegetable oil to a big pot, and to it add the chopped quince.
Sauté the mixture for 5 to 10 minutes until the quince has slightly softened and has a bit of color. Next, pour 2 cups of water to it to make the quince a little more soft before you add the meat to it. And let it cook for about 10 minutes.
When the quince is softened well, add it to the cooked lamb pot. Here, Add Aloo Bokhara to it(prune), and also, you may want to add almond to your Khoresht Beh. Add 1 tablespoon of sugar to the mixture to make it sour and sweet. (Adding sugar is an optional step). Pour 2 tablespoons of saffron water.
Finally, add parboiled split peas on top. Split peas help the juice become a little bit thicker. Cover the pot and let it simmer for 30 minutes until your Khoresht Beh is completely ready!
Serving Khoresht Beh
As a final touch, you can Garnish it with some almonds slivers and serve Khoresht Beh with some steamed Persian rice (we explained how to cook rice with the Persian recipe) on the side. I hope you guys enjoyed this recipe, and Please comment with us your recommendations.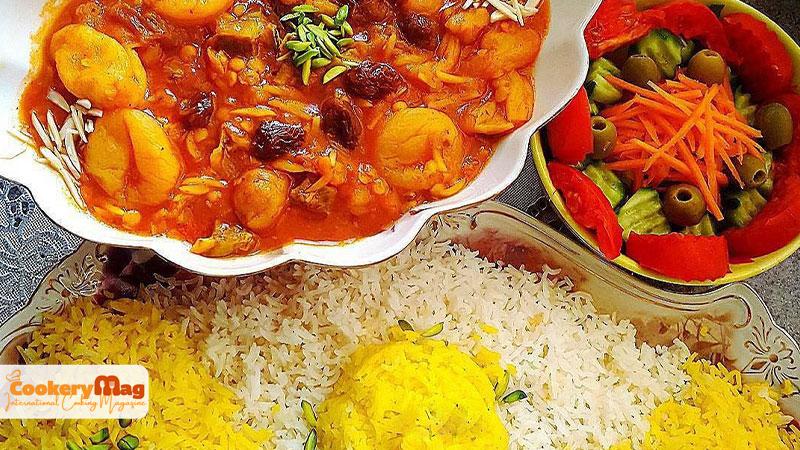 Tips for Cooking Khoresht Beh
At the end, you can add some lemon juice to your Khoresht Beh and let it cook for 2 minutes. It helps the sour flavor.
Due to quince is not always available when it's available, you can buy more, chop them into small cubes, and freeze them until I need them.